Smuckler Bar Mitzvah
Published: Thursday, 14 March 2013 13:00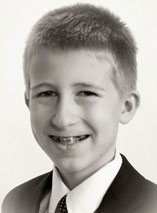 Erin and Brad Smuckler announce the Bar Mitzvah of their son, Ethan Samuel, at 10:30 a.m. Saturday, March 23, at The Temple, Congregation B'nai Jehudah.
Ethan is the grandson of Linda Smuckler, Marcia Karbank and Joe Smuckler, and Edie and Shel Mikkelsen of Niles, Ill. His great-grandmother is Rose Karbank.
Relatives and friends are invited to worship with the family and to attend the Kiddush luncheon following the service.