'The Divorce Girl' full of Jewish content
Published: Thursday, 12 July 2012 12:00
Written by Barbara Bayer, Editor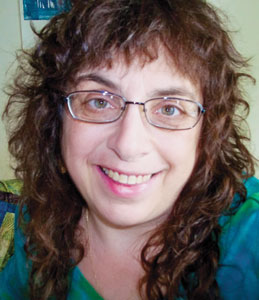 Looking for books to put on your summer reading list? Lawrence, Kan., resident and Kansas Poet Laureate Caryn Mirriam-Goldberg just published "The Divorce Girl," (Ice Cube Press). In fact she just received copies — boxes and boxes of them in fact — on Monday.
The author describes the book as a coming of age story focused on a teenage photographer who finds ways to survive and thrive through her art, an eccentric community and her own curiosity. She said she wrote "The Divorce Girl" out of her own experience growing up in a very tolerant and hands-on Jewish community in Central New Jersey during the hardest time of her life.
"I navigated the uncertainty, violence, fear and loss of family during this time through my involvement in my temple and through long talks with my youth group adviser as well as amazing experiences in my youth group, JFTY and NFTY," Mirriam-Goldberg said.
She said the book is full of Jewish content.
"I'm not just talking about my main character's involvement in her synagogue, but what seem to be vital Jewish values: how we see our work as so connected to tikkun olam, making life out of a broken world and how much we value community, facing difficult situations directly, asking for and providing help, and creating art, literature and new learning out of whatever life gives us," the author said.
She is the child of divorce, but the book is not about her specifically.
"I took the frame of what I lived, but I inserted all new characters. So it was difficult and wonderful and inevitable altogether.
It's something that I started writing a very long time ago and it's something that I always knew that I would write," Mirriam-Goldberg said.
When divorce came to her family, Mirriam-Goldberg said she began narrating what was happening to her in her own head.
"I became a writer during that time, that's when I first started writing like a maniac after years of drawing like a maniac. I just knew every moment that I'm going to write a novel about this one day," she said.
She believes it's good that she didn't try to write the novel when she was still a teenager.
"I waited until I had enough distance that I could really look at what would be the purpose of a book like this and what could this book give readers," she said, adding that she wanted it to be a story that could resonate with people and have some meaning.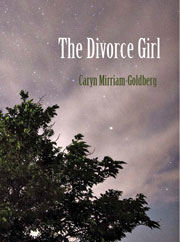 This may be Mirriam-Goldberg's first novel, but she's written a total of 14 books including "The Sky Begins at Your Feet: A Memoir on Cancer, Community, and Coming home to the Body," which was a Starred Book by Library Journal. Her books also include four collections of poetry and the anthologies: "An Endless Skyway: Poetry from the State Poets Laureate (co-editor) and "Begin again: 150 Kansas Poems" (editor). She is also the founder of Transformative Language Arts — a master's program in social and personal transformation through the written, spoken and sung word — at Goddard College where she teaches.
In addition, Mirriam-Goldberg facilitates community writing workshops, and with singer Kelley Hunt, Brave Voice writing and singing retreats.
Her next book "Needle in the Bone: How a Holocaust Survivor and Polish Resistance Fighter Beat the Odds and Found Each Other," is the true story of Lou Frydman, a Holocaust survivor and Lawrence resident who passed away in January, and Jarek Piekalkiewicz. It is based on extensive oral histories with each of them.
"That is a book that I wrote simply because I'm friends with both families. I was spending time with all of them together and I kept hearing about these two men and their remarkable friendship and what they've been through and the next thing I knew I was offering to do it and they were saying yes. That comes out in mid-November and will be published by Potomac Books," Mirriam-Goldberg said.
What type of writing does she like best?
"That's like being asked which child you like best," said Mirriam-Goldberg who came to Lawrence almost 30 years ago after she fell in love with a man from the River City. She's been an active member of the Lawrence Jewish Community Congregation and plays cello in its monthly all musical service, Shiray Shabbat.
"Whatever I'm doing I'm in love with and engrossed with. That's not to say that I don't struggle at times and have to pull back and take a look at things from other angles or put it away for years, but I pretty much love everything that I'm working on," she continued.
Both of her parents, her father is now deceased, gave their blessings when she chose to write the book.
"I started this book 17 years ago and I did talk to my father about it and told him I was writing a book that fictionalizes the divorce. He said, 'I always knew you would do that,' and he had no problem with it," she said. "He said write what you want."
She has sent her mother drafts of the book.
"About a year ago I sent her the whole thing. I said let me know if there is anything in here that strikes too close to home, even though the mother in the book is completely fictionalized and very, very different from my own mother. She was totally fine with it. I felt like because there is a similar emotional resonance to real people I needed to go that path and give these real people a heads up as much as I could," Mirriam-Goldberg said.
She was appointed Kansas Poet Laureate in 2009 by then-Gov. Kathleen Sebelius, where she promoted literary arts through the Kansas Arts Commission. However Gov. Sam Brownback eliminated funding for the commission last year.
"I have been continuing on since that was dissolved and I'm going to continue on until we can anchor the program to a new organization and go through the process of choosing another Poet Laureate," she said.
She hopes the novel will resonate with people who have had big challenges in their lives.
"I've worked with quite a few people with serious illness through Turning Point in Kansas City and generally lead writing groups for people who are on the margins in one way or another. Everybody has their story, has something they've lived through that seemed impossible at the time. I see this book as something that will hopefully uplift readers and inspire them with how in one story one person finds a way to transform her life through making something and through connecting with community. Those are the kinds of stories I love to read, the films I love to watch. I really see this book as putting out there in the world just another song along those lines of how we can find one another and make something of our lives."
"The Divorce Girl" can be purchased online at www.icecubepress.com or at an independent book store.
'The Divorce Girl' launches in Lawrence
The Lawrence Jewish Community Congregation will host a reading, celebration and Havdalah service in honor of "The Divorce Girl," Caryn Mirriam-Goldberg's debut novel, at 7:30 p.m. Saturday, July 14. The Raven Bookstore will sell copies of the book, at a 10 percent discount, that evening. The LJCC is located at 917 Highland Drive, Lawrence, KS 66044.