Embracing Houston's Jewish community
Published: Thursday, 12 October 2017 10:00
Written by Andi Milens, Guest Columnist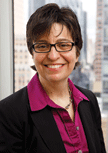 "We would have drowned."
My previous experience with the Houston Jewish community was in September 2005 as they heroically responded to Hurricane Katrina.
The Houston Jewish community, with the support and assistance of the entire North American Jewish community, wrapped its arms around New Orleans, taking in 5,000 people — half of the New Orleans Jewish population — feeding them, clothing them, housing them and nurturing them. Houston paid it forward.
On Aug. 25, 2017, 12 years almost to the day after Hurricane Katrina, Hurricane Harvey made landfall in Texas, dumping at least 52 inches of rain on Houston and its environs. In the neighborhoods of West Houston, water sat in homes for 12 days. Nearly three-quarters of Houston's Jewish families live in the most flooded areas, and 1,500-2,000 families are estimated to have been affected. 
The Houston Jewish community's infrastructure was devastated. Three of Houston's largest synagogues, including the largest Conservative synagogue in the country, suffered substantial to catastrophic damage. Day schools have been displaced. The Kollel outreach center and the residential senior facility suffered disastrous flooding. The Jewish Community Center had 10 feet of water in its lower level, destroying its mechanical plant and forcing the relocation of its pre-school to its indoor tennis facility. 
It is estimated that $30 million is needed to provide services — including but not limited to financial assistance, case management and trauma counseling — to affected families and to repair and rebuild the community's infrastructure. So far local and national efforts have raised nearly $16 million. The first contribution came from the Jewish Federation of Greater New Orleans. Donors in our community, in combination with funds allocated by the Jewish Federation's board of directors have contributed $68,240 through Jewish Federation of Greater Kansas City's Hurricane Harvey emergency relief fund.
But once the rain stopped, Houston needed more than money. They needed to know they were not alone. Immediately following the storm, the Jewish Federations of North America (JFNA) arranged to send teams of professionals to assist the Houston Federation and its agencies, many of whose professionals were themselves affected. Experienced professionals from New York, Los Angeles, JFNA itself, and I descended upon Houston to assist with anything and everything they needed — from data collection and damage assessment to problem-solving to immediate, short-term, and long-term planning. We developed a mechanism for the distribution of financial assistance. We worked to resolve volunteer coordination issues. We confirmed that High Holiday needs were met. We addressed personnel issues. We helped them focus on immediate, short-term and long-term needs. And in the moments they needed it most, we literally embraced them.
On the last day of my five days in Houston, I met with a colleague to work on a template for data collection. As I prepared to leave for the airport and we said our goodbyes, she looked at me in utter exhaustion, thanked me for coming, and said: "If you hadn't come we would have drowned." 
The national Jewish collective — of JFNA and its many partner agencies — is a powerful thing. The Houston Jewish community needs us now, just as the Jewish communities of New Orleans and the Gulf Coast needed us before and as other communities will need us in the future. To know that we are not alone makes all the difference.
Andi Milens is director of engagement and leadership development for the Jewish Federation of Greater Kansas City. Milens gained her expertise in disaster assistance while working at the national level of the response to Hurricane Katrina in New Orleans and the Gulf Coast in 2005.