Seize the opportunity to check out seniors' transportation options
Published: Thursday, 02 June 2016 10:00
Written by Dawn Staton, Guest Columnist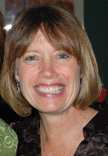 The mantra for this century is to "stay active" as we age. For earlier generations, the "retirement" years meant sitting around and staying close to home, but no more!
Today's older adults are more active than ever and that means moving around the metro. According to the Federal Highway Administration, there are approximately 24.4 million licensed drivers 70 and older, and those numbers are expected to increase as baby boomers age.
With more older adults on the road, it is important to make sure they are safe as they maintain their active lifestyle. And then what happens when they decide to finally hang up the keys? How can they still get around? 
Jewish Family Services is working with Johnson County Human Services, the Rehabilitation Institute of Kansas City, Shawnee Mission Health and Americans For Older Driver Safety (AFODS) to help provide the answers to those questions and many others at the second annual "Get Up and Go Older Adult Transportation Expo" that will take place on Wednesday, June 8, at the Jewish Community Campus. 
The Expo, which is free, is targeted to older adults, caregivers and those who want to learn more about driver safety. A myriad of resources will be available at the morning event including a vendor fair with transportation for when you are no longer driving, as well where to go for driving evaluations and equipment to make you and your vehicle safe. Onsite at the Campus there will be rehabilitation vehicles, which have adaptive equipment to help older adults to drive comfortably and safely.
A keynote presentation on "The Road to Independence" will give attendees the tools and knowledge to keep themselves on the road longer.
Americans are healthier and living longer. AAA Senior Driving states seniors are outliving their ability to drive safely by an average of seven to 10 years. Older adult drivers recognize and avoid situations that put them at risk such as driving after dark, during rush hour, or inclement weather. The Expo will provide participants with information that will help themselves or their loved ones continue to drive safely and feel comfortable about what transportation decisions they make.
So seize this free opportunity to learn more about the safe ways you can continue driving into your older years and all the options beyond.
Dawn Staton is director of Older Adult Initiatives at Jewish Family Services.