HBHA's golden anniversary: Celebrating the strengths of the past and the possibilities of the future
Published: Thursday, 07 April 2016 10:00
Written by Howard M. Haas, Guest Columnist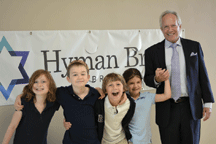 What an exciting 50th anniversary for Hyman Brand Hebrew Academy!
This year alone, we celebrated a wonderful partnership with University Academy through our Upper School social justice project, as well as the life-changing Civil Rights Tour of the South, which our ninth- and 10th-graders took with their counterparts from UA. Our juniors and seniors just returned from our pinnacle Jewish Heritage Trip to Poland and Israel, where they witnessed our collective Jewish history — and our future — first hand. We are in the planning stages for our new, $450,000 state-of-the-art science lab, which will turn HBHA into a premier STEM educator beginning in the 2016-17 school year. We have a National Merit Finalist among our senior class members, a Bronfman Youth Fellow in our junior class, and our Upper School was ranked number two among KC-area private schools, based on ACT scores. 
Truly it is a year to celebrate, not only the strength of our past, but the possibilities of our future.   
While HBHA has evolved significantly over the years, it is heartening to know we remain grounded in the original vision of our founders: To educate the whole child, and provide him or her with an education that provides the riches of a combined Jewish and a secular education. 
Our quest to give our students a well-rounded educational experience — to create mensches if you will — pushes our faculty and staff to continue expanding our offerings and discovering new ways to enhance our students' knowledge … in both general and Jewish subject areas. 
It is with deepest regard that I thank founders Sidney and Carol Deutsch, Milton and Bea Firestone, z"l, Carl Puritz, Joan Puritz Greenberg, z"l, Joan March, Beryl Silberg, and, of course, our Civic Service Award 50th Anniversary Celebration honorees, Neil and Blanche Sosland, for their vision and their tenacity in making their dream come true. It is a dream that has given an immeasurable gift to our community. 
Our founders, with the help of strong Jewish community leaders like Hyman Brand, Rabbi Morris Margolies, "Auntie" Sarah Ozar, and many others, made their vision a reality in spite of the resistance they met with along the way. Our founders utilized each members' strengths to the fullest, working together to achieve their common goal. This small group of people remain incredible role models for the many generations who have benefited from HBHA. 
A visit to HBHA today shows the deep impact of the gift our founders bestowed upon its students. Each morning I have the privilege of greeting our 230 students. These students are eager to learn — and to make a difference in the world. These students emerge from our hallways committed to making the world a better place. They are our future leaders and are proud, knowledgeable members of the Jewish community. 
All of us at HBHA — Principals Todd Clauer and Dr. Jessica Kyanka-Maggart and Head of Jewish Studies Rabbi Avi Weinstein as well as our entire faculty and administrative staff — are so proud of the work we do to continue the goals of our school. As we look to the past for guidance, we continue to grow, moving the bar of excellence higher with each year. 
As we prepare for our Civic Service Award 50th Anniversary Celebration on Monday, April 11, at the Kauffman Center for the Performing Arts, I would like to thank event co-chairs Pella Fingersh and Marcia Karbank for their unwavering support of our school. We could not do it without them, or our entire HBHA family.  
To the next 50 years! L'chaim!
Howard M. Haas is the Head of School at Hyman Brand Hebrew Academy. He looks forward to celebrating HBHA's 50th anniversary with 700 friends and supporters at the upcoming Civic Service Award Celebration.