Listening Post
Published: Thursday, 11 January 2018 12:00
Written by Barbara Bayer, Editor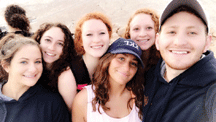 THE TORCH IS PASSED — At the beginning of 2018, longtime Chronicle advertiser and Realtor Anita Chaplick decided to step away a bit from her Better Homes & Gardens real estate team, handing over the management reigns to her partner, Lisa Ruben.
"Although our team name has changed to The Lisa Ruben Team, it's the same great agents with the same commitment to outstanding customer service," said Ruben regarding the change. 
Chaplick will continue what's she done for almost 33 years, working with people and helping them realize their real estate dreams.
"Anita Chaplick, who started our team many years ago, has decided to pass the torch on to me. Anita will continue to be an important part of our team, and we are honored to have her expertise. As I increase my leadership role, our team continues to put clients first, leading with excellence every step of the way," added Ruben, who has been in real estate for 13 years and is looking forward to this new challenge.
Mazel tov to Anita, Lisa and the entire Lisa Ruben team!
PRIYA TO BE FEATURED ON WEBINAR —Priya, a Kansas City organization dedicated to providing financial, educational and emotional support to individuals and couples within the Jewish community facing fertility challenges, will be featured in a national webinar at 6 p.m. Tuesday, Jan 23. The free webinar, "Fertility in the Jewish Community: Open Conversation," is co-sponsored by Priya, Uprooted: A Jewish Communal Response to Fertility Journeys, and The Jewish Theological Seminary (JTS).
"This webinar is for anyone who wants to support someone who has had trouble building a family," Priya Director Annie Glickman explained. "We will be talking about the financial and emotional support systems in place in the Jewish community to support both singles and married couples."
To register for this free webinar go to tinyurl.com/y748qlbq or email This email address is being protected from spambots. You need JavaScript enabled to view it. for more information.
OPERATION GOOD NEIGHBOR — Throughout 2017, the IDF provided its Syrian neighbors in need with life-saving supplies such as 694 tons of food, 143,413 gallons of fuel, 20,489 packages of baby care supplies, 2637 medical supplies, 174 tons of clothes and 13 electricity generators. Posted on Facebook on Sunday, Jan. 7, this was all accomplished through it Operation Good Neighbor program.
JNS first reported the IDF's secretive humanitarian aid operation in July 2017. At that time, we learned the mission began several years ago as an ad-hoc measure to treat Syrians who came to the border asking for help from the IDF. The effort morphed into an expanded humanitarian program in June 2016 as humanitarian needs continued to grow, the IDF said.
Schedule change
Chabad's Woman to Woman program, originally scheduled to take place the first Friday of the month at the Jewish Community Campus in Conference Room A, located just across the hall from the Heritage Center, has been moved to the second Friday of the month. For more information, contact Blumah Wineberg at 913-940-1113.