Chabad at Mizzou purchases the home it rented for six years
Published: Thursday, 07 December 2017 16:38
Written by Grant Sharples Columbia Missourian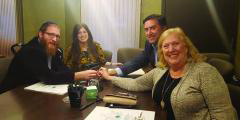 Rabbi Avraham Lapine and his wife, Channy Lapine, had been renting a Chabad house to serve the Columbia, Missouri, Jewish community for six years.
After years of establishing a place of welcome for Jewish life on campus, the Lapines' landlord made them an offer to buy the place.
"The time was right," said Rabbi Lapine, who along with his wife Channy is co-director of Chabad at Mizzou.
The Lapines were committed to creating a permanent local Jewish community. As of Nov. 30, they now own the house they were renting on Brandon Road, the first and only Chabad house in Columbia. Rabbi Lapine sees this not only as a milestone for Columbia, but also as a step for the Jewish community as a whole.
"When a Jewish student or a Jewish person sees Columbia and they know there's a Chabad out there, they know, 'Wow, this is a place that has Jewish life,' " he said.
Funds for the house came from two sources: a 24-hour fundraiser that started at 2 p.m. Nov. 28 and a matching grant from Chabad on Campus International in Brooklyn. On Nov. 28, $40,000 was raised toward a down payment. They had three matchers, so for every $1 someone gave, it equaled $4. The remaining $60,000 came from the matching grant.
Channy Lapine said people typically create a community that joins together to fund the Chabad house. However, for larger purchases, the organization matches.
The Lapines also feel they're following the vision of Rebbe Menachem Mendel Schneerson. The Rebbe, who died in 1994, believed there should be Chabad houses all around the world that serve as places of Jewish celebration and presence, an idea that came to him after the Holocaust. The Lapines view their actions as a contribution to that greater goal.
"We're very humbled and honored," Rabbi Lapine said.
According to the Chabad website, Chabad-Lubavitch is a movement within Judaism that originated 250 years ago. "Chabad" is a Hebrew acronym standing for wisdom, comprehension and knowledge. "Lubavitch" refers to the movement's geographical origin: Lyubavichi, a town in Russia.
The Chabad house, on Brandon Road west of MU's North and South residence halls, is a place where Jewish people can eat kosher food, participate in Shabbat, celebrate Jewish holidays or simply relax.
"It's exciting because we have a place that's just dedicated to Chabad programs, Shabbat dinner, holiday programs," Channy Lapine said. "It's dedicated to this."
Rabbi Lapine described the house as a place where Jewish students can have a home away from home. He characterizes Chabad as homestyle-oriented, intended to provide comfort for Jewish students.
"People will find out more about us, and they'll come and they'll really enjoy it and want to come back," Channy Lapine said, "so it's a place for our community, and it's also a place for outreach."
Another Jewish organization at MU is Mizzou Hillel. Executive director Jeanne Snodgrass described it as "an open and pluralistic space where Jews can come to explore their Jewish identity" and "the whole gamut of what it means to be Jewish."
Mizzou Hillel takes a focus on identity. Snodgrass said there are plenty of paths in Judaism, so Mizzou Hillel provides students with the opportunity to figure out which is theirs.
Jason Peiser, an MU senior, started visiting the Chabad house his freshman year. It became his second home, Peiser said. He went to the house for Jewish holidays as well as every Friday for Shabbat. He said that, along with other Jewish organizations on campus such as Mizzou Hillel, permanence of the Chabad house on campus will further establish a Jewish presence at MU.
Hillel International estimates there are about 750 undergraduate and graduate students at MU who identify as Jewish.
"I think it's very important for the future of the Jewish community at Mizzou because now there's never going to be a question of where Jewish students or Jewish faculty members will have somewhere to go for the holidays or for Shabbat," Peiser said. "That house is now the Chabad house permanently, so no matter what happens, there's always a place where a Jewish student can go to feel safe or to celebrate the holidays or Shabbat."
MU student Sarena Krojanker shared similar sentiments to Peiser. Krojanker said she has visited the house nearly every Friday night for four years when she's at school. Like Peiser, she considers it her home away from home.
"Purchasing this house not only gives the Jewish students at Mizzou an opportunity to add their own personal touches to the house, but allows us to make the house more welcoming and inviting to all Jewish students in Columbia," Krojanker said in an email.
She is also hopeful the Chabad house will attract a greater Jewish population to Columbia.
"Hopefully the house will help attract more Jewish students from across the country to come to Mizzou," Krojanker said. "I hope the house will serve as a place where Jewish students can come together to celebrate our amazing traditions for years to come."
Rabbi Lapine said this permanence will show that MU has a thriving Jewish community and a permanent Chabad house here "to cater to all the Jews."
Most important, however, the Lapines want to spread love.
"One of Chabad's mottos is that we spread love," Rabbi Lapine said. "It doesn't matter who you are: Jew, non-Jew, whatever religion you are. Chabad serves everyone with love."
This article was originally published by the Columbia Missourian.