HBHA sees rising number of legacy students
Published: Thursday, 07 December 2017 16:10
Written by Beth Lipoff, Contributing Writer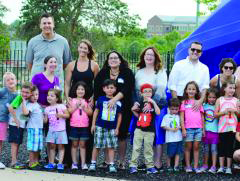 For more and more students, school at the Hyman Brand Hebrew Academy is a family affair. Over the last few years, the school has seen a rising number of legacy students — pupils who have a parent who also attended HBHA. In this year's kindergarten class, 16 of the 34 students are legacies.
 "This particular kindergarten class, their independence is extraordinary. Often kids when they start their parents walk them in. These 5-year-olds don't want their parents to walk them in, because they've been here (before with older siblings or their parents)," said Howard Haas, HBHA's head of school.
The school currently has 251 students across all grades.
Kaley Wajcman attended HBHA from kindergarten through the end of high school. When her daughter, 6-year-old Eliana Schwartzbard, was ready for school, Wajcman immediately thought of HBHA.
"It was important to both my husband and I first and foremost to give our kids a Jewish education," she said. 
Although she and her husband could have lived in New Jersey, where his family is, they liked the smaller size and atmosphere at HBHA better than some of the larger Jewish schools out there. 
"Having a close relationship with all of my teachers and with all of my classmates, that family atmosphere resonated with me through all my years at the Academy," Wajcman said. "There's a lot of school pride at the Hebrew Academy, from the faculty and administration down to the students themselves. That makes kids excited to be part of that school family."
Being a parent at her former school gives her a different perspective than she had as a student.
"Now that I'm a parent, I'm realizing what my parents went through — in a good way, attending programs, wanting to be there to watch your kid in every classroom experience. You have to have that trust that it's in the teachers' hands," Wajcman said.
Longtime HBHA elementary teacher Nancy Franks has observed the family feeling Wajcman described at the school as well. Her own four children also attended HBHA.
"It's nice to walk into a place where everyone knows you and understands you and celebrates not only good lifecycle events but events that aren't so wonderful," Franks said. "People knew who we were; we weren't just putting our name on a roster. They cared about us not just in school but out of school as well.
One point of particular interest for alums returning to HBHA with their own kids is a hallway displaying photos of some of the graduating classes.
"Parents, when they bring their little kid, they always stop there. It makes you feel good, like it was meaningful, everybody looks back and understands how important those years were," Franks said.
Haas attributes some of the school's appeal to long-serving administrators and teachers such as Franks.
Tamara Schuster, director of admissions for HBHA, said that the legacy students often come in with a sense of ownership and of comfort in their surroundings.
"It's really cute the way some of the students at 5 years old enter the school. It's a sweet sense of pride that, 'This was my mommy's school,' or 'This was my daddy's school,'" Schuster said. "There's something really special when a parent walks up to their former teacher and introduces their young child."
In addition to that, Schuster said another attraction of the school is that it's now "more representative of the entire community" than it used to be, calling it "the microcosm of our Jewish community" representing "almost every synagogue in town, if not every synagogue in town."