Listening Post
Published: Thursday, 07 December 2017 16:00
Written by Barbara Bayer, Editor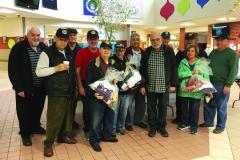 BIG SONIA SETS A BIG TIME RECORD — After setting a record of 2,200 presale tickets before opening day, "Big Sonia" has the record for most tickets sold in a three-day weekend in the 35-year history of the Fine Arts Theatres. Originally booked as a one-week run, "Big Sonia" has been held over through Dec 14 (or longer if people continue to show up) at Glenwood Arts Theatre in the Ranch Mart South Shopping Center at 95th and Mission Road in Overland Park. After speaking with Sonia many times over the years, I could not wait to see the film myself and I had the privilege on opening day. I was not disappointed, it was fabulous! Among other things, the film shows Sonia at the KCUR studios being interviewed by NPR, in her tailor shop, with family and visiting schools and prisons. One prisoner (Brian) was enthralled by Sonia's message and said, "It takes someone who's been through something to understand someone's who going through something." This week "Big Sonia" got some publicity on the television show "Extra." You can see the clip on the "Big Sonia" Facebook page.
Tickets and showtimes can be found on the theater's website, fineartsgroup.com. Group tickets are available as well.
CHECK OUT HANUKKAH   MUSIC ON SIRRIUS SATTELITE RADIO — Every year Maury Kohn makes sure we know when Hanukkah music will be aired on SirriusXM. An extensive collection of Hanukkah-themed music, including contemporary, traditional and children's selections as well as daily reflections and prayers related to the holiday will be played on channel 77 from Dec. 12 through Dec. 21. For more information check out the SirriusXM website at sirriusxm.com.
ISRAELI GOVERNMENT HOSTS 130 TRAVEL AGENTS AMID RECORD-HIGH TOURISM (JNS.org) — Israel's Tourism Ministry this week is hosting 130 travel agents from 17 countries for the "Israel Where Else" conference.
"The conference is taking place against the backdrop of an all-time high in tourism to Israel, and against the backdrop of solutions that we are creating for accommodation for large groups of tourists," said Tourism Ministry Director-General Amir Halevi.
"The travel agents and tour operators, most of whom are on their first visit to Israel, will be exposed to the wide range of attractive options that tourism in Israel has to offer, as well as to our updated marketing strategy that has been adapted to the current trends in the world," said Halevi.
During the seven-day conference, travel agents can choose to participate in a variety of government-facilitated tours of major sites and regions, including the Negev, the Galilee, Tel Aviv and Jerusalem. The agents are also introduced to Israeli tourism brands and explore the Jewish state's recreation, entertainment and leisure options. Business meetings are facilitated between the visiting tour operators and Israeli travel representatives. 
The number of tourists visiting Israel reached an all-time high of 739,000 in the first quarter of 2017.