New play reflects local stories
Published: Thursday, 23 November 2017 12:00
Written by Kris Baker, Community Editor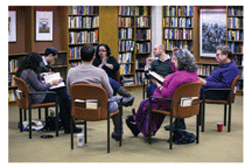 Mix a well-known story from the Torah with a talented playwright and add in a healthy amount of Kansas City perspectives and the result is "The Sarah Play," a new play to be performed at The White Theatre at 7:30 p.m. on Saturday, Dec. 2, and at 2 p.m. on Sunday, Dec. 3.
Taking inspiration from the story of Sarah and Hagar, "The Sarah Play" is the brainchild of writer, performer and director Jon Adam Ross and director Chantal Pavageaux's In[HEIR]itance Project and is funded by the Covenant Foundation. Ross has been crafting unique plays in five cities, with each one focused on a different patriarchal or matriarchal figure from Judaism: Abraham in Minneapolis/St. Paul; Rebecca in Charleston, South Carolina; Jacob in Austin, Texas; Rachel and Leah in Seattle and now finally Sarah and Hagar in Kansas City. What makes these productions unique is that Ross has gone into each community to get the real stories and experiences of the people living there. He then uses those stories to inform and influence the play. Each play is tailored for the city where it is performed. 
"We start our process with questions and prompts inspired by the source material," Ross said. "In the case of Kansas City, the source material came in different versions depending on the sacred text. That gave us more questions, opening the door to a broader conversation about both content and interpretation. That conversation ended up impacting both the story we're telling onstage and the way the story is being told. It's not going to be a clean narrative, but rather an exploration of options — just like our research."
For Kansas City, finding community members who would share their stories came with assistance from The PRIYA Fund. The PRIYA Fund financially and emotionally assists Jewish families dealing with infertility issues. Rabbi David and Annie Glickman of Congregation Beth Shalom co-founded the organization, first in 2009 in Dallas, Texas, and then here in Kansas City. The PRIYA Fund reached out to individuals across the metro who would like to share their stories in focus groups. What came out of these focus groups directly impacted the play.
"I jumped at the chance to work with Jon, and it has been a really great and collaborative experience," Annie Glickman said. "Jon is a gifted mind, creative, personable, and deeply cares about his work."
Glickman attended rehearsals at Congregation Beth Torah and she saw first-hand how the topics discussed in the focus groups influenced the play.
"Stories about conflicts within people's marriage are reflected in the play, as well as issues of faith and identity," Glickman said. "They incorporated some specific issues that had unique perspectives, but were also able to find how these topics are universal. They were able to present the idea we are all going through the same struggles."
In addition to rehearsals, the play took shape from several workshops with local clergy, artists, community members and faith groups. 
This is a topic that has special meaning to Glickman as she and her husband had their own issues with infertility. After having a family, the Glickmans wanted to help others, which led them to create The PRIYA Fund. 
"I felt so blessed and we are grateful to have the opportunity to help others," she said. "I feel emotionally invested in the story of Sarah. The topic is important because it relates to the continuation of the Jewish community."
Glickman feels the play can be an important tool to help people dealing with issues of infertility.
"The arts are an effective way to bring these struggles to light," Glickman said. "Infertility is something people have a hard time talking about. This play will hopefully help people to feel more open and let them know that others are going through the same kinds of problems. That awareness is very important, and we hope the dialogue continues well after the play is over."
"The Sarah Play" stars Amber McKinnon and Casey Jane, two Kansas City actresses, and Ross. The actresses were chosen after a rehearsal process. Ross said, "we were looking for actresses who had their own stories to tell, who were open to the devised theater process which emphasizes skills of collaboration and improvisation more than a traditional play where the script exists before auditions take place."
As the tale is in both the Torah and the Quaran, the local Jewish and Muslim communities were each consulted for the production. However, the play does not take place in biblical times; it's about how Sarah and Hagar are relevant to Kansas City Jews and Muslims in today's world.
"The challenge is to make sure that communities can see and hear their stories being told while making sure to save space for interpretation," Ross said. "When dealing with religious texts (and religious communities) we have to contend with certainty creeping into the room. There will be audience members who are certain of their interpretation of a story who might be surprised by what they see on stage. We are not looking to change peoples' minds. Rather, we are looking to shine a light on how the stories we've inherited through our traditions and our ancestors might inform the stories we live and the lives we lead today."
The production is presented with help from community partner The PRIYA Fund. For more information on The PRIYA Fund, visit priyafund.org or email Annie Glickman at This email address is being protected from spambots. You need JavaScript enabled to view it.. For more information and to order tickets for "The Sarah Play," go to thewhitetheatre.org. "The Sarah Play" was created by The In[HEIR]itance Project along with The Covenant Foundation. 
This new production will be a one-of-a-kind program, created for Kansas City by Kansas City.
"Kansas City is a unique beast," Ross said. "Borders are everywhere: a state line, the Kansas River, the highway, Troost, etc. And it also serves as a crossroads, a transitional city that is expanding and changing but also has a history as a crossroads for the railroads. And presently it feels like the first city in the west — the true gateway city. All of that is in the show. Or isn't. Depends on how you interpret what you see onstage."
"We will see ourselves in the story," Glickman said. "Experiences we have had in the Kansas City community will be up there on stage. Jon and everyone that has worked on this has captured the essence of Kansas City." 
'The Sarah Play' schedule
"The Sarah Play" performances will include open discussions and information. Scheduled activities include: 
Saturday, Dec. 2
7 p.m.: "The Sarah Play" accompaniments in The White Theatre lobby — dance, art and information about the play's community partners
7:30 p.m.: "The Sarah Play" begins
8:30 p.m.: Light reception and talkback with the creators, actors and community partners
Sunday, Dec. 3
1:30 p.m.: "The Sarah Play" accompaniments in The White Theatre lobby — dance, art and information about the Community Partners
2 p.m.: "The Sarah Play" begins
3 p.m.: Light reception and talkback with the creators, actors and community partners
"The Sarah Play" is made possible by funding from the Covenant Foundation.