Listening Post
Published: Thursday, 23 November 2017 12:00
Written by Barbara Bayer, Editor
MAZEL TOV SOLLIE — In case you missed it, Sollie Flora was elected to the City of Mission City Council on Tuesday, Nov. 7. Flora, who is Jewish, defeated incumbent Suzanne Gibbs and Bill Nichols. She is a civil litigation attorney at Berkowitz Oliver LLP in Kansas City, Missouri. Flora, 31, will be sworn in on Jan. 8.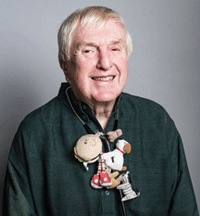 MAZEL TOV DR. METZL — Last week Cradle Through College Care Pediatrics announced on its Facebook page the retirement of Dr. Kurt Metzl.
"Dr. Metzl has decided to take this momentous step and spend his days skiing and enjoying his family. On April 1, 1965, Dr. Metzl joined Cradle Thru College Care and has been providing diligent care to generations of families ever since.
"We welcome you to join us in celebrating his lifelong dedication to caring for children by posting your well wishes, messages, memories, and photos in the comments."
GIVING TUESDAY IS APPROACHING —  After a weekend of giving thanks, eating, shopping and family, it's time to turn your thoughts to giving financial support to something you believe in. In the Jewish community there are many, many organizations that are worthy of your charitable dollars. Not all are conducting Giving Tuesday campaigns, one is even conducting a Giving Monday campaign, but all will welcome your dollars on Tuesday, Nov. 28, or any other day of the year. Here's just a small sample of what is happening in the Jewish community.
Congregation Beth Torah Giving Monday — Beth Torah is specifically raising funds for the Weiner Religious School Educating Our Future Fund on Monday, Nov. 27, because the office is closed on Tuesday. Donations will help keep learning at the Weiner Religious School a part of the congregational membership and available to all Jewish children communitywide. Contributions are accepted on the website, beth-torah.org, or by calling 913-498-2212.
BBYO is having a text-a-thon from 6 to 7 p.m. on Giving Tuesday reaching out to alumni, parents, grandparents and friends to reach their goal of raising $1,000.
JFS is presenting its third JFS Wipeout. The need for toilet paper doesn't diminish anytime throughout the year. Donations will purchase toilet paper and other items such as tissues or baby wipes for the JFS Food Pantry. It's an easy online click (jfskc.org), and a $10 donation will buy 35 rolls of toilet paper. 
HOUSE BILL COULD POLITICIZE HOUSES OF WORSHIP
 (JTA) — The U.S. House of Representatives passed major tax reform legislation along party lines that critics said effectively repeals an amendment designed to keep houses of worship nonpartisan.
The vote Nov. 16 was 227-205, with 13 House Republicans joining all Democrats to oppose the Tax Cuts and Jobs Act. Its passage represents the advancement of a key agenda item for President Donald Trump and congressional Republicans, CNN reported.
The Anti-Defamation League said the bill constitutes a repeal of the Johnson Amendment, which bars tax-exempt nonprofits from endorsing or opposing candidates. For decades, the ADL said, the amendment "has protected the integrity of houses of worship and other non-profit organizations by prohibiting them from endorsing or opposing political candidates."
ADL's national director, Jonathan Greenblatt, warned that "undermining the Johnson Amendment's critical protections will politicize the pews and foster inappropriate religious entanglement with politics." ADL "is deeply troubled and disappointed" by the development, the group said in a statement.
Noting that the Senate's current version of the tax bill does not contain a similar repeal, ADL added that the Senate "must be resolute on this issue by taking a stand to keep divisive politics out of our houses of worship."
While the bill's passage in the Republican-controlled House was largely drama free, the prospects for the measure are more unclear in the Senate, where Republicans hold only a two-seat majority, CNN noted.
The House Republican tax plan, released Nov. 2, condenses the current seven tax brackets to three, nearly doubles the standard deduction and caps the amount taxpayers can write off in state taxes at $10,000. The Senate Republican plan, released Nov. 8, eliminates the state and local tax deduction and keeps the current seven brackets but lowers rates.
The Senate Finance Committee advanced its version out of committee last week. The full senate is expected to vote on it  after Thanksgiving.
Dozens of Jewish nonprofits, charitable organizations and religious institutions have urged Congress to refrain from passing legislation that compromises the Johnson Amendment.