Friendship between men bridges the generation gap
Published: Thursday, 09 November 2017 12:00
Written by Marcia Horn Montgomery, Contributing Writer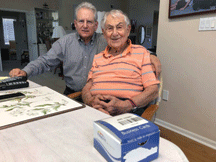 If you look past the humorous put-down banter between Mel Mallin and John Shuchart, you see two great friends, a generation apart, who truly love each other.
Mallin, 93, is a retired real estate developer who was instrumental in bringing lofts to the River Market and Garment District, thus revitalizing downtown Kansas City, Missouri. He is still active on an advisory basis with Mallin Gibson Real Estate.
Shuchart, 68, was formerly in the insurance industry — he created the first insurance policy in the world for handicapped children and came up with the concept of companies doing payroll deductions for insurance coverage.
He helped found a charter school for dropouts called Hope Academy and four years ago started the Shuchart Foundation for Mental Health Awareness to end the stigma associated with mental illness. He has also written a best-selling book, "You Are Not the Brightest of My Four Sons."
The two men came together in 2008 at a funeral. As the story goes, Mallin and his late wife Lore were good friends with Shuchart's uncle and aunt, Jack and Liz Bohm. When Jack died, Shuchart found himself standing next to Mallin at the cemetery. He turned to Mallin and said, "Well, I don't have any more uncles left in Kansas City. Do you have any nephews in Kansas City?" Mallin said no.
"I thought a minute and said 'Would you like one?' and he thought a minute and said 'Why not' and that started this relationship where we've practically become inseparable," Shuchart said.
They have lunch together at least once a week, going to Mallin's favorite places like IHOP and The Big Biscuit where they talk about politics, Shuchart's foundation and a myriad of other topics.
"He is definitely the best friend I have ever had in my whole life," Mallin said. "He's my confidant."
Despite their closeness, or maybe because of it, they can be good-humoredly critical of each other. Shuchart said Mallin is stubborn, impatient and short-tempered, and owes him a ton of money for all the lunches he's paid for because Mallin conveniently "forgot" his wallet.
Mallin tells Shuchart how stupid and crazy he is to want to go back to school and get a degree in social work.
"He spent most of lunch today telling me what a moron I was, so I'm not going to do that," Shuchart said.
They tease each other about being able to return the other one because they're just adopted uncle and nephew. But Shuchart said adopted should really be in quotation marks because he feels as much a part of the family as anybody.
Besides their ages there are religious differences. Mallin is the oldest living past president of Kehilath Israel Synagogue, where he has been a member since age 10. Kehilath Israel falls between Orthodox and Conservative in its beliefs.
Shuchart is a Reform Jew who belongs to Congregation Beth Torah.
"He does this tefillin every day; I don't even know what it is," said Shuchart. "He's got this cockamamie box all over him. So that's polar opposites. He's continuously throwing Yiddish at me and I have no idea what he's talking about."
Mallin responds, "I pray for the sinners."
Yet Mallin calls Shuchart his mentor.
"He's been helpful in so many ways, including legal matters, and he's the executor of my will," Mallin said. "He has a tremendous brain that's good in financial matters, he's my computer genius, he's my cell phone genius."
Mallin is even able to stay in touch with relatives in Kazakhstan thanks to Shuchart, who speaks Russian.
In spite of Mallin's macular degeneration, Shuchart said, he wants to be technologically savvy. He has a computer, does email, has a cell phone and knows how to use it. Shuchart has set the fonts on Mallin's computer and cell phone as large as possible so he'll be able to read them.
But it's debatable as to who mentors who. Shuchart said Mallin gives him great advice all the time, which he takes willingly.
"He's great to bounce things off of. He thinks what I'm doing is wonderful and necessary, which isn't true of a lot of my friends who say why don't you just retire and go play golf or something," Shuchart said. "But Mel understands me. He wants me to wake up every day and do something good for somebody. That's how he lives his life."
Mallin is the self-appointed, honorary mayor of Village Shalom and The Villas and in that role is in charge of morale. He takes his "comfort" dog Abigail to visit residents at Village Shalom to cheer them up.
Even his business cards reflect his philosophy: Making Good Things Happen!
"The most important thing about Mel is his zest for living and I really feed off that," said Shuchart. "I've lived with depression and it's impossible to be sad around him. He's always up. I'm sure he's not up all the time, but he sure acts like it; he comes across that way.
"So what he gives me a lot of is that positive attitude in spite of what I'm going through."
Mallin said one of the main things he and Shuchart have in common is they are both civic-minded, always looking for ways to make someone's life better. Shuchart agreed.
"I really respect how he feels about people," he said. "You're not allowed to use the word hate around Mel; he'll correct you every time."
At 93, Mallin just wants to live the rest of his years doing what he's doing. But he is well aware that life is finite.
"My zayde lived to be 97; his favorite meal was a piece of rye bread with schmaltz on top of it and salt on top of that," he said. "So I was always saying that I'm going to shoot for 97. But then we had George here who lived to be 102 and his theory was to have two bottles of beer every day.
"So I started drinking two drinks of Crown Royal every day. I'm not shooting for 102."
Mallin has been honored many times in Kansas City for his real estate efforts and Shuchart said it is always a thrill to see people "give him his due for the guts he had to do what he did downtown."
"It wasn't easy; there were lean times for lofts in Kansas City," Shuchart said. "That's another lesson we can all learn — if you believe in something, do it. But always do it the right way."
Mallin said one of his favorite sayings is a Ralph Waldo Emerson quote: "Do not go where the path may lead, go instead where there is no path and leave a trail."
Both men have always followed their own path when so many people said it couldn't be done.