Ruth Bigus is daytime publicist, nighttime performer: Local actor performs in 'Sister Act' with Barn Players
Published: Thursday, 02 November 2017 10:00
Written by Linda Friedel, Contributing Writer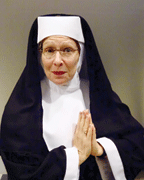 Ruth Baum Bigus consulted her Catholic friends for tips on her role as Mother Superior in "Sister Act" with the Barn Players. She wanted to make sure she understood all the important things that a mother superior should know.
"It's challenging. I am enjoying it," Bigus said. "I am not usually the serious character. She really is driving down a course where she has certain rules and values that she is determined will not bend in any way. At the end she comes to realize there are a lot of ways to spread the joy of God. That's interesting to me because I am involved in interfaith work with Seven Days."
Bigus performs in "Sister Act" Nov. 3-19 with The Barn Players at 6219 Martway in Mission. As Mother Superior, Bigus has a lot of dialogue in the show. She gets to do a little dancing and sing her own songs — a serious piece and a light-hearted one. Bigus, whose vocal range is lyrical mezzo, says the music in "Sister Act" is a lot of fun. 
"I enjoy watching the other nuns," she said. "They have some great songs."
Bigus has performed in five other shows with The Barn Players. One of her biggest roles was as Roxie in "Chicago," a show that Bigus says launched a number of the performers into professional careers. "Sister Act," based on the film of the same name, is the Barn's final production in their current Mission location. The Barn Players have had a variety of homes in Johnson County over the last six decades, but will move to the Arts Asylum, a renovated space in downtown Kansas City after "Sister Act" completes. 
"I'm glad I get to be in the last one there," Bigus said. "It's a little nostalgic. Hopefully, it will be a memorable performance."
Bigus says she performs for fun, though her performance resume reads like a pro. She has performed on stage since junior high school and has had years of training in voice, ballet, tap and jazz. Her first production in community theater was during high school in Theatre in the Park's "Wizard of Oz." She remembers mother nature chiming in with the show. 
"It was great, in the old space by the lake," Bigus said. "Bullfrogs croaked."
Bigus has since performed with the Spinning Tree Theatre, Starlight Theatre, Theatre League, Olathe Civic Theatre Association, White Theatre/Jewish Community Center, University of Kansas among other Kansas City area theaters. Her favorite roles were Roxie in "Chicago," Anita in "West Side Story" and Josephine Strong in "Urinetown." 
"I love to sing and dance," Bigus said. "It's a joy to share that love with other people. I think theater has become more of an escape as we hit challenging times. You get to take people on a journey. You get to share stores, serious and more frivolous."
In 2011 Bigus founded a nonprofit theater group with several friends called Mid-Life Players. Their mission was to provide theatrical opportunities for people 35 years and older interested in performing, especially for performers who had "aged out" of roles at local theaters. The group is currently preparing to perform "The Addams Family." Past productions include "A Chorus Line," "Rocky Horror Picture Show" and "Suppressed Desires." Bigus still occasionally performs with the troupe. 
"It's great. It's growing," Bigus said. 
Professionally, Bigus runs her own business, Ruth Baum Bigus Media Relations. Combining shows for fun with her professional work as a public relations specialist has taken planning and focus, Bigus said. She is down to doing two theater performances per year, but there were earlier times that required sacrifice. 
"Sometimes there were late nights," she said. "People laugh — 'Why are you sending an email at 2 a.m.?'"  
As a public relations maven — maven coming from the Yiddish word meyvn, "meaning one who understands" — Bigus specializes in nonprofits. Her clients include Jewish Family Services, the Jewish Community Center, Theater in the Park, the interfaith organization Seven Days and Will Shields Foundation. She also does a radio show with a colleague called "KC Cares," which is all about nonprofits, and occasionally writes for the Jewish Life Magazine. 
"I still love writing," Bigus said.
The Jewish community is home for Bigus who grew up in Kansas City and was confirmed in a congregation here. She became more involved in her congregation while raising her three children and all three of Bigus' children attended the Hyman Brand Hebrew Academy during elementary school. Working with two of the largest Jewish agencies in the community gives Bigus an interesting vantage point, she said. 
"I am an engaged member of the Jewish community," she said. 
Bigus is actively involved with the interfaith nonprofit Seven Days, founded by Mindy Corporon and Jim LaManno, who each suffered losses from the shootings in the Jewish community in April 2014. The organization focuses on spreading kindness and interfaith understanding. 
"For seven days in April we set aside the week to focus on interfaith and kindness with speakers, locally and regionally," Bigus said. "We have more to learn about each other and ways to connect. We are more alike than different."
For ticket information, visit thebarnplayers.org or call 913-432-9100.
The Barn helps JFS
The musical "Sister Act" shares the message of spreading love all around. With that in mind, the cast and crew are doing a food drive to fill shelves at the Jewish Family Services Food Pantry. It will be the Nuns versus the Thugs and audience members are encouraged to bring a canned good or nonperishable food item with them when they see the show and lend their support! With two locations, the JFS Food pantry distributes 17,500 pounds of food monthly to those facing food insecurity, regardless of faith, age, culture or lifestyle.