Renaissance man: Gordon dives deeply into music, blogging, painting and physics
Published: Thursday, 19 October 2017 10:00
Written by Jerry LaMartina, Contributing Writer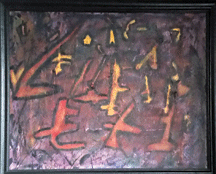 Ric Gordon doesn't stand still for long.
There's only so much time, after all, and Gordon fills just about all his waking hours with action.
He's a musician and songwriter; a record producer with his own label, Russian Winter Records (russianwinterrecords.bandcamp.com); a music blogger at Floorshime Zipper Boots (floorshimezipperboots.blogspot.com); a painter; and a theoretical physicist, consultant and physics teacher.
Taken together, this reasonably qualifies Gordon as a Renaissance man. 
The 64-year-old Kansas City native released his latest extended-play (EP) recording, "Standing Here," on Sept. 1, and he released "Despair's Lover" on July 14. All his music can be streamed free or purchased on the Russian Winter Records website.
A reception for his one-man show of paintings at Salon Kitsch in Overland Park is set for tomorrow, Friday, Oct. 20. He also continues to do physics research ("I'm working on quantum aspects of gravity," he said), does consulting work and substitute teaches middle school physics.
Gordon is Jewish. He was born at Menorah Hospital (the predecessor of Menorah Medical Center) in Kansas City, Missouri. He grew up here and lives in Brookside. He has also lived in New York City, Pittsburgh and San Francisco. 
He became a Bar Mitzvah in 1966 at Congregation Beth Shalom. His parents were the late Melvin and Marcie Gordon. His paternal grandparents were the late Sam and Bertha Gordon. 
His grandfather started a grocery store in 1916 at 39th Street and Troost Avenue in Kansas City, Missouri, called Gordon and Planzer Market. His father owned Foodland Market from 1947 to about 1970 near the Country Club Plaza.
It's a bit of a trick for Gordon to split his time between his art and music, and between his creative and business sides.
"They're just all separate full-time jobs," he said. "The label and our music blog and my recording, performing and producing career are all wrapped up together. I perform a lot."
Gordon expects that he will have given about 150 live performances in 2017 by year's end, in the Kansas City area and elsewhere. He hasn't toured so far this year because he's spent a lot of time in his studio.
He started his record label in 2008, but he's been involved in record production since 1970, when he was 17. He has produced 26 albums and EPs for 15 other artists and released 16 of his own.
His interest in music started "as young as my first memories," he said. He started playing his first instrument, cornet, at age 5 or 6. He started playing guitar at 10 and later took up keyboards, and he was in a band throughout high school. 
"The Beatles are what got everybody into a band," he said.
Gordon said he had always been interested in fine art and painting.
"When I was around 21, I made some money in the music business with recording and producing," he said. "I invested in fine art, bought paintings. That was the start of my adult interest in art."
He started painting about 10 years ago. His main medium is acrylic on canvas and Canadian birch panels.
"What turns me on is abstraction, going beyond what the eye sees — emotion," he said. "That's what really stirs my spirit and drives me creatively. Emotion, feeling and texture turn me on."
One of his paintings is an extension of physics, he said. It comprises one-inch squares of heavily textured arrangements of colors and canvases that make codes in English, Czech and Hebrew.
"It's fun," he said. "It beats being normal."
Gordon started college at age 30 and received a bachelor's degree in physics from Central Missouri State University (now the University of Central Missouri) and a Ph.D. in theoretical physics from Pacific Western University. 
He worked in industry as a theoretical physicist for 20 years, starting while he was still working on his doctorate. His work focused mainly on artificial intelligence, climate science and financial modeling.
Gordon sees connections among his physics background, his music and his art.
"I think it's all creativity," he said. "Doing science is very creative. They tap into the same place. It's not uncommon for scientists to be musicians. The brain perceives math and music as languages. For me it was a fairly normal kind of transition."
Spirituality, also — if not Judaism specifically — "certainly intersects with my art in terms of trying to evoke emotion with it," he said.
Ric Gordon performances around town
Ric Gordon performs his music at many Kansas City-area venues, including:
• The Downtown Lee's Summit Farmers Market on Wednesdays and Saturdays through October and, weather permitting, in November.
• Studio Above in the Crossroads Arts District for First Friday.
• Paper Birch Landing Art Gallery in North Kansas City every second Friday.