Listening Post
Published: Thursday, 28 September 2017 10:06
Written by Barbara Bayer, Editor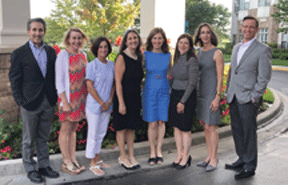 VILLAGE SHALOM AGES OF EXCELLENCE CELEBRATION SET FOR NOV. 2 — Village Shalom has announced native Kansas Citian and former White House Press Secretary Josh Earnest as its featured speaker for the 2017 Village Shalom Ages of Excellence Celebration benefiting Village Shalom residents who rely on the community for vital care and services.  
The Village Shalom Financial Assistance Program provides an average annual resident subsidy of $1.4 million. Proceeds from this event contribute to Village Shalom making this assistance a reality.  
Village Shalom invites the community to attend the evening themed "Building Connections" to be held on Thursday, Nov. 2, at the InterContinental Kansas City at the Plaza. For tickets, sponsorship opportunities and more information, visit www.VillageShalom.org/Ages.
C3's SCHOLARSHIP PROGRAM FEATURED — Did you see the article in the local daily newspaper last week about C3, a Leawood marketing agency owned and operated by Bob Cutler? The article highlighted the company's program of paying for the education of its employees' relatives. It could be the employee's child, grandchild or even niece or nephew. According to the article, the unusual scholarship program not only gives college grants, but also doles out tuition grants to youngsters at private K-12 schools. To read the entire article, go to kansascity.com and search Bob Cutler.
'MY JEWISH YEAR' — I am often behind in my reading. I realized the other day I received a book last year by Abigail Pogrebin called "My Jewish Year: 18 Holidays, One Wondering Jew." It starts with, you guessed it, preparing for Rosh Hashanah and concludes with Tisha b'Av. I'm going to get started on it this week. I welcome comments from anyone who has read the book.