A quest for adventure enhances Dana Hall's tikkun olam
Published: Thursday, 21 September 2017 10:00
Written by Ellen R. Portnoy, Contributing Writer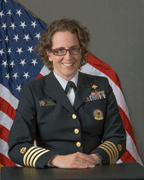 "I have wanderlust and a love of adventure," said Captain Dana Hall, "and I wanted a career with adventure."
Hall has all that and more in her position as the Region VII regional emergency coordinator in the Office of the United States Assistant Secretary for Preparedness and Response (ASPR) in the Department of Health and Human Services. That's a big title for someone who joined the U.S. Public Health Service after receiving her RPh in pharmacy from Northeastern University in Boston and it goes with a big job.
Starting her career in Alaska, where she spent 14 years serving a tribe in western Alaska, Hall and her husband, David Horesh, moved to the Kansas City area to provide a place where their children could have a strong Jewish environment. The mother of five, ages 6 to 19, said, "I transferred here because we wanted our children to be Jewish." Her husband is Israeli and it was important to them. 
Alaska was wonderful," she added, "but the Jewish environment was not there."
Her life in Kansas started off big. Soon after she arrived here in 2005, Hurricane Katrina hit Louisiana. She was gone for six months helping in the rescue and recovery. ASPR is the mechanism for federal assistance to supplement state, tribal, and local resources in response to a public health and medical disaster. ASPR is not to be confused with FEMA, which provides financial and physical assistance following a disaster.
As the coordinator for ASPR's Region VII, Hall is in charge of Iowa, Kansas, Missouri and Nebraska. When she is not out of state on an emergency, she works to help these four states in preparedness, planning, exercises and building capabilities for an eventual disaster. 
"The relationships we make with our partners, like I do in my four states, is the most important part of my job," she said. "This drives the response when it does have to happen. We are helping people in their deepest moment of need."
Hall added that the Kansas City metropolitan area is one of the most prepared areas in the nation, which she said came following the Hyatt Regency hotel tragedy in 1981. Because of this, the community on both sides of the state line learned to work together. 
"MARC (MidAmerican Regional Council) does a great job," she said.
In fact, Hall said that disasters often teach lessons.
"We have made huge strides because of what we learned due to Katrina," she said. "For example, we now no longer have hospital generators in the basements, because basements flood."
Another change that stemmed from Katrina will go into effect soon.
"Nursing home regulations will change in January 2018 due to what they learned in Katrina," she added. "Tragedies like the nursing home in Florida where eight people died (last) week will not happen again. That should not have happened."
In fact, Hall's job is to get people out of dangerous situations. But she points out that federal agencies such as ASPR can only go into a state if the governor of the impacted state asks for help. Only then can the Department of Public Health and Human Services staff go into help. And they can only help in the ways that the state indicates.
A Shabbat observant Jew, Hall and her family belong to BIAV although they also daven at the Torah Learning Center. But working on Shabbat to save lives is part of what she does. 
"When I am deployed, it is considered saving lives, especially in the first two weeks," she said. "I work 18, 19 hour days without a day off in order to get people out of harm's way." 
"The first week of any disaster is the most stressful," added Hall, who also has a master's degree in security sciences from the Naval Post Graduate School in Monterrey, California.
In an event where saving lives is not an issue, Hall does not work on Shabbat. Yet even when the work is slowing down, she said it can be just as stressful. She uses Haiti as an example, where she was a team commander after the earthquake there. 
"People were getting kidnapped, and my people were in harm's way," she said. "I was worried that I would not get my team out safely. My job as team commander is to get everyone home safely."
Hall and her peers do not often go overseas, that is only on the command of the president. Typically, they stay in the United States and its territories. For example, teams are currently in Puerto Rico to help with the evacuations and work there following the devastation of Hurricane Irma.
She said her most rewarding mission is fatality management, because her team is able to return loved ones to their families. Hall was in charge of this after the Joplin tornado. Local people are in charge of search and recovery of the remains. But her team set up two centers: a morgue and a place for family members to gather and provide their information to the authorities.
"We have two teams. One is comprised of clergy and social workers to help with the families. The other is comprised of scientists who work with the deceased. And we have people in the middle who help with matching identities, based mainly on dental records. In Joplin, the local coroner identified the remains."
Most recently Hall returned from Texas where she spent 15 days helping with logistics, tactics and operations. She also expects to be deployed to help with Irma soon, as all of her colleagues from other regions across the country have already been deployed.
During hurricane season, Hall expects to leave home to help others. She said it is difficult to be the mother of five and never know when she will be deployed. But her children understand. When they are all home, she spends as much quality time with them that she can. They go to shows, picnics and other activities.  
Because of Harvey, she did not get to see her oldest leave for college and two other children leave for high school in Israel.
"My husband brought his iPad to the airport so I could say goodbye," she said.
Coming home from Texas was bittersweet. When she left all five children were home, but when she returned only two were still at home. While being away is difficult, she and her family know that what she does is important.
"My entire childhood I knew I wanted to help people," she said. "I think what I do is meaningful and helps make the world a better place. When I see horrific things that happen, I also see the good and how people are coming together to help other people. That is beautiful to see: the strength of humanity; beauty coming out of destruction. And I think I see that because I am Jewish."