Edelman to be honored at A Celebration of Inspiration
Published: Thursday, 14 September 2017 10:00
Written by KCJC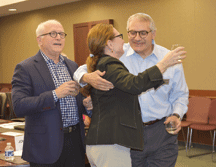 Jewish Federation of Greater Kansas City welcomes the community to A Celebration of Inspiration, which will focus on the great work of Alan Edelman, former associate executive director of Jewish Federation. Edelman retired earlier this year after dedicating 35 years to the organization. 
A Celebration of Inspiration takes place at 2 p.m. Sunday, Oct. 1, at the Lewis & Shirley White Theatre and will be followed by a reception in the Galleria at the Jewish Community Campus. 
Event co-chairs Steve and Sandy Passer are working with a number of volunteers and Jewish Federation staff to ensure the event is a reflection of Edelman's work over the years. 
"Alan has uplifted and inspired us to live more fully in our Jewish community today. He shares his devotion to Jewish learning, inclusive participation, and tikkun olam (repairing the world) deliberately and with purpose," Sandy Passer said.
"We can't think of another person in our community who has made a more positive Jewish impact greater than Alan," Steve Passer added.
The event will showcase programs that were nurtured by Edelman during his tenure. These programs have not only touched the lives of many in Kansas City, they have also helped shape Jewish life in Kansas City.
"Throughout his career, Alan has worked to make Judaism and Jewish life more accessible for Kansas City's Jewish community. A few examples of him 'opening the tent' wider include PJ Library, Sasone and Helzberg Leadership programs — all of which have worked in their own way to connect individuals and have continued to lay the groundwork for a vibrant community — both present and future," said Dr. Helene Lotman, president and CEO of Jewish Federation.
To RSVP, go to jewishkansascity.org/celebration17, or contact Cheri Anne Winkler, This email address is being protected from spambots. You need JavaScript enabled to view it., 913-327-8103.
A Jewish Federation fund has been established in Alan's honor. Go to https://jewishkansascity.org/edelmanfund for more information.
The event is free of charge, and is open to the community. A Celebration of Inspiration is underwritten by Jewish Federation and friends of Alan Edelman.