Celebrating being Jewish: After months of planning, The J's Jewish Culture Fest just days away
Published: Thursday, 31 August 2017 10:00
Written by Barbara Bayer, Editor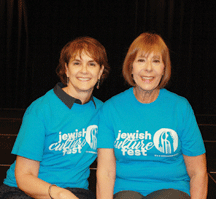 After more than a year of planning, the revitalized Jewish Culture Fest will take place in just 10 days.
The Jewish Culture Fest is an entire day filled with art, music, food, activities, technology and anything and everything that together is part of Jewish culture. It takes place from 11 a.m. to 7 p.m. on the grounds of the Jewish Community Campus and is organized by the Jewish Community Center. This, the 10th festival, debuted 23 years ago as the Jewish Arts Festival and this is the first year under the Jewish Culture Fest name.
A volunteer corps of about 400 is led by Marlis Grad, who is now chairing her third festival, and Diane Azorsky. Grad has worked on every single festival since the beginning.
"I feel this event is The J's gift to the Jewish community," Grad said. "It's The J's chance to thank the community for the support we receive from them all year long. It's also an event that gives the community a chance to reconnect in a central place."
Grad, who serves on The J's advisory board council, chaired her first festival with Bob Grant and her second with Dave Herbet. It's custom for chairs of such large events to serve in that position twice, learning from the experience chair the first time and then training a new chair the second time. But when The J's Executive Director and CEO Jim Sluyter asked Grad to step up once again for this mega event, she said she couldn't refuse the opportunity to help teach others to lead it in the future.
"We are very fortunate here to have Jim as our executive director. He is fabulous and so hands-on and I knew I needed to take this on one more time when he asked me to do it," Grad said.
"I was very happy to have Diane Azorsky come in as my co-chair. And we have many experienced people back on the steering committee including Bob Grant, Jeff Sander, Brian Bell, Dave Herbet, Barry Kaseff and Brian Bell," Grad said.
Although Azorsky hasn't chaired the event before, she is no stranger to big events in the Jewish community as a participant, volunteer or Jewish professional. She's been to every single festival and loves it.
"It is the whole community coming together to celebrate being Jewish and all it has to offer," she said.
Each of The J's board members has an area they specialize in and Azorsky was looking for her specialty area when chairing the festival became a possibility.
"It's one of my favorite events in the Jewish community," she said.
The very first festival was in October of 1994. At that inaugural event, Azorsky was a new mother toting around a 6-weeks-old baby boy.
"I feel like I've grown up with this festival — as a new mom, a mom with little children, a Jewish professional. There is really something at this festival for everyone at every stage of life," Azorsky said.
Visual arts were the focus of the first festival and over the years the festival has expanded to include more entertainment and culinary arts as well as participation from other community organizations. 
"We've always hoped others from the secular community would come and enjoy our Jewish way of life. Over the years we've included Jewish organizations from our local community and attracted members of the Jewish communities from Topeka, Omaha, Des Moines, Wichita and Lawrence," Grad pointed out.
This year for the first time Topeka's Temple Beth Sholom will be a food vendor, providing blintzes. The Reform congregation will join other local Jewish groups such as Congregation Ohev Sholom (cabbage rolls), Boy Scout Troop 61 (latkes) and Kansas City's Congregation Beth Shalom (egg creams.)
Grad and Azorsky took on this assignment in addition to full-time jobs. There are 32 people on the steering committee in charge of 14 committees for the festival. Each committee has a chair, a co-chair and a J staff member at the helm. Gayle Levin, The J's assistant executive director — who coincidentally chaired the very first Jewish Arts Festival along with her husband, Ron, Larry and Ruth Bigus and Barry and Jessica Rudnick Kaseff — is the staff member in charge of Jewish Culture Fest. New to the management team this year is a project manager and the job has been filled by Gina Cohen.
"Gina has really helped take the weight off staff. She is the point person for everyone involved in the festival, both J employees and the volunteers. The festival is such an overwhelming undertaking, her ability to manage the thousands of details has made a tremendous difference," Azorsky said.
Modern technology, Grad noted, has also made the planning process easier. Azorsky agreed.
"When the festival first began, the volunteer chairmen used file cards and spread sheets to keep track of people and shifts. Now everything is online. Minutes and plans and everything you can think of is readily available to anyone. And email and mobile phones have made it so much easier to communicate with people, and make decisions and solve problems in a relatively short period time," Azorsky explained.
One of the reasons Azorsky believes the event is so popular — they hope 7,000 will attend — is because there is something for everyone.
"I think we have a wide variety of activities planned, including entertainment for both kids and adults," Azorsky said.
Azorsky also thinks kosher food is a big draw.
"I think it's a treat, especially for those who keep kosher and don't get a chance often to eat out."
Then there's the Israeli pop-up restaurant with chef Moshe Basson.
"This will be a gourmet Israeli dinner with a vast array of delicious dishes and Israeli wine to toast the success of the festival," Azorsky pointed out.
And don't forget the Judaica.
"There are not many opportunities to buy unique Jewish art at the other art fairs in town," Azorsky pointed out.
For more information about the event, visit JewishCultureFest.com.