Jewish Federation reaches out to support victims of Hurricane Harvey
Published: Thursday, 31 August 2017 10:00
Written by KCJC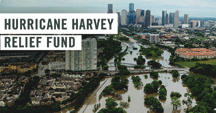 Jewish Federation of Greater Kansas City is working alongside the Jewish Federation of Greater Houston and Jewish Federations across North America to raise funds for emergency assistance to victims of Hurricane Harvey. To donate, go to www.jewishkansascity.org
The category 4 storm that bombarded the Gulf Coast on Saturday with home-ripping winds and extensive damage, continued to dump rain in large areas of central Texas on Tuesday as The Chronicle went to press. 
"In our first day, we raised more than $4,000 and counting to help victims of Hurricane Harvey," said Lisa Schifman, financial resource director at Jewish Federation of Greater Kansas City. "Our network of local and international partners enables us to respond quickly and effectively, and 100 percent of this emergency fund will provide both urgent and long-term needs. We work alongside emergency service providers so they can help where they are most needed."
As emergency officials work to assess the damage, hundreds of thousands of people are without power or access to food and water. 
Lee Wunsch, CEO of the Houston Jewish Federation, reports that the amount of rain and resulting flooding has surpassed that of the storm two years ago. Bayous and tributaries are flooding beyond their banks and roads are impassable. People whose homes are flooding are being advised to go up to their roofs so they can be evacuated; emergency workers were evacuating stranded residents through the night. Synagogues and Jewish organizations have been flooded as well.
"We have all watched with great difficulty as Hurricane Harvey has and continues to cause catastrophic destruction to the Greater Houston area, Texas coastal communities and Central Texas. Our thoughts and prayers are with all who are affected by this terrible natural disaster," said John Isenberg, board chair of Jewish Federation of Greater Kansas City. 
One hundred percent of donations to this fund will go directly to helping Hurricane Harvey victims with immediate needs, including food and medicine, and long-term needs, like trauma counseling. 
Donate online at www.jewishkansascity.org, send in a check to Jewish Federation of Greater Kansas City, 5801 W. 115 Street, Suite 201, Overland Park, KS 66211, Attn: Hurricane Harvey Emergency Fund, or contact Kori LePage, 913-327-8100 to make your donation via phone.