Eucalyptus West: A partnership 15 years in the making
Published: Thursday, 10 August 2017 10:00
Written by Hannah Michelson, Special to The Chronicle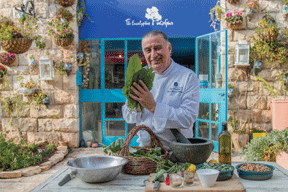 It was 2002. Israel was embroiled in the Second Intifada; and there was less tourism than usual in the country. The Jewish Federation of Greater Kansas City organized a 10-day trip for about 100 people in the area to show solidarity; a significant number of participants on the trip were from Congregation Ohev Sholom. While on the trip, the group dined at a restaurant in Jerusalem called Eucalyptus, owned by Chef Moshe Basson.  
After the trip, Ohev Sholom's Israeli Affairs Committee identified one potential way to help the Israeli economy: Invite Chef Basson to Kansas City to cook at local synagogues and in people's homes. Chef Basson graciously accepted and spent five weeks in Kansas City with his son. During his stay, Ohev Sholom's members acted as Chef Basson's sous chefs, many developing close personal friendships with him. Chef Basson has returned to Kansas City many times over the past 15 years, to visit his friends and to prepare Israeli food for Ohev Sholom's KosherFest.
And now, 15 years after his initial visit, Chef Basson will return to Kansas City for an entirely new, unique opportunity: a pop-up restaurant at Jewish Culture Fest. The venture is a first both for Chef Basson and for the The J (the Jewish Community Center of Greater Kansas City), which plans and hosts Jewish Culture Fest. 
The restaurant has been penned "Eucalyptus West," a homage to the original venue located in Jerusalem. 
"Eucalyptus restaurant serves a modern interpretation of biblical cuisine," said Meredith Farnan, Jewish Culture Fest food committee co-chair. "Chef Basson's passions for biblical culture drove him to research and resurrect recipes, spices and local and wild herbs that were part of the traditional cuisine, and were neglected and nearly forgotten for centuries."
Chef Basson will be bringing many of these spices and herbs with him from Israel to be prepared right here in Overland Park, at Eucalyptus West.
"Every dish has its origins in biblical scenes and all the spices and herbs used grow, as in ancient times, in the surrounding hills of Jerusalem and Judea," Farnan said. 
The restaurant will feature a tasting menu called King Solomon's Feast and will feature many of these spices and herbs. The full meal is Vaad-supervised Kosher. The menu includes figs stuffed with chicken, fire roasted eggplant, mushroom steak with frikeh risotto, seared duck breast and Jerusalem siniya, among many other items. Vegan options will be available for many of the dishes. The full menu can be viewed online at JewishCultureFest.com/menu.
Israeli-biblical cuisine is the specialty of Chef Basson, who is an internationally renowned master chef. A regular guest on Israeli and international radio and television programs, Chef Basson has received knighthood as "Cavaliere de la Republica" by the Italian government. He has participated as a guest chef during Israel culture week in Strasburg, France, and at "Gefitlefest" in London, a festival for Jewish culture and food. Chef Basson has represented Israel during "Couscous Fest" in San Vito Lo Capo, Sicily, winning the championship three times. He also serves on the board of "Chefs for Peace," a nonprofit organization promoting a message of peace through food. 
"Chef Basson offers a unique chance to explore the roots of western culture through a culinary journey to kitchens of the Bible," Farnan said.
Eucalyptus West is offering two seatings during the Jewish Culture Fest, at 3:30 p.m. and 5:30 p.m. Guests can choose between two price points, one that includes two glasses of wine and one that does not. 
The pop-up restaurant will take place during Jewish Culture Fest, which runs from 11 a.m. to 7 p.m. on Sunday, Sept. 10. The cost of admission to the Fest is included in the price of the ticket to the restaurant. Tickets are available for purchase at JewishCultureFest.com.