Scholar to explain Jewish calendar before total eclipse of the sun
Published: Thursday, 03 August 2017 10:00
Written by KCJC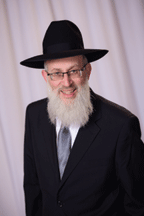 Did you know that every 19 years the Hebrew dates on the Jewish calendar coincide with the date on an English calendars? And you also can figure out the days when each of the Jewish holidays fall by matching them to each day of the Passover holiday.
So when the leadership of Congregation Beth Israel Abraham & Voliner realized that the total eclipse of the sun would be observed less than an hour away in St. Joseph, Missouri, on Monday, Aug. 21, they quickly arranged for a foremost expert on the Jewish calendar to give several lectures during the Shabbat that precedes this once-in-a-lifetime event. 
Rabbi Dovid Heber, director of the STAR-K computer department, will be a presenter for the Kosher Eclipse Program in St. Joe and the Shabbaton scholar-in-residence at Congregation BIAV. A noted author, expert in the Jewish calendar and astronomy, Rabbi Heber will talk about "The Twists and Turns in the Hebrew Calendar" at 9:45 p.m. Friday, Aug. 19. During Shabbat morning services on Aug. 20 at BIAV, he'll continue the journey through the calendar with a discussion at approximately 10:45 a.m. on the upcoming month of "Elul," which precedes Rosh Hashanah. At a luncheon following services at BIAV, he'll offer a peak into "The Eclipse," and he'll conclude with an explanation of "The International Dateline" at 6:15 p.m., followed by Mincha, Seudah Shlishit (The Third Meal), Ma'ariv and Havdalah.
"We are very excited to have Rabbi Heber with us to share his expertise and enthusiasm," said Rabbi Dani Rockoff, spiritual leader of Congregation BIAV. "We will be prepared not just to see the eclipse but to appreciate it on religious and scientific levels."
Rabbi Heber is also an expert in the field of kosher pharmaceuticals, nutriceuticals and medications. He oversees the kashrut database, automation and security, as well as the production and editing of the annual STAR-K Passover Directory. In addition, he is the rav of Khal Ahavas Yisroel Tzemach Tzedek in Baltimore, Maryland.
For information about the cost and location, and to RSVP for the Kosher Eclipse program in St. Joe, visit http://koshereclipse.com/index.html.
There is a cost for the catered Shabbat dinner and lunch the following day at BIAV. For information or to make a meal reservation, contact the BIAV office at 913-341-6444 or email This email address is being protected from spambots. You need JavaScript enabled to view it..