Bell inducted into Kansas Music Hall of Fame, honored as longtime lawyer
Published: Monday, 17 July 2017 12:00
Written by Jerry LaMartina, Contributing Writer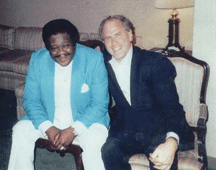 Allan H. Bell developed quite a rock 'n' roll Rolodex over the years.
Bell started his first business in 1955 at age 14 as a freshman at Southwest High School in Kansas City, Missouri. He called it America's Best Attractions (ABA). It was a music and theatrical booking agency for local and national rock 'n' roll bands.
He ran the company through the 1980s. Along the way, he represented artists including Chuck Berry, Ike and Tina Turner, Booker T. & the M.G.'s, Mahalia Jackson and many others.
In recognition of his achievements with ABA, Bell was inducted into the Kansas Music Hall of Fame in March of this year.
In 2008, the University of Missouri-Kansas City's Department of Special Collections bought the Allan Bell Collection, which comprises memorabilia from the business. It's divided into five categories: correspondence, artist packages, contracts, photographs and miscellaneous material.
In 1967, fresh out of law school, he started a law firm called Allan H. Bell Associates in North Kansas City. At age 76, he still works about 80 hours a week as an immigration lawyer. The Kansas City Metropolitan Bar Association recently honored him for having practiced law for more than 50 years. 
Bell fell in love with soul music in his early teens, and that led him to start ABA.
"I really liked listening to Fats Domino," he said. "In those days, it was what would be called soul music or black music. There was none on local radio, but I'd dial up a Memphis station, WDIA."
Bell also heard musicians such as Big Maybelle and Sister Rosetta Tharpe on WDIA, and one day he heard a commercial for Fats Domino's upcoming performance in Kansas City. 
In September 1955, Bell drove his 1949 Ford, which he'd bought with some of his Bar Mitzvah money, to the Orchid Room at 12th and Vine — at age 14 and with no driver's license — to see Domino's show. 
A couple of days later, he learned that Southwest High School's student council was planning a dance, and he had an idea.
"I said, 'Why don't we get the house band from the Orchid Room?' The organizers said if I could get them, they'd pay them $200."
The venue's house band was Orestie Tucker and the Scabs. Bell went back to the Orchid Room and asked Tucker if his band would play at the high school dance. Tucker agreed.
People started asking Bell where he'd gotten the band, and he started booking the band at other venues. He asked Tucker if he would let Bell be the band's booking agent. Tucker took Bell to the musician's union to meet its officers, and they approved.
"They probably thought I was an oddity," he said. "They were all black. There was a union rule that you get 20 percent of what the band gets paid. I used to have five to 10 bands working every weekend by 1956. The typical band fee was about $300."
By the spring of 1956, Bell was booking bands at every high school in Kansas City, he said. He paid for college and law school with income from the business.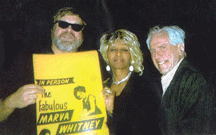 He started another business while he was in high school, publishing a directory of phone numbers of social directors of high school fraternities and sororities and ran that business until about 1975.
Bell kept running the businesses when he went to law school. He developed an interest in immigration law as a law student. He had about 30 fellow law students who were Middle Eastern Muslims, "and they needed immigration help," he said. This prompted him to start another business, a travel agency called Allan Bell Charters around 1970, which is still in business.
"Everyone who needs an immigration lawyer needs a travel agent," he said. "We help you in. We help you out."
Bell was born and raised in Kansas City, Missouri, and lives there still. He's a lifelong member of Kehilath Israel Synagogue and became a Bar Mitzvah there. 
He attended the University of Southern California for a six-week journalism program for college credit while in high school and was sports editor during that time at USC's Daily Trojan. He played football and basketball in high school.
He received dual undergraduate degrees in journalism and in radio, television and film production from the University of Miami, and he received his law degree from the University of Tulsa. He was admitted to practice before the U.S. Supreme Court in 1980 and has argued several cases before the high court.
He and his wife, Ruth Susan Bell, have been married for 54 years. They have two adult children and three grandchildren. 
Their son, Jeffrey Bell, and his wife, Marla Bell, live in Leawood and are lawyers at the Polsinelli law firm; and their daughter, Allison Leslie Bell, is senior editor of National Underwriter Life & Health magazine in Jersey City, New Jersey. Her husband, Michiel Pilgram, is a TV producer at WNET in New York. 
Bell's law practice has changed over the years, especially in the past few years as immigration has become more controversial.
"I'd say it's become much more difficult to qualify for permanent residency in the U.S.," he said. "It calls for being far more alert to immigration trends." 
Immigration has grown much more political, especially in light of illegal immigration, he said.
"I believe that a high percentage of immigration lawyers, regardless of their religious affiliation, believe 'I am my brother's keeper,' which is from the book of Genesis," he said.
His solution for illegal immigration: "Canada, Mexico and the U.S. should become one country — the United States of North America," he said. "It's going to take that to solve the problem. Aren't we all illegal?" he said, referring to white Europeans' domination and displacement of Native Americans, and the historical expansion by force of countries around the world.
"You have a lot of people, though, who think 'Tell all those illegals from South America and Central America to come here the right way: Do it legally,' " he said.
Bell's Kansas Music Hall of Fame Induction "made me feel good," he said. 
"It showed appreciation for approximately 35 years of most enjoyable work in the music industry in Kansas, Missouri and nationally," he said. "I think that some people aren't enamored with recognition, but I enjoy it."