Listening Post
Published: Thursday, 06 July 2017 10:00
Written by Barbara Bayer, Editor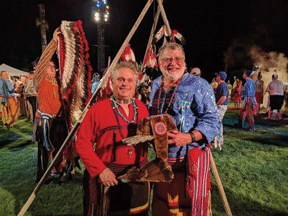 TROOP 61 ALUM HONORED — Last month Ron Fredman was elevated to Sagamore in the Tribe of Mic-O-Say (honor camping society), one of eight people to receive this honor — presented as a surprise without notice — this summer. It is the third of four levels of the Tribal Council and carries some important responsibilities such as endorsing the policies of the Council of Chieftans.
So, what is the Tribe of Mic-O-Say? It serves as a leadership enhancement program of the Heart of America Council designed to help the council fulfill its mission of preparing the young people of Eastern Kansas and Western Missouri to make ethical choices over their lifetimes by instilling in them the values of the Scout Oath and Scout Law.
Its purpose is to provide recognition for boys who have demonstrated and proven their devotion to Scouting even beyond the extra mile. It is a boys' program guided and inspired by adults.
Adult leaders are brought into the Tribe so that they may interpret and encourage the use and application of those principles in the lives of boys. 
It is believed Fredman is only the second alum of Troop 61 that has been so recognized. In 2012, Barry Slotnick, who is on the camp's professional staff, was elevated to Sagamore. 
Others associated with Troop 61 have served on the Tribal Council over the last 80 years. Two served as Presiding Chieftain: the late George Lieberman (1978) and Harvey Bodker (1997). Paul Bayzman and Al Beitchman have also held honored Tribal positions. Over the years more than 80,000 people have been part of the Tribe since its inception in the 1920s.
Fredman is assistant Scoutmaster of Troop 387 and formerly served as Troop 61 Scoutmaster. He became Sachem (the first Tribal Council level) in 2002. He became an Eagle Scout in 1970.
MACCABIAH BEGINS THIS WEEK — At least two athletes from the Kansas City area will be competing in the The Maccabiah Games in Israel. Opening ceremonies take place today, Thursday, July 6, but in some cases competition begins ahead of the ceremony. The Maccabiah is the world's largest Jewish athletic competition held in the tradition and values of Maccabi, emphasizing the centrality of the State of Israel in the life of the Jewish people. The Maccabiah, sometimes referred to as "the Jewish Olympics" — takes place every four years in Israel. The games are being held in various cities through Israel from July 4 through July 18. Ten thousand athletes from 80 countries in 47 sports are expected to compete.
Sabina Skolnick is playing on the Israeli Women's Lacrosse team. (See update on Page 6.) Grant Greenberg of Leavenworth is representing the United States in men's basketball. Greenberg completed a historic career in 2017 at University of Saint Mary in Leavenworth, where he was a four-time All American, all-time leading collegiate scorer in the state of Kansas, and finished with 3,330 points, putting him in the top 10 of all scorers in the history of collegiate basketball. It is believed he is also the all-time leading Jewish scorer in the history of basketball.
MAZEL TOV KC BBYO — According to a Facebook post by BBYO Midwest Regional Director Annie Rifkin, for the first time in years BBYO Kansas City has met its end-of-year membership goal. It is now 230 members strong! Rifkin wrote: "To say I am proud and excited is an understatement, I'm in awe. I'm in awe that it is June 30 and you all (BBYOers) are still talking to your friends, making calls to teens you don't know, getting on the phone with their parents. You have given them the gift of being a part of our incredible family, a life-changing organization, changing their lives. Thank you and mazel tov!!" Another announcement on June 30 noted that the BBYO global movement now includes 83,000 teens across 600 chapters in more than 40 countries.
WORLD REFUGEE DAY — JVS is one of 17 sponsors of World Refugee Day, taking place in Kansas City on July 8. This free family event will be held at the Kansas City University of Medicine and Biosciences at its Strickland Education Pavilion — Ricci Auditorium, 1730 Independence Avenue, Kansas City, MO 64106.
Across the globe, World Refugee Day actually occurs on June 20. It commemorates the strength, courage and perseverance of millions of refugees. For more information, contact Martin Okpareke at This email address is being protected from spambots. You need JavaScript enabled to view it. or 816-471-2808.
ONLINE EXHIBITION COMMEMORATES JEWISH CYCLISTS FROM BEFORE THE HOLOCAUST — Last week the multinational Tour de France bicycle race commenced in Dusseldorf, Germany. The month-long race will conclude on July 23 in Paris at the Champs-Élysées. Yad Vashem, the World Holocaust Remembrance Center, is marking this historic event by uploading a new online exhibition entitled "A Shattered World: Diary and Mementos from Bicycle Trips and Tournaments that Moshe Cukierman Participated In."
A large collection of medals, newspaper clippings, travel diaries and photographs donated to the Yad Vashem Artifacts Collection document the impressive sporting activities of Polish-born cyclist Moshe Cukierman and his colleagues prior to World War II. Cukierman and his fellow cyclists trained with the Bar Kochba and Maccabi Lodz Jewish sports clubs, and participated in competitions throughout the 1920s and '30s.
The exhibition contains images, artifacts and excerpts from Cukierman's diaries, bringing this unique human story to sports enthusiasts and other members of the public around the world. 
The exhibition is available in English, Hebrew, French and Spanish. Last year alone, Yad Vashem's website, available in eight languages (English, Hebrew, German, Russian, French, Spanish, Arabic and Farsi) received over 18.6 million visits. 
STARLIGHT'S NEXT SHOW FEATURES GERSHWIN TUNES — "An American in Paris," the most-awarded new musical of 2015 and winner of four Tony® Awards, will make its Kansas City debut at Starlight Theatre on July 11-16. The national touring production is the fourth show of Starlight's 67th Broadway season and one of three brand-new musicals taking the Starlight stage this summer.  
Inspired by the Academy-Award winning film, "An American in Paris" is the romantic story of an American soldier, a mysterious French girl and an indomitable European city, each yearning for a new beginning in the aftermath of war. Directed and choreographed by 2015 Tony Award winner Christopher Wheeldon, the musical features the music and lyrics of brothers George and Ira Gershwin and a book by Craig Lucas. 
In a post-World War II Paris, American soldier Jerry Mulligan is awestruck by the beautiful ballerina Lise, triggering his decision to stay in the city and explore his passion for painting. From that magical moment, Jerry becomes engulfed in a whirlwind of new experiences, friendships and romances. 
The score of "An American in Paris" features many beloved songs, including "I Got Rhythm," "Liza," "'S Wonderful," "But Not for Me," "I'll Build a Stairway to Paradise," and orchestral music including "Concerto in F," "Second Prelude," "Second Rhapsody/Cuban Overture" and "An American in Paris." 
Tickets for An American in Paris at Starlight Theatre are on sale now and are available online at www.kcstarlight.com, by calling 816-363-7827 or at the Starlight box office. All performances begin at 8 p.m.