Listening Post
Published: Thursday, 29 June 2017 10:00
Written by Barbara Bayer, Editor
"We are grateful to all who sponsored, participated in, and volunteered for the Father's Day Run," said Katie Reilley, the Father's Day Run Manager. "The money raised from the run will directly fund and enrich our exceptional memory care programs." 
After the race, runners and walkers enjoyed breakfast from Morrison Community Living, fresh beer from Martin City Brewery, and massages from F.I.T Muscle and Joint Clinic. Those too young for the 5K participated in the Kids' Fun Run following the race. Before and after the Fun Run, kids kept busy making crafts for their dads and playing Giant Jenga.
"We had a great turn out and uncommonly cool weather for June," Reilley said. "Everyone seemed to have a great time."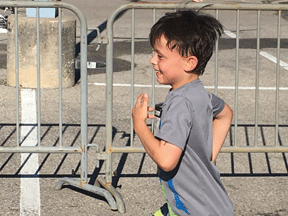 A KC REP'S WOLF TO DIRECT IN THE BIG CITY — Kansas City Repertory Theatre has announced that "FIRE IN DREAMLAND" has been added to the 2017-2018 season at The Public Theater in New York City. In addition, KCRep's Director of New Works Marissa Wolf will direct the play for The Public Theater. KCRep's curator and producer for its annual New Works Festival, Wolf said, "In collaboration with Artistic Director Eric Rosen, I'm thrilled to champion vital, urgent and nationally recognized plays and musicals under the umbrella of OriginKC, forwarding Kansas City as a major national center for the development and production of new work. "FIRE IN DREAMLAND" was among the very first new plays we produced here under the auspices of the New Works Festival, and Kansas City has become part of the play's DNA."
"DREAMLAND," written by Rinne Groff ("The Ruby Sunrise," "Saved"), is a moving, lyrical piece, set on Coney Island, in the aftermath of 2012's Superstorm Sandy. It explores the astonishing things we do when faced with devastation. The next OriginKC: New Works Festival is set for April 27 through May 27, 2018, on the Copaken Stage. For more information on KCRep, visit kcrep.org.