Teacher produces e-book from her Hebrew course
Published: Thursday, 22 June 2017 11:08
Written by Marcia Horn Montgomery, Contributing Writer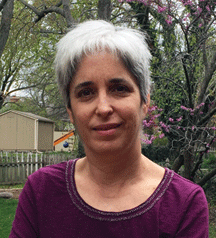 Israel native Orit Kamara has created a quick and easy way to learn how to read Hebrew. With 10 years of experience teaching Hebrew, she has learned what works and what doesn't, so she put her program into an e-book.
Her e-book is broken up into eight parts (or booklets) and can be purchased on Amazon. If you have Kindle Unlimited, the book is free. Otherwise, the entire set of eight booklets is $7.99. Go to Amazon.com and search for Orit Kamara or "Read Hebrew in 1 to 8 weeks."
Kamara was an adjunct professor of Hebrew in the foreign language department at Johnson County Community College from the time the Hebrew program started in 2009 until it closed in 2016, teaching beginners to the advanced. Now she teaches a continuing education program in the spring and fall at JCCC on learning to read Hebrew.
This year her fall class is from 6 to 8 p.m. Mondays, beginning Aug. 21 and will run through Oct. 16. She has had anywhere from 14 to 20 students in her class. She says about eight students from last spring's class intend to continue on to modern, or conversational, Hebrew. For more information or registration, go to http://ce.jccc.edu.
"It's enrichment, it's challenging, it's a treat for them," she says. "My treat is to go to the gym; their treat is to come to Hebrew class."
If you're unable to make the Monday evening class at JCCC, Kamara also teaches one-on-one online by Skype. Check out her website at https://www.ivritbyorit.com/ for details.
"It's two different dynamics," she says. "The class course is really nice because people interact and I have options that I don't have online, but online I get to learn the style and need of the specific student. So it's two different types of teaching and two different benefits, whether online or in class. But I like doing both of them."
When she created the eight-booklet course, Kamara says she found that people really liked her specific program. Some had tried other programs that didn't work for them. She was encouraged by her students' feedback.
"There's a lot of research that says learning a new language is very good for the brain and for preventing Alzheimer's," she says.
About two years ago Kamara began to think about making the booklets from her course available to people who live in places where there are no Hebrew teachers. She decided to make an e-book so people anywhere could access them.
She says there are links throughout her e-book so you can jump back to a topic you may want to review, making it easy to navigate. There are also exercises and questions, and you can go to the end to see if your answers are correct.
"But I think the best part is that there are a lot of reading exercises after a letter or vowel is taught and it comes with my recording of this so someone can read and then listen to me or first listen to me and do the reading," she says.
Kamara says she realized most people just want to be able to go to synagogue and read the Hebrew prayers — not learn how to speak the language.
After each class during the two years Kamara researched how to do an e-book, she would change something in her booklets in order to improve them. So through the process of working with real students and doing a little tweaking here and there, she felt she had a good program she could offer to the public.
"I didn't have a clue how to start it, but somehow I think when you have a calling you know exactly what you are to do," she says. "So from knowing nothing about the process and feeling so intimidated, after two years I had this exciting moment where I clicked a button on my computer and uploaded the e-book to Amazon. And in one instant it became public to the whole world."
The e-book is selling not only in the United States, but in places like France, Italy, Australia, Canada, India and Brazil. She says it was a tremendous accomplishment to do something so challenging for her, which is the way her students feel when they complete her course.
"When my students start to study Hebrew, some of them say it's too hard, I tried it already, it's not for me, I'm very slow in learning languages. And then at the end of the process I can see their feeling of achievement," says Kamara.
She says she would welcome feedback from people who purchase her e-book and are using it as a self-learning tool. She's now researching how to make it into a print book on Amazon.
In addition to teaching Hebrew, Kamara led a two-week trip to Israel in March with 17 people. The group was split about half Jewish and half Christian. The focus of the trip was not just religious sites, but other aspects of Israel, such as nature, the landscape, a kibbutz, city life and historical sites.
"It ended up an amazing trip for me, too," she says. "I got such good feedback from the group and I enjoyed it so much that I'm starting to plan another one for next year. But this group was amazing and the dynamic was so nice."
She had a photo book printed for everyone and the group got together for a reunion at her house earlier this month where she gave each of them a copy of the photo book.
Kamara immigrated to the U.S. with her husband Effi and their two daughters in 2001 when he was relocated here for his job. They reside in Overland Park; their two grown daughters have moved back to Israel.
In keeping with her native country, Kamara says she is involved in different programs in the community and attends various synagogues.