Listening Post
Published: Thursday, 08 June 2017 12:20
Written by Barbara Bayer, Editor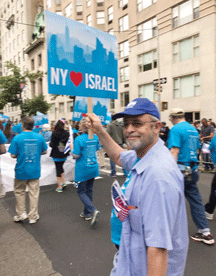 OUTSIDE-IN IDEA NOT NEW — The Chronicle published an opinion, "Can Trump's outside-in formula work?" by Jonathan S. Tobin in the May 25 edition. In that article concerning solving the conflict between Israel and the Palestinians Tobin stated, "The key to Trump's foray is an effort to forge an 'outside-in' breakthrough, in which bilateral talks will be shelved in favor of an attempt to use the leverage of Saudi Arabi and other Sunni Arab nations over the Palestinians to forge a pact with Israel."
It has come to my attention that this isn't the first time such an idea has been presented in The Chronicle. In the Aug. 20, 2015, edition, Rabbi Mark Levin presented an opinion on the same subject titled, "Overriding Iran deal not the answer to Israel's problems." At that time, he wrote:
"… there is a solution that most of the Jewish community will hate, and no one is willing to accept. But here it is:
Israel needs to make peace with Saudi Arabia and Jordan. There's a Saudi Peace Plan on the table that's been there since 2002. To the best of my knowledge, the Israelis never responded. It offered peace and complete recognition for returning to the 1967 borders. It's not the final offer. It's a place to begin sincere negotiations. Why now?
ISIS is the champion of the Sunnis in the Middle East.
Syria is ineffectual, and likely to be split, with part of it going to ISIS.
Iraq is likely to split, or maintain the current balance of power for the foreseeable future.
Saudi Arabia, although Sunni, is being opposed and their government endangered by both Shi'a Iran on the east and ISIS in the north.
Jordan is always in danger, and ISIS will threaten them next. Their most powerful close-by ally will be Israel. Jordan needs an ally.
Saudi Arabia and Jordan need Israel, and Israel needs two things: a peace agreement within recognized borders and protection against Iran. An anti-Iran alliance in the Middle East, including Egypt, will counter Iran's power as Saddam Hussein did before Pres. Bush knocked him out of power and disturbed the balance of power in the Middle East."
You can find the entire article by searching Overriding Iran Deal on kcjc.com or on Rabbi Levin's Facebook page (Rabbi Mark H. Levin) from Aug. 12, 2015.
SUMMER'S BEST TRAVEL BOOKS – Jon Arlan's book, "Mountain Lines: A Journey Through the French Alps," published by Skyhorse in February and featured in a Chronicle story earlier this year (Feb. 9, 2017), was highlighted among the best summer travel books of 2017 in a New York Times review by Liesl Schillinger, "Destinations Await in the Summer's Best Travel Books," published in the May 30 edition. She called the book "a disarmingly engaging memoir by a millennial Kansan."
40,000 ATTEND CELEBRATE ISRAEL PARADE IN NEW YORK (JNS.org) — Forty-thousand people assembled Sunday on the streets of New York City for the 53rd Annual Celebrate Israel Parade, one of the world's largest pro-Israel gatherings.
Manhattan's Fifth Avenue was decked in white and blue as American and Israeli officials joined the parade's participants. Israeli officials in attendance included Public Security Minister Gilad Erdan, Jerusalem Mayor Nir Barkat, Israeli Ambassador to the United Nations Danny Danon, Consul General of Israel in New York Dani Dayan and several Knesset members.
During the parade, Erdan announced the launch of the Israeli government's 4IL website, which will combat online anti-Israel activism around the world.
New York Governor Andrew Cuomo, meanwhile, announced the establishment of "Shimon Peres Day," in honor of the late Israeli statesman.
"This is a special day … named after one of the founding fathers of the state of Israel, an inspirational man and a visionary," Cuomo said.
NELSON-ATKINS' BLOCH   BUILDING CELEBRATES 10TH ANNIVERSARY — The magical Bloch Building, an award-winning architectural marvel designed by Steven Holl as an expansion of The Nelson-Atkins Museum of Art in Kansas City, celebrates its 10th anniversary with a special exhibition, "An Iconic Addition," that opened June 7. The Bloch Building represents an architectural accomplishment of international importance as well as a turning point in architect Holl's career. Although the project received criticism during its planning and construction, in the 10 years since opening, the iconic addition has become a point of civic pride and has received critical raves. The New York Times called it "a work of haunting power." TIME Magazine proclaimed, "The effect against the nighttime sky is nothing short of magical." The Bloch Building has become emblematic of Kansas City's rising prominence in design and the fine and performing arts. 
"The magnificent Bloch Building is a physical representation of the forward-thinking and inspirational leaders who made up the search and selection committees for an architect, then made Holl's vision a reality," said Julián Zugazagoitia, Menefee D. and Mary Louise Blackwell CEO & Director of the Nelson-Atkins. "Without the stewardship of board leaders Henry Bloch, Adele and Donald J. Hall and Estelle and Morton Sosland, and Director Marc Wilson, this building would never have been built. They combined efforts to bring this project to fruition, and it is a symbol of their vision and tenacity."
The Bloch Lobby exhibition celebrating the 10th anniversary highlights the contributions and leadership of steering committee members Henry W. Bloch, Don and Adele Hall, and Morton and Estelle Sosland, and features reproduced archival material including architects' sketches, materials documenting reactions, both critical and supportive, as well as video interviews with Holl. The exhibition is curated by Sarah Biggerstaff.
The Bloch Lobby exhibition closes Jan. 14, 2018.
QUALITY HILL TO CELEBRATE MUSIC OF CAROLE KING AND JAMES TAYLOR — Quality Hill Playhouse embraces the music of the Baby Boomer generation with its latest production, "You've Got a Friend," opening June 9.
The concert-style revue's title song, written by Carole King, was a hit for both King and James Taylor on their respective 1971 albums "Tapestry" and "Mud Slide Slim." It is fitting that the production prominently features music by both artists, with nearly half of the first act devoted to Taylor ("Fire and Rain," "Sweet Baby James," "Carolina in My Mind," "Shower the People") and more than half of the second act devoted to King ("Up on the Roof," "I Feel the Earth Move," "It's Too Late," "Will You Love Me Tomorrow?"). Additional hits from the era included in the nearly two-hour production will be "Blowin' in the Wind" (Bob Dylan), "Leaving on a Jet Plane" (John Denver), "Puff the Magic Dragon" (Peter, Paul and Mary), and "Lean on Me" (Bill Withers).
"You've Got a Friend" runs through July 9 at Quality Hill Playhouse, 303 W. 10th Street, Kansas City, MO. For tickets, call 816-421-1700. To purchase tickets online or for more information, visit www.QualityHillPlayhouse.com.