It's a schmoozapalooza: New name, more activities on tap for 2017 Jewish Culture Fest
Published: Thursday, 01 June 2017 10:00
Written by Barbara Bayer, Editor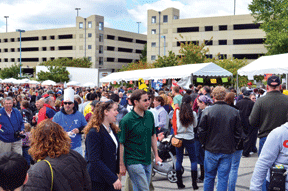 Mark your calendar for Sept. 10 for what many consider the premier event in the Jewish community, the Jewish Culture Fest. Sponsored by the Jewish Community Center, it will take place on the grounds of the Jewish Community Campus from 11 a.m. to 7 p.m. Tickets are set to go on sale June 11 online (jewishculturefest.com), at the White Theatre Box Office and The J Front Reception Desk. Cost is $6 for adults and $3 for children in advance; children younger than 4 are free.
Co-chairs Diane Azorsky and Marlis Grad lead the steering committee under the guidance of The J's staff. They say this fun, family-friendly, all-day event will feature artists, activities, food, musicians and entertainers that will "capture your imagination."
"This event is the only event of its kind in the Kansas City Jewish community that brings everyone together from all the different organizations and all the different congregations, and we really want to encourage everyone to come and be part of it," Azorsky said.
The last festival, known as the Jewish Arts Festival, took place in September 2013 and drew a crowd of 7,000. Many new things are on the agenda for 2017, including the sixth-annual Kansas City Kosher BBQ Competition, sanctioned by the Kansas City BBQ Society.
The new name, Azorsky explained, reflects the fact that this festival's organizers decided to open its focus and go beyond art.
"We are incorporating into this festival such things as Israeli technology and performing acts of loving kindness because those things are parts of Jewish culture. We broadened the scope and changed the name to better indicate what we are about," said Azorsky, who is a first-time festival chair but has volunteered at every previous event
One reason festival organizers chose to reinvigorate the festival for 2017 is because it has basically had the same format since its inception in 1994. Grad, who also co-chaired the last two festivals, said they are hoping this year's event will attract not only people — both Jewish and non-Jewish — from the Greater Kansas City area, but also folks from other communities such as Topeka, Des Moines and even Omaha. 
"This festival is going to be all things Jewish. We'll have Jewish food, Israeli technology and what they bring to the world, a mitzvah tent, a kids' area, and a variety of performers from vocal groups to comics," Grad said. "We hope all the new additions to the festival will showcase our Jewish community and help us attract a larger audience than before."
Those who loved the Jewish Arts Fest as it was will still experience all the Jewish flavors, sights and sounds from previous festivals. An art tent will feature Jewish artists selling their works, and more tents will showcase an assortment of Jewish food, all of which will be kosher and supervised by the Vaad HaKashruth of Kansas City. As in the past, Jewish organizations — such as Boy Scout Troop 61 with their potato latkes — and local restaurants will sell food.
For the first time this year, world-renowned Israeli chef Moshe Basson will host a pop-up restaurant. Called Eucalyptus West, the pop-up is based on Basson's Eucalyptus restaurant in Jerusalem and will serve Mediterranean and Middle-Eastern cuisine at two seatings: 1:30 p.m. to 3 p.m. and 5 p.m. to 6:30 p.m. Advance reservations will be required.
"This is really going to be fine Israeli cuisine. It's not just going to be falafel and shawarma on a stick," explained Azorsky, who added that folks will be able to purchase tickets and make reservations on the website June 11. A Eucalyptus West ticket — which includes the cost of festival admission as well — will sell for $100 per person without wine or $110 per person including two glasses of wine.
Another new area of the festival is Electric Avenue, which will feature electric cars.
"The technology for electric cars comes from Israel," said Azorsky, who also noted that part of Jewish values is taking care of the earth and the environment.
An Israeli technology pavilion will highlight Israel's technological achievements, which is important, Azorsky said, because "many things we take for granted today were developed in Israel."
As in the past, a family pavilion will provide activities for kids. In addition to make and take craft projects, young children will have the opportunity to perform community service.
Older children and adults will also be able to perform community service in the Mitzvah Tent. Azorsky said activities, which will be announced later, will benefit a "whole group of organizations within the Kansas City community and worldwide."
Two music stages will be set up for performances to take place throughout the day. National and local performing artists will include ethnic, pop and children's music, and comedy. Performers announced so far are comedian and Overland Park native Corey Rittmaster, Mama Doni & Nefesh Mountain, Rick Recht and Listen Up! A Capella.
None of this happens without hundreds of volunteers. Azorsky said there is an assortment of volunteer opportunities available, and those interested in doing so will be able to sign up on the website soon.
This year in addition to printed programs, a mobile-ready website will be set up where people can check to see where all the vendors are, what time each of the performers will be on stage and the entire schedule for the day.
"You'll be able to do everything on your phone," Azorsky said.
Grad emphasized that one of the greatest attributes of this festival is that it brings the community together.
"It's an event where people can see people they haven't seen in a long time. They can reconnect with old friends. They can sit and schmooze and talk, and maybe some of those connections will carry forward to new friendships. That's one of the biggest reasons we do this. We hope people will connect and see what a great Jewish community we have."