Local Jewish War Veterans post creating tribute book for KC veterans
Published: Thursday, 25 May 2017 10:00
Written by Barbara Bayer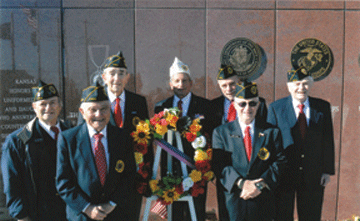 The MO-KAN Post 605 of the Jewish War Veterans of the United States of America, in coordination with the Jewish Community Foundation of Greater Kansas City, is developing a book to honor all Jewish war veterans from the Greater Kansas City area. This book, "For Those Who Served Our Country: A Tribute to Greater Kansas City's Jewish Veterans," intends to pay tribute to as many veterans as possible, whether they served in war or peace, from every branch of service from the 20th and 21st centuries. Letters have already gone out to 28 Jewish organizations and congregations to elicit support from members.
The local post is known for representing the Jewish War Veterans at communitywide events, providing holiday gifts to hospitalized and homeless veterans and outreach to youth, and honoring veterans at their funerals. The book project will expand on information gathered years ago that is displayed in a "museum" located next to the Rams Café in the lobby of the Jewish Community Campus. The glass cases contain visuals honoring Jewish war veterans from the Greater Kansas City area. A kiosk, dedicated in 2005, with names of local veterans is also part of the "museum." 
Sheldon Turetsky, who served in the Army National Guard from 1970-76, said he believes the project is important because it lets people know that Jewish men and women have served in the U.S. armed forces.
"There were thousands of Jews who served in the armed forces. A lot of non-Jews don't believe that Jews are good patriots. In fact, there are a lot of Jews who don't believe that we/they are patriotic Americans. If nothing else this book will document that we have a history of patriotism," said Turetsky, who is a past commander of the post.
The book project is being spearheaded by Roslyn Braeman Payne, a Kansas City native who now lives in California. Payne's parents — Aaron Braeman and Sophie Pincus Braeman — met while serving in the Army Air Force during World War II and were active members of the local JWV Post.
For her this book is a labor of love for several reasons. 
"In the last few years of my father's life when he was living at Village Shalom, the post never forgot him. They were always stopping by and chatting with him. It meant a great deal to him and us," she said, adding that her father passed away in 2014.
As is often the case, the post played a significant role honoring Aaron Braeman at his funeral service.
"At my father's funeral, the impact that the post had on my son was enormous. He really realized that his grandfather had served his country. I think our children and grandchildren need to know that men and women of the Jewish faith have served our country proudly," she said.
The post's actions at the funeral were Payne's inspiration to create something to honor the legacy of the men and women who served.
"We're very proud of all our family members who served, and we really do see this as a way of communicating to our children and grandchildren how important their service to their country was."
Turetsky added that the book is important because as nice as the museum is at the Campus, it's only visible to those who can take the time to look at it.
"Unless somebody is physically able to go to the Campus and take in the names and the faces and photographs and other articles on display, they can't experience it. Why not memorialize it in a coffee-table type book, a book that can be purchased or given as a gift so that people unable to go to that museum can appreciate the same information?" he said. "Certainly there are a lot of people around the country who will be able to appreciate what's in the book, especially the information that is personal to their family." 
Committee members, who also include Post Commander Steven Schorr, JCF's Josh Stein, Rod Minkin and Kristin Rissler in addition to Braeman and Turetsky, plan to produce a high-quality book that will feature visuals and stories based on interviews JCF has already acquired. 
"The current museum already has a fairly robust collection, and they have a video with lots of pictures and little vignettes. We're going to draw upon all of that. I also expect to be in Washington, D.C., this summer, and I will pick up some additional information from the national Jewish War Veterans organization. I'm guessing we're going to be able to draw upon a lot of things that people will pull out of their closets and their own scrapbooks, and it will be quite nice," Braeman said.
One of those additions could be a pristine copy of the Jewish Holy Scriptures Turetsky owns that the Army handed out in World War II.
"It's basically an all-English Bible. There's a short message in the front of it from Franklin Roosevelt. This book is pocket sized, good-quality paperback in olive drab," Turetsky said. 
Schorr also has some similar but older copies of Jewish daily and holiday prayers that were given to Jewish soldiers that go back to World War I that may also be included in the book.
Once the database is expanded, Braeman said, more interviews may be conducted. A noted designer has also offered his services to ensure this project will be as professional and graphically appealing as possible.
The post currently has a list of about 4,400 Jewish veterans from the Greater Kansas City area, and many of those names are reflected in the kiosk at the Campus. However, some of the information is outdated or incomplete. Help is needed from the entire Kansas City Jewish community to ensure that this book includes as many veterans as possible.
To that end, a very brief survey has been prepared that anyone can complete for himself or herself or a family member, whether alive or deceased. The only criterion for inclusion in the book is that the individual must have served in one of the U.S. armed forces and is considered from Greater Kansas City. Even those who were born here and moved away may be included. Information requested includes the individual's name, rank, service branch and dates of service. The surveys are readily available online at www.surveymonkey.com/r/kcveterans.
Instead of the survey, information about the veteran who served may be sent by mail to the Jewish Community Foundation at 5801 West 115th Street, Suite 104, Overland Park, KS 66211, or by email to Kristin Rissler at This email address is being protected from spambots. You need JavaScript enabled to view it.. Questions regarding the project may also be directed to Rissler.
While the project is expected to take many months to complete, the initial surveys need to be completed no later than June 30. There is no financial obligation of any kind associated with completion of the survey. Notification will be made later for those who wish to purchase books.
Although the local vets wish to give most of the credit for this project to Braeman, she likes to lavish praise onto them.
"I appreciate the community outreach and the fact that the veterans don't forget the other veterans," she said. "I think the work they do is fabulous. I think it's an organization that does good work and needs to be recognized."