Jewish Community Foundation assets reach $250,000,000 milestone
Published: Thursday, 25 May 2017 10:00
Written by KCJC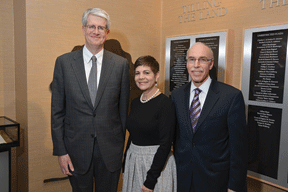 The Jewish Community Foundation has reached a significant milestone: $250,000,000 in assets. Thanks to the trusted partnership of individuals, families and community organizations, and sound investment strategies, the Foundation now holds a quarter of a billion dollars that will ultimately be used for charitable purposes.
The Foundation was created in 1959 "to encourage the contribution of gifts and bequests to assure that the community will continue to be served regardless of economic conditions or changing needs, to enable donors to use available tax planning programs, and to provide an everlasting memorial for the donor or loved one." 
The Jewish Community Foundation has evolved over the decades to become a multi-faceted, dynamic center for creative philanthropy and an international leader in innovative and collaborative programs, ranging from youth philanthropy to organizational capacity building. In the last 20 years, Foundation funds have provided support to local, national and international charities in excess of $255 million. 
"The Foundation is privileged to share this meaningful milestone with the community," said Irv Belzer, president of the JCF board of trustees. "Our continued growth is a testament to the generosity and commitment of our 'Foundation Family' members — our fundholders and communal organization partners — who have trusted the Foundation as the steward of their philanthropic dollars. We will continue working to leverage our resources by providing personalized service to our fundholders and education aimed at bringing along the next generation of philanthropists in our community."
"We firmly believe that the Jewish Community Foundation adds tremendous value to the philanthropic and Jewish communities and that is why so many have entrusted us to help them realize their charitable goals," said Lauren Mattleman Hoopes, JCF executive director. "Beyond our fiduciary and administrative responsibilities, we have created programs that train and model tzedakah for the next generation and build the capacity of our Jewish communal organizations by teaching and incentivizing more effective and efficient program delivery, organizational management and fundraising strategies. Our success has been the community's success and we're excited to go forward together into an even brighter future."
The Foundation has grown not just in assets, but in the number of individuals, families and community organizations that it works with to reach unique charitable goals. Nearly 400 individuals and families give charitably through JCF Donor Advised Funds, which function like charitable checking accounts. A fund can be opened for as little as $5,000 ($2,500 for those under age 35) and givers can support any 501 (c)(3) charity. Donor Advised Funds allow fundholders to give smarter by enjoying the flexibility and efficiency of their funds, as well as the personal touch the Foundation offers.
"Our Donor Advised Fund at the Jewish Community Foundation makes it easy to support the causes we care about," say Bill and Pam Kanter. "We especially appreciate the staff's personalized service and knowledge of the nonprofit landscape."
The Foundation also provides a continuum of giving programs for many ages and stages of life. The B'nai Tzedek program introduces B'nai Mitzvah-age youth to the joys of philanthropy by allowing them to open their own philanthropic funds at the Foundation. More than 500 teens and young adults currently have funds and have collectively donated over $225,000 to community organizations since the program's inception in 2001. More than 50 people participate in J-LEAD, is the Foundation's giving circle for Jewish adults in their 20s, 30s and 40s. J-LEAD members have donated over $300,000 to the community in the last 12 years.
A large focus of the Foundation's work is ensuring the community's sustainability through its Create a Jewish Legacy initiative. These efforts have secured an estimated $42 million in current and future planned gift commitments from nearly 450 donors. The Foundation works with community organizations to help grow their endowments and also provides comprehensive educational training and one-on-one consulting.
For more information about the Foundation visit jcfkc.org or contact Josh Stein at 913-327-8121 or This email address is being protected from spambots. You need JavaScript enabled to view it..