Embracing the community: Javier Cattapan's unique journey brings him to Judaism, the rabbinate and Beth Torah
Published: Thursday, 27 April 2017 14:48
Written by Barbara Bayer, Editor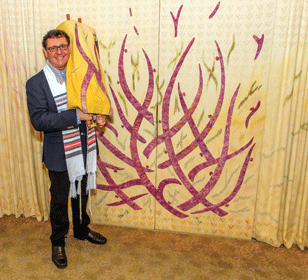 Javier Cattapan took an unusual path to the rabbinate. A native of Argentina, he was raised Catholic and was active in church serving as an altar boy. But when he was 16 years old and began writing a paper on religion, he concluded he didn't necessarily believe all the Catholic theology.
"On my own I developed a theology of a God that is indivisible," he said.
Soon after he began his research, he met with a person from the local synagogue.
"He gave me a book and I read it and I thought, this makes sense. I remember thinking Judaism is such a simple religion," he laughed. "I think what I meant is the basic theological idea, to me, is much simpler to grasp than all the things that Christianity had."
That Conservative synagogue, which was similar to a Reform congregation in the United States, embraced him.
"I started attending services in August and a month later I was singing in the High Holiday youth choir," he said.
Within that same month, he also taught himself how to read Hebrew.
"I had looked at Japanese and Chinese and it seemed very difficult to grasp. But when you look at Hebrew it's 24 letters and 12 vowels and that's it."
Not only did he fall in love with Judaism at that synagogue in Argentina, Rabbi Cattapan also learned he was passionate about singing. By his second year in the choir, he was singing solos.
"Down the road I was given more and more solos until I was singing Kol Nidre and I wasn't Jewish yet," he said. "In Judaism I not only found the religion I feel comfortable with but I also found a place where my passion for singing was nurtured, a bit unexpectedly."
Rabbi Cattapan officially waited to convert to Judaism until he was 21 so that he wouldn't need anyone's consent. By then, he said "everybody knew I was going to be a rabbi." His conversion certificate, which hangs on his office wall at Congregation Beth Torah, is signed by the president of the seminary, the dean of the rabbinical school and the dean (at the time) of the Rabbinical Assembly in Argentina.
Coming to America
Before rabbinical school, Rabbi Cattapan attended the Seminario Rabinico Latinoamericano (Conservative) and the University of Buenos Aires, where he studied ancient and medieval philosophy and was a teaching assistant in general linguistics.
As a gay man, his rabbinical school options were limited. The Reform and Reconstructionist movements both accepted LGBT applicants. He thought the best fit for him was the Reform Hebrew Union College-Jewish Institute of Religion.
"At HUC it wasn't an issue. They never asked me. At one point I talked to the dean about it and he said, 'Stop. It's not an issue.' "
After his first year of studies in Jerusalem, he moved to Cincinnati to complete his studies at HUC, where he earned a Master's of Arts degree in Hebrew letters in 1997 and was ordained as rabbi in 1998. 
When it was time to look for a job as a rabbi, the same reason he came to the U.S. became the reason he chose to stay.
"Despite the fact that some of the congregations in smaller cities in Latin America are Reform, they would not hire an openly gay rabbi. That was in 1998. Maybe now they would."
At the time he was searching for his first job as a rabbi, he was in a serious relationship with Kris Gray, the man he would eventually marry. The World Union of Progressive Judaism was interested in him serving in a Spanish-speaking country, but Rabbi Cattapan said the organization "could never find a congregation that would take me with a non-Jewish partner. Kris and I were together, but he was not Jewish yet."
After ordination, he taught modern Hebrew at Miami University in Oxford, Ohio. Before coming to Beth Torah, Rabbi Cattapan served synagogues in Indiana and Ohio. And he earned another degree, a Master's of Philosophy in Hebraic and cognate studies in 2004.
English as a second language
HUC-JIR was the first time the rabbi attended an English-speaking school. He said he has worked hard over the years to make sure others can easily understand him when he is speaking English.
"I speak English at home because I've been with Kris for 20-plus years. In fact, I hardly speak any Spanish anymore," he said.
In the U.S., he said he has never felt discriminated against in a job search because he is gay. 
"Thirty years ago, gay rabbis were told don't talk about that during your interviews. A lot of senior rabbis would say to those just being ordained, don't bring this up. I'm OK with you being out, but don't bring it up with the search committee."
He had many Skype interviews during his most recent job search, and he said it's easy to find public photos of him and his husband online. He felt being gay was not an issue in any of those interviews.
The fact that he is a Jew by choice has not been an obstacle, either.
"I will talk about it and use it to teach something. For instance, when we talk about how you feel about welcoming interfaith couples I mention that I have a diverse family. Kris' family is not Jewish either. He converted, too. Some of the issues that people have when they talk about celebrating Christmas and all that, we do as well. To me, it's a way for me to understand better how interfaith families may feel. I don't consider somebody who converted to be an interfaith family but I do consider that if somebody converted there are interfaith considerations to be taken because you have an extended family and if you have kids their grandparents are probably not Jewish."
On the other hand, although he is a U.S. citizen, he does think his Argentinian background has been an issue, which he calls "an interesting turn of events." He believes in at least one congregation there was resistance "to hiring anybody who was not born here."
There's always places where the fit just isn't right. He said it could be his age, he's 48, his accent or his family situation, "it's impossible to tell."
"I do know though that if any of those places didn't call me back for any of those reasons, I would not have wanted to be there either. Why would I want to be in a place where they are so narrowminded about some of these issues?"
The journey to Kansas City
At his previous congregation, Rabbi Cattapan usually spent a part of the summer on staff at Goldman Union Camp Institute in Zionsville, Indiana, the camp of choice for many Reform teens from this area. While there he became friends with a woman who works at The Temple, Congregation B'nai Jehudah.
"In June of 2015, she says to me, 'You would be a wonderful match for Beth Torah.' She explained to me a little about how she sees Beth Torah as a very warm place."
When Beth Torah began its search for a permanent rabbi to succeed Founding Rabbi Mark Levin following his retirement, Rabbi Cattapan was not looking for job. As Beth Torah's search continued, Rabbi Cattapan's status changed as well. He was interested as he heard great things about the 500-family congregation.
"I felt that this would be a great place to come. I wanted to move to a bigger place than Fort Wayne, not just the congregation but the town. There are a lot of things that we like to do that we didn't have in Fort Wayne. We like the symphony and the opera. I joked with Kris that I wanted to live in a place where there is an IKEA, Whole Foods and Trader Joe's. We also wanted a place that had a JCC."
Rabbi Cattapan also enjoys having rabbinical colleagues here.
"I haven't yet developed a lot of relationships or found a study partner, but the possibilities are there."
Rabbi Cattapan values being seen as a partner and not an "employee" of the congregation or the board. During his interview, and now that he works there, he noticed that Beth Torah has similar values and a great group of lay leaders.
"Not everything in any place is just one individual. Here it is a combination of the people who are interested in funding the venture, the people who are interested in coming and being involved, and all the things needed to make Beth Torah what it is."
He's happy with his move to Beth Torah and said all is "really going well.
The feeling seems to be mutual.
"When we set out to find Beth Torah's new rabbi, we seemed to be asking for the impossible: Someone who was good with large groups and small, with young and old, and innovative yet rooted in the traditions that have defined us a congregation. Through his thoughtful and warm approach, Rabbi Cattapan very quickly proved his strength as a spiritual leader who could connect easily with all members of our congregation in many different settings," said Karen Loggia, a member of the rabbi search committee.
Congregation co-presidents Matt and Shanna Haun agree with Loggia.
"One of the things that endears Javier to people is that he meets them where they are," they said. "Whether it is Pokémon, opera or baseball, Javier seems to be able to build connections with people."