Martha Gershun Legacy Fund for Older Foster Youth honors Jackson County CASA executive director's retirement
Published: Thursday, 27 April 2017 14:36
Written by KCJC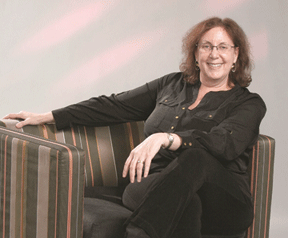 Despite retiring from Jackson County CASA (Court Appointed Special Advocates) at the end of April, Martha Gershun's mission to serve the abused/neglected children helped by CASA will continue through the Martha Gershun Legacy Fund for Older Foster Youth.
The legacy fund has been established by Jackson County CASA's board in honor of Gershun's heroic efforts as the nonprofit agency's executive director for the past seven and a half years.  
Jackson County CASA was struggling when Gershun took the helm at the end of 2009. Today, it is one of the highest performing nonprofits in the metro, will serve 1,250 abused and neglected children this year, has innovated new programs that change and save children's lives, built relationships throughout the community including hosting more than 1,100 people at the city's largest fundraising breakfast, and has grown to be one of the largest CASA programs of over 940 in the country. 
With a Harvard MBA, Gershun had numerous opportunities available. But she left the corporate world 12 years ago to focus on leading nonprofits that serve our most vulnerable children. 
Her second position as a nonprofit professional led her to Jackson County CASA, where dedicated volunteers advocate for the best interests of abused/neglected children under court protection. CASA volunteers —- with the support of the agency's staff — work to provide critical information to judges, helping them make the best possible decisions regarding where the children should live and what medical, therapeutic, and educational services they need. 
Children with a CASA volunteer are far less likely to be re-abused, far more likely to be placed in a safe permanent home and far more likely to get the services they need. A child with a CASA volunteer spends 7.5 months less in foster care and has significantly improved educational performance. For the past five years, 95 percent of children with a CASA volunteer had not re-entered the Jackson County courts. 
Under Gershun's leadership, the number of abused/neglected children served annually has grown to 1,250 — a 63 percent increase since 2009. Sadly, that number is still less than half of the children under court protection in Jackson County.
"This year is going to be even harder," Gershun said. "We have already accepted assignment for 125 children in the first three months of 2017 — the largest first quarter in our agency's 34-year history. These new children join our caseload of kids that continue from the year before. And the year before that. And the year before that. Because CASA never abandons a child we have agreed to help. No matter how long they are in the system."
Shocking statistics about what happens to the abused/neglected foster children who "age out" of the system without finding a forever family led Gershun to establish an innovative new program that takes CASA's support to a new level. 
Jackson County CASA's Older Foster Youth program launched in September 2015 to help youth, who are not adopted, transition to adulthood. Under the program, CASA's Older Foster Youth Specialist begins working with youth at age 15 who are at risk of aging out of the foster care system; the goal is to help prepare each child for independent living. Participants can also turn to CASA for on-going support to help them identify and obtain services through the age of 26 — long after CASA's official court-ordered responsibilities have concluded. In addition, specially trained volunteers are available to serve these youth in a supportive advocacy role.
Jackson County CASA already has served 238 older foster youth — many more than originally anticipated.
"We have taken 23 on college visits, helped 25 take their driver's permit test, helped more than two dozen secure transitional or independent housing, and hosted workshops on budgeting, signing up for health insurance, preparing nutritional food, and adjusting to life after aging out. Most importantly, we have assured each and every one that CASA will provide the consistent, caring adult that helps them transition from foster care to successful independent adulthood. When the system lets go — CASA holds on," Gershun says.
The Martha Gershun Legacy Fund for Older Foster Youth will help these youth with expenses needed to establish independence such as rent deposit for a first apartment, groceries while a youth looks for work, bus passes, birth certificate fees, and clothes for a job interview. It will also provide staff support to help these youth prepare to live safe, independent lives after they leave foster care.
In addition to serving the community through CASA, Gershun has actively supported numerous civic and Jewish organizations by generously donating her time and resources. 
A highly sought speaker on nonprofit leadership topics, she has also shared her successful nonprofit leadership techniques as a mentor for organizations including the Jewish Federation of Greater Kansas City's Leadership Tomorrow program. Gershun is a member of Congregation Beth Torah and serves as vice president of the Kinnor Philharmonic Orchestra, one of only three Jewish orchestras in the country.
Gershun's impact on the abused/neglected children served by Jackson County CASA has been recognized with a raft of prestigious awards. Under Gershun's leadership the agency received the 2012 Excellence in Nonprofit Leadership Award from Support Kansas City, and she was named 2012 Missouri CASA Program Director of the Year, as well as one of Kansas City's Most Influential Women by KC Business Magazine. Gershun also received the 2013 Women's Justice Award for Citizenship by Missouri Lawyers Weekly and shared a Mid-America Regional Council 2013 Regional Leadership Award. Both the Jackson County legislature and the Kansas City, Missouri, City Council issued proclamations commending Gershun's leadership of Jackson County CASA. Under her aegis, Jackson County CASA received a 2013 Angel in Adoption Award from Congress and was honored as Kansas City's 2015 Neighborhood Builder by the Bank of America Charitable Foundation. 
Although she is retiring from her current position, Gershun says she plans to continue to actively participate in and contribute to the community, including through the Martha Gershun Legacy Fund for Older Foster Youth. Donations to the fund can be made online at https://tinyurl.com/GershunLegacyFund, phoned to 816-984-8220 or mailed to 2544 Holmes, Kansas City, MO 64018.