Former librarian writes children's book
Published: Thursday, 27 April 2017 14:30
Written by Marcia Montgomery, Contributing Writer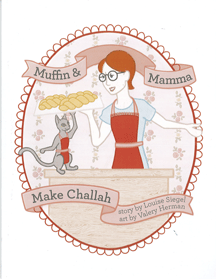 "Muffin & Mamma Make Challah," Louise Siegel; illustrations, Valery Herman; available by order from Barnes & Noble and Amazon.com.
Want to get your little ones interested in making challah? Buy Louise Siegel's book, "Muffin & Mamma Make Challah." It's sure to appeal to children ages 4 through 7.
Siegel takes her book around to schools and says the children love it.
The story is based in truth. Siegel's cat Muffin is there every step of the way through the whole process of making challah — only perhaps not as "paws on" as in the book.
"Muffin is very involved in whatever I do," says Siegel. "So when I'm making challah she wants to be right there supervising. I think for a cat she's very intelligent. Muffin is unusual. I've had other cats, but she's definitely the most intelligent and just an amazing cat."
This is Siegel's only book. The 74-year-old widow worked as a school librarian for many years and says she's more of a reader than a writer. However, there may be more books from her in the future.
"I have a new little kitten (named Socks); he has four white paws and is such a doll," she says. "He and Muffin play together and it's amazing because Muffin has shown no objection to the newcomer. I'm so happy because if I'm not there she has someone to be with. They're just darling together."
The ingredients for making challah are cited in the book, although Siegel doesn't give exact measurements — you'll have to get that from a recipe book. It does, however, show how to braid the dough.
The illustrations are by Valery Herman, 23, who graduated from the University of Kansas in 2015 with a major in graphic design. She currently does prepress graphic design at Gill Studios.
"They print a lot of bumper stickers and political signs and that kind of thing," Herman says. "People submit art and we just make sure it's up to specifications, all the right size and color."
She has been drawn to the arts since childhood and has continued to pursue those interests, studying everything from drawing, sewing and hand lettering to letterpress, bookbinding and graphic design. She says she feels fortunate she was able to land a job in her field.
Siegel says she first tried to get someone from the Kansas City Art Institute to illustrate the book, but that fell through. Herman is the daughter of friends and agreed to collaborate.
"I think the illustrations really make the book and Valery deserves a lot of credit," Siegel says.
Because Herman was a student at the University of Kansas at the time, it took her a year to do the artwork.
"It was daunting, but definitely exciting; it's a cute story," Herman says.
Siegel says she's not interested in selling the book to make money; she just wants people to have the book.
"I thought it would be popular if I could get people to know about it," she says.
Siegel is a member of Congregation Ohev Sholom. She resides in Lenexa with her cats Muffin and Socks.
Herman also attends Congregation Ohev Sholom and lives in Lenexa.