Yom HaShoah events planned in the community
Published: Thursday, 20 April 2017 10:08
Written by KCJC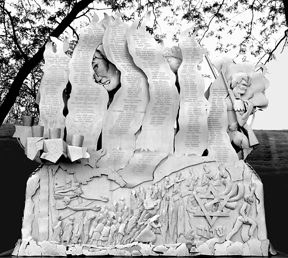 Several events in the local Jewish community and Topeka are scheduled in the next few weeks to commemorate the Holocaust. All programs listed below are free and open to the public and appropriate for children 13 and older.
Sunday, April 23, 1:30 p.m.
Lewis and Shirley White Theatre
Jewish Community Campus
The public is invited to attend this year's communitywide Yom HaShoah service, commemorating the 74th anniversary of the Warsaw Ghetto uprising and the 54th anniversary of the dedication of Kansas City's Memorial to the Six Million.
Laurie Horn, daughter of Arlene and Jerry Koenig, will chair the program, which will feature the traditional lighting of six candles in memory of the 6 million Jewish victims. It also will include a history of the Memorial to the Six Million and an interpretation of its evocative imagery.
The annual program is organized by the Jewish Community Center, Jewish Community Relations Bureau|American Jewish Committee and the Midwest Center for Holocaust Education. It is co-sponsored by Jewish agencies and congregations throughout Greater Kansas City. 
Monday, April 24
Rockhurst University
1100 Rockhill Road, Kansas City, Missouri
A Day of Reflection: Rockhurst University Commemorates Holocaust Remembrance Day
Reading of Names: 8:30 a.m. – 2 p.m., Kinerk Commons
Prayer Service 2:30-3 p.m., Finucane Jesuit Center
Participation by Rockhurst University and Hyman Brand Hebrew Academy choirs
"El Malei Rachamim" sung by Rabbi Jeffrey Shron of Kehilath Israel Synagogue
Those interested in reading names in 15-minutes blocks should contact Bill Kriege, Camps Ministry, at 816-501-4855 or This email address is being protected from spambots. You need JavaScript enabled to view it.. Also indicate if you plan to attend the prayer service.
Monday, April 24, 6:30 p.m.
Metropolitan Community College — Maple Woods
Arbor Room (Campus Center Room 110)
2601 NE Barry Road, Kansas City, Missouri
Remembering the Holocaust through Music and Art 14th Annual Day of Remembrance
Contact Jim Murray for more information: 816-604-3305 or This email address is being protected from spambots. You need JavaScript enabled to view it.
Monday, May 1, 1 p.m.
Downtown Ramada Inn
420 SE 6th Avenue, Topeka, Kansas
State of Kansas Holocaust Commemoration Service
"The Power of Memory to Shape Our Future."
Proclamation presented by Gov. Sam Brownback
Keynote speaker: Remembrances of a Holocaust Survivor, Herbert Moses, in his own-recorded words and through the perspective of his family.
Holocaust survivors, World War II veterans and children of survivors will be recognized. Participants include Kansas clergy, political leaders and students.
Light reception sponsored by the Kansas State Holocaust commission to follow. Call 785-272-6040 for more information.