Local Jewish organizations form new coalition to help Kansas City's vulnerable
Published: Thursday, 30 March 2017 10:00
Written by Barbara Bayer, Editor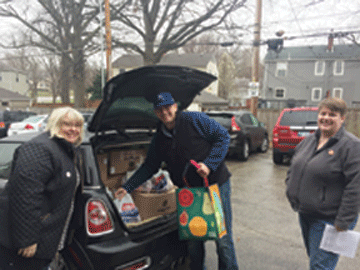 Twelve local Jewish organizations have banded together to form a new coalition, Jewish Voices United: A Coalition for Diversity and Inclusion in Kansas City. The mission of Jewish Voices United (JVU) is to use social action to stand with those who feel most vulnerable and persecuted in the general community by demonstrating support for and promoting positive relationships among our city's diverse populations.
Jewish Voices United represents a broad cross section of the Jewish community and is comprised of the following organizations: Congregation Beth Shalom, Congregation Beth Torah, Congregation Kol Ami, Congregation Ohev Sholom, Hyman Brand Hebrew Academy (HBHA), Jewish Community Foundation of Greater Kansas City (JCF), Jewish Community Center of Greater Kansas City (The J), Jewish Family Services of Greater Kansas City (JFS), Jewish Vocational Service (JVS), University of Kansas Hillel, The New Reform Temple and Rabbinical Association of Greater Kansas City. JVU anticipates more groups will join in the months ahead.
These Jewish organizations formed this coalition to take a stand for values important to all Jews. JVU is not political in design or intent, and will not employ political action as a tactic in promoting its purpose.
JFS Executive Director and CEO Don Goldman stressed that this coalition will focus on social action. 
"We had many discussions as to whether Jewish values lead you to certain political outcomes and that may be true," he said, adding, "although different people take those values and come to different places."
As Rabbi David Glickman, senior rabbi of Beth Shalom and president of the Rabbinical Association, explained, "Each of our constituent groups may work differently. Some may choose to pray for the welfare of our country, some may choose to speak publicly against injustice, some may give direct support, and some may raise or distribute charitable funds."
Goldman said discussions between the congregations and agencies came about within the past six months as the Jewish community became worried about the growing rise in hate against marginalized groups.
"Even though some of that doesn't affect us directly, we recognize it as something that we've seen in the past that has affected us and could affect us in the future. Obviously, the growth in things happening in the last couple of months with cemeteries being vandalized does affect us and we wanted to say, 'What can we do?' as a collective Jewish voice and that is finally where the name came together of Jewish voices. We wanted to say we do a lot of things individually, but there are things we think will be stronger together as a Jewish community," Goldman said.
Rabbi Glickman added that though the actions of individual congregations and agencies may differ, "our voice can still be united when it comes to standing up to hate and intolerance."
"At multiple points in history, Jews have suffered injustice at the hands of others. We cannot stand by as our own Jewish institutions, Muslim neighbors and families fleeing civil war are under attack," the rabbi continued. "As our Torah says, 'You shall not wrong a stranger or oppress him, for you were strangers in the land of Egypt' (Exodus 22:20)."
Congregation Kol Ami's rabbi said that the Kansas City congregation also lives by the "mitzvah that commands us not to oppress the stranger." 
"This most oft stated mitzvah in the Torah compels us to reach outside of merely taking care of our own, to take an expansive view for what is our sphere of concern. We are excited to be part of this coalition representing our highest Jewish values," Rabbi Alpert said. 
As president of the board of JCF, Irv Belzer said that as a coalition, JVU will "speak up on behalf of all those oppressed."
"We are showing others, including our own children and grandchildren, the importance of living out our values as Jews. This is about our various organizations working together to increase understanding, foster social justice and stand in solidarity with our neighbors," Belzer said.
Because the coalition is social action and not political, Goldman said JVU will not go out and protest.
"We're going to work together to reach out to other groups that we see in need, those groups that are marginalized or those groups that are discriminated against or treated like the other, and we're also going to come together and see how we can support them. If you look at the programs that we are launching with, they are programs reaching out to other communities," Goldman said.
Among the programs endorsed by JVU is a partnership between JFS and JVS to assist recently settled refugee families with food and transportation. The first food deliveries to about 25 refugee families occurred on March 13, and training sessions and background checks have begun for Refugee Rides volunteer drivers. Goldman said refugees should begin receiving rides next week.
"As a Jewish community of mostly immigrants and historically a persecuted people, it is timely for us to stand up for what we as a people value," Goldman said. "The partnership between JFS and JVS directly aligns with the Jewish value of tikkun olam, repairing the world by providing the essential services of food and transportation to those refugees most in need."
In addition to these two programs, Beth Torah hosted Meet a Muslim on Sunday evening with the Crescent Peace Society of Greater Kansas City to enrich the knowledge of the community in general about practices and beliefs of Jews and Muslims. 
HBHA, the Islamic School of Greater KC and Notre Dame de Sion have come together to create an interfaith student group to build relationships and understanding through multicultural dialogue.
Wall of Respect is a partnership of The J, Mattie Rhodes Arts Center, InterUrban ArtHouse, American Jazz Museum and JVS. Audio and visual murals will be created depicting cultural contributions of the four groups. 
More information about these collaborative projects, and others as they get up and running, can be found at www.jewishvoicesunited.org.