As I See It: Our new security director is a seasoned professional
Published: Thursday, 30 March 2017 10:00
Written by Barbara Bayer, Editor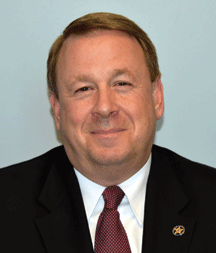 I'm sure you're familiar with the insurance commercial that always ends with the announcer saying in his deep, velvety, reassuring voice: "You're in good hands with Allstate."
That's exactly how I felt after meeting Charles A. "Chuck" Green, who became the Jewish community security director on Feb. 20. Soon after our conversation began at the Jewish Community Campus, where he offices inside the Jewish Federation of Greater Kansas City suite, I said: "I've written two columns saying that I feel safe inside this building. Am I right?"
He was honest. He said, "I think so."
"My job is to make this community a safer, more secure place for everyone to enjoy."
The powers that be in the Jewish community decided we needed a security director following the tragedy of April 2014 that took the lives of three non-Jewish individuals outside two Jewish institutions. The shooter is now serving a death sentence for the three murders. 
Green was aware the Jewish community was hiring a security director that first time in 2014, but he didn't feel it was a good time to leave his current position. A security professional with more than 32 years of law enforcement experience, he was working for the U.S. Secret Service as special agent in charge of the Kansas City Field Office District that covers Kansas, Iowa, Nebraska and the Western District of Missouri. His duties included watching over candidates during the presidential primary season, which was about to get underway in Iowa. 
As he put it, he "couldn't leave the Secret Service in a lurch."
But when the position became available again a few months ago, Green was ready to take on the new opportunity. A former Overland Park Police officer, he had the full support of John Douglass, a good friend of the Jewish community who served for years as Overland Park Police Chief and is now the safety and security director for the Shawnee Mission School District. I don't know Chief Douglass, but I've lived in Overland Park more than 50 years and I know some people who really trust him. If they trust him, I trust him, and if he believes in Chuck Green, then I believe in Chuck Green.
Why was Green interested in this job? He's had a pretty exciting career, traveling with the president and vice president of the United States. He's also spent a lot of time studying and monitoring right-wing extremists, such as the Aryan Nations, Aryan Brotherhood, Ku Klux Klan and other groups that pose threats to the country and minorities — like Jews.
He knows a lot about the threats that we face in the Jewish community, and when he retired he couldn't see himself working in retail watching people and keeping track of shoplifters. So, he believes this position was a good fit for him.
"The prevailing theme with these groups is anti-Jewish. I know these groups pose a real threat and security is something that matters here," he told me last week.
He's been on the job a little over a month and he's been keeping busy learning about all the different entities, the people and the visitors that go in and out of the Campus seven days a week — the agencies, the schools, the athletes, the visitors. It's a lot to learn. 
He said he's already learning, "It's a juggling act to keep everyone happy." But, thankfully, he added that everyone has been welcoming and is treating him well.
As head of security Green doesn't want to spill any secrets. As someone who goes to the Campus on a regular basis, I don't want to print any secrets either. But he did tell me he's impressed with what took place after that horrible day almost three years ago.
"I think the Campus and organizations that reside here made a lot of security improvements after the 2014 tragedy," Green said. "I'm impressed by the level and the depth with which the Campus took on this challenge, based on recommendations of the Department of Homeland Security. Kansas City's Jewish institutions are way ahead of many institutions I have looked at in my previous job."
He'll be visiting with the agencies and congregations not located on the Campus within the near future. But he knows that they have made big strides in security over the past three years as well.
"I've learned that most, if not all, of these entities have their own relationships with law enforcement in their cities and private security services. My role in the community is as a consultant…someone for them to turn to for assessment and education about how they can better protect themselves."
I'm not the only one impressed with Green. Dr. Helene Lotman, Jewish Federation's president and CEO, was visibly pleased when she told me he had been hired to fill the position. Don Goldman, executive director and CEO of Jewish Family Services which has offices at the Campus and in Brookside, said he finds Green very community focused and approachable.
"I think Chuck is great. I am thrilled to have a security director back and I think, unfortunately, it's an important part of protecting the community and making it safe. I do feel safe here. I feel safe at our office in Brookside, too, but that doesn't mean I don't think there is a realistic possibility that something could happen. I just think we have to live our lives and operate and protect ourselves as much as possible and reasonable in a manner that doesn't get in the way of doing our job," Goldman said. 
The news hasn't been good for us lately. Jewish cemeteries, including one in St. Louis, have been vandalized. Last week an Israeli-American teenager was arrested after being suspected of perpetrating more than 100 bomb threats against Jewish institutions, including our own Jewish Community Center. There's been at least one copycat making threats as well. So … we always need to be aware of our surroundings. 
Green said he believes in the mantra "See Something Say Something." He told me he'd much rather check something out and find out that it's nothing than not be informed and find there is a credible problem.
He's happy to be here. It's a job he wanted and he's looking forward to it. And he's definitely optimistic.
"I see the glass is half full and the sky is not falling," he said.
Will he make changes? The short answer is yes, he looks forward to building upon the work that has already been accomplished in the last three years. Security is an ever-changing thing. Will he tell me about those changes? Probably not. Am I OK with that? Absolutely.