Listening Post
Published: Thursday, 23 March 2017 10:00
Written by Barbara Bayer, Editor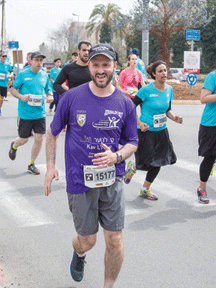 VAAD'S EXECUTIVE DIRECTOR LEAVING — The Kansas City Jewish community is losing one of its 18 Under 40 when Rabbi Mendel Segal, executive director and rabbinic coordinator of The Vaad HaKashruth of Kansas City, moves to Florida with his family at the end of June. Following Rabbi Segal's announcement late last week, Vaad President Jeff Goldenberg said the kosher authority's board was just beginning to determine how they will handle the search for a new director.
Rabbi Segal, who has served in this role for the past five years, said he will continue to oversee the sixth annual Kosher BBQ Championship. This year it will be held as part of the Jewish Culture Fest, organized by the Jewish Community Center and scheduled to take place Sept. 10 at the Jewish Community Campus.
DONALD TRUMP'S APPROVAL RATING AMONG US JEWS IS 31 PERCENT, GALLUP FINDS (JTA) — President Donald Trump's approval rating among Jews in the United States is 31 percent, more than 11 percent lower than the president's overall approval rating, according to a Gallup poll.
The poll was taken from Inauguration Day, Jan. 20, to March 15. (On Monday, Gallup's daily tracking put Trump's approval rating at 37 percent.)
Trump's approval rating of 42 percent among all those polled is lower than any other president at this point in his first term since 1945, when Gallup first started conducting the survey.
Jews appear to be reacting to Trump along party lines, Gallup noted. Some 64 percent of Jews identify with or lean toward the Democratic Party, according to data from the same time period, and 29 percent identify with or lean toward the Republican Party.
Gallup also points out that Trump has sent "mixed signals to American Jews about their position in the country and his administration's stance toward Israel." Among the issues was his administration's perceived delay in denouncing a pronounced wave of anti-Semitism and failing to mention Jews in the administration's International Holocaust Remembrance Day statement. The president also appointed a pro-settlements ambassador to Israel but then called on Israel to "hold off" on building in settlements.
Trump has a "significant opportunity to boost his image among Jews, Americans and the world," Gallup reports. "During the campaign, Trump talked about using his negotiating skills, and those of [his Jewish son-in-law Jared] Kushner, to reach a peace deal between the Israelis and Palestinians. If Trump accomplishes what his predecessors could not by negotiating a peace deal, this could certainly affect his approval rating not only among American Jews but among all national adults."