Rabbi White to step down from Ohev Sholom in 2019
Published: Thursday, 23 February 2017 10:00
Written by KCJC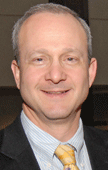 Rabbi Scott White, spiritual leader of Congregation Ohev Sholom since 2005, will conclude his tenure at the congregation in the summer of 2019.
Earlier this month, he and the congregation reached an agreement on a two-year contract extension. Ohev Sholom president Larry Gordon states, "We are fortunate to ensure continuity in our spiritual leadership for another two years with Rabbi White. On behalf of the congregation, I extend our heartfelt thanks to Rabbi White and his wife Civia for their years of service and dedication to Ohev Sholom. " 
Asked about plans after his retirement from the pulpit, Rabbi White said he hopes to teach Judaic studies at the college level.  
A 1979 alumnus of Kansas University, Rabbi White was ordained in 1986 by The Jewish Theological Seminary of America in New York City. He held pulpits in Rhode Island and North Carolina before returning to Kansas City in 1994. For the next decade, he taught Judaic studies at the Hyman Brand Hebrew Academy and served as part-time rabbi at congregations in St. Joseph and Lawrence.