Author shares solo adventure in 'Mountain Lines'
Published: Thursday, 09 February 2017 13:30
Written by Linda Friedel, Contributing Writer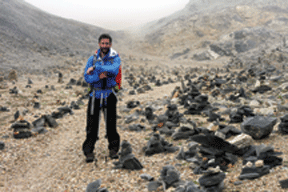 Jonathan Arlan decided to walk across the French Alps almost on a whim.
A seasoned traveler and avid indoorsman, Arlan was inspired one day to take a long trek.
While traveling through Europe in 2015 he came across a map on the internet that spoke to his spirit. A winding red line snaking across southwest France caught his eye. The line represented a 400-mile trail through the French Alps from Lake Geneva to the Mediterranean Sea. At that moment Arlan made his decision. 
"I had never done anything like this," said Arlan, an editor and writer. "I thought this will be something different. It will be a lot more intense, I hoped. It was different from anything I had ever done. I'm not an outdoors person at all."
Arlan decided to hike solo across the 400-mile trail in the summer of 2015 and write a travel book about his experience. "Mountain Lines: A Journey through the French Alps," published by Skyhorse Publishing, will be released on Feb. 14 in hardcover and in ebook. The hardcover costs $22.99. Arlan will sign copies at Leawood Barnes and Noble, 4751 W. 117 St., on Sunday, Feb. 19, at 1 p.m. "Mountain Lines" is not a guide book, but a guide to going on an adventure, Arlan said. This is his first book.  
"I hope people enjoy it as much as I enjoy reading other travel books," Arlan said. 
Arlan loves to travel and has a penchant for travel books written by authors on big adventures. Some of his favorite travel books are "A Short Walk in the Hindu Kush," "The Snow Leopard," "Tracks" and "A Walk in the Woods." 
"I love this genre of writing so much," Arlan said. "I have all these favorite books. I just wanted to do one of their books."
Arlan posed several questions as he set out on his journey and started the book. What would it feel like to walk 400 miles? Why would anyone ever want to do it? What do people get out of such long hikes, which are inherently boring since they require miles of walking each day and not much else?
"More than anything my book tries to explore and answer those questions through my own experiences," he said. "It's a love letter to the act of walking as much as anything."   
Arlan prepared minimally for the trip, but practiced by hiking through his hometown of Leawood with a weighted backpack on his back. He gathered essential gear such as boots, a rain jacket, sleeping bag and a tent that he thought he would use. He researched little about the trail, saying he didn't want to find anything to dampen his goal.  
"I just didn't want to find any discouraging info," said Arlan. "I was just dead set on doing it — pretty typical of me in my travels, traveling alone."
Arlan averaged 17-20 miles each day and spent one month during the summer of 2015 to complete the trail. The trail from Geneva to Nice was purportedly 400 miles, but Arlan's iPhone recorded 550. For shelter along the way, Arlan joined other hikers in the established huts on the trail that offered lodging and meals. The mountain accommodations were a pleasant surprise.  
"It's set up to cater to people who are walking in stages," Arlan said. "It was a nice surprise. 
They tend to book up really fast. French people make reservations. I didn't have phone service. I lucked out. I never really had any problems getting accommodations."
The beauty of the Alps astounded Arlan, as did their 9,000-foot peaks that physically challenged him. He gestured and spoke broken French to hikers he met, though many of them knew English. The weather ran hot and cold. He placed one foot in front of the other when temperatures climbed to 95 degrees and other days when he experienced snow. He was unprepared for the relentless days of rain, his back ached from the weight of his backpack and the landscape proved more rugged and spectacular than he could imagine. Arlan was thrilled to complete his goal.  
"I didn't expect it to be beautiful day in and day out," he said. "It was a mix of hard physical walking, incredible scenery, unbelievable interactions with incredible people. It was a lot of fun." 
Arlan is a graduate of the Hyman Brand Hebrew Academy. He resides in Kansas City, Missouri, but has lived in New Orleans, New York, Egypt, Japan and Serbia and traveled to more than 35 countries. He hopes "Mountain Lines" will encourage others to dream up their own adventures in life. 
"I do hope it inspires readers to find an adventure and do it," he said. "Anything that's challenging that you wouldn't normally do is an adventure."