Jewish mystical thought inspires Leshnoff's Symphony No. 3
Published: Thursday, 05 May 2016 13:30
Written by Jerry LaMartina, contributing writer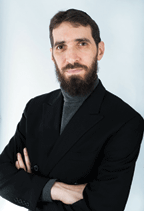 The Kansas City Symphony will perform the world premiere of composer Jonathan Leshnoff's Symphony No. 3 from May 20 through May 22 in Helzberg Hall at the Kauffman Center for the Performing Arts. (For ticket information, visit kcsymphony.org or call 816-471-0400.)
The Kansas City Symphony commissioned Leshnoff's Symphony No. 3, which commemorates the centennial of America's entrance into World War I. It's one of 10 symphonies Leshnoff has completed or is working on that are based on various aspects of Jewish mystical thought. His approach grows from his Orthodox Judaism.
"This is something I've always wanted to do," he said. "I haven't seen anyone else do it, but I can't say that no one else has done it."
Leshnoff associated the second movement of Symphony No. 3 with the Hebrew letter "vav" and refers to the concepts of gevurah (according to aish.com gevurah,  "strength," is usually understood as God's mode of punishing the wicked and judging humanity in general) and its contrast with chesed or loving kindness. He'd written a clarinet concerto for the Philadelphia Orchestra that was also based on the letter vav.
"The idea of chesed in Jewish mystical thought is giving without restraint," he said. "Gevurah is the opposite, a holding back. I thought it was a very appropriate context for the Kansas City piece on World War I, about war's difficulties but at times its necessity. Gevurah relates to giving the soldiers the space to operate in and have free choice, and to do what needs to be done, as they see fit." 
Symphony No. 3 is scored for baritone solo and orchestra. The orchestra alone performs the first two movements. In the third and final movement, baritone Stephen Powell, in his debut with the Kansas City Symphony, will recite letters written by World War I soldiers to their loved ones. The original letters are archived in the National World War I Museum and Memorial in Kansas City, also known as the Liberty Memorial. 
One letter was written by lifelong Kansas City resident James Kellogg Burnham "Burnie" Hockaday to his mother on June 23, 1918. It begins "Dear Mother, … There is so much to tell … I don't know where to start … I am now over here, somewhere in England is all I can say." 
Another letter was written by Charles Irons to his wife on Jan. 2, 1919. It begins "My Darling Wife … Oh, what a joy it will be to have you near again. If I could have my greatest wish granted it would be … to be with you and Ginger this night."
"The letters are very soothing and heartwarming," Leshnoff said. "The first two movements are tense and agitated and churning, and then come the letters, which are comparatively soothing and calm."
Leshnoff dedicated Symphony No. 3 to his friend Michael Stern, the Kansas City Symphony's music director. 
"I met him about 12 years ago, and we hit it off instantly," Leshnoff said. "He's done an outstanding job interpreting my music. He's been not only a huge artistic inspiration, but as a friend, I feel so fortunate to be able to work with him again." 
Stern said that, after he and Leshnoff met, "almost immediately our resultant partnership evolved into a close friendship." 
"My admiration for his unique musical voice has yielded a great collaboration, with performances, recordings and commissions that count as highlights in my musical life," Stern said. "New music is also an important part of our mission at the Kansas City Symphony, not only to add to the musical canon and to nurture and celebrate a vibrant musical culture, but also to underline the symphony's role in our city. … This work is one of Jonathan's finest, and it promises to be beautiful, moving and meaningful for Kansas City."
Leshnoff's compositions have been performed by more than 50 orchestras around the world. He approaches his work with a foundation of discipline more than inspiration.
"Before I start writing, I need to know the entire piece and see it in my head, where the high piece is and the low pieces, and the whole plan," he said. "Then I can start writing the melody, and I kind of fill in the dots once I know where everything is. I can't wait for inspiration. I like to joke that I'm too busy for inspiration. The best composing is when you do it day to day, even if I don't feel terribly inspired." 
Leshnoff is 42. He was born in New Brunswick, New Jersey, and grew up in Caldwell, New Jersey. He lives in the Baltimore area and is a professor of music at Towson University, part of the University System of Maryland. Baltimore "has a strong Jewish community, great schools for my children and good synagogues," he said. His mother is a visual artist, and his father is a retired mechanical engineer.
"I got the artistic line from my mother and the technical, deductive line from my father," he said.
Leshnoff views his work fundamentally through a spiritual lens.
"I see my composing talents as a gift from God," he said. "And I feel very fortunate to have good friends like Michael (Stern) to work with. My motivation is twofold for my music. First, I want to take listeners on a journey. If I don't take listeners somewhere, I haven't done my job as a composer. Second, I want to integrate authentic Jewish spirituality into music and combine the two. Those, I feel, are my life mission."