Listening Post
Published: Thursday, 27 November 2014 10:00
Written by Barbara Bayer, Editor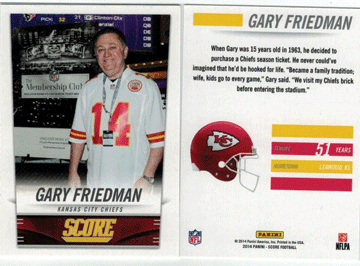 HANUKKAH RADIO — Thanks to reader Maury Kohn, we know that SiriusXm will once again have Radio Hanukkah on channel 68, beginning Dec. 16. It runs through Dec. 24 and will feature a wide variety of Hanukkah music including contemporary, traditional and children's Hanukkah classics.
GO JET EXPRESS — Jet Express, and by extension Jewish Family Services, has been getting some great press lately as it continually searches for ways to expand its volunteer driver base. Watch the great segment on KCTV5 about JET Express by going to the KCTV5 website. Anyone interested in volunteering should call 913-730-1410 or email This email address is being protected from spambots. You need JavaScript enabled to view it..
AIPAC FORUM — Those of you who are interested in the security of Israel may want to mark your calendars for the annual AIPAC Forum, scheduled this year to take place Tuesday night, Dec. 9, at the White Theatre at the Jewish Community Campus. The featured speaker will be Avi Dichter, the former head of the Shin Bet. It's also newsworthy to note that this is the first time this AIPAC event will be held at the Campus. Bonnie Siegel, AIPAC Kansas City Council chair, said she is excited the event will be at the Campus. Jacob Schreiber, the Jewish Community Center's president and CEO, said the JCC is also happy the event will be at the White Theatre as the JCC always encourages the community to come together in support of Israel. For more information, call Hadassah Mendoza-Elias at 312-253-8983 or email her at: This email address is being protected from spambots. You need JavaScript enabled to view it.. To register online, visit: www.aipac.org/KCIsraelActionForum. RSVPs are requested by Dec. 1.
CELEBRATE EIGHT CRAZY NIGHTS WITH HE'BREW BEER — In case you haven't checked a calendar lately, Hanukkah begins in just a few weeks, the night of Dec. 16. While I was out and about getting ready to host Thanksgiving I noticed that Shmaltz Brewing Company's holiday beers are on the shelves. So I did a little more investigating.
This year Shmaltz's newly expanded brewery, located in Clifton Park, N.Y., has rolled out three limited-edition holiday brews. First up is the debut of Shmaltz's long awaited homage to the eight crazy nights: Hanukkah, Chanukah: Pass The Beer®, a dark ale brewed with eight malts, eight hops and eight percent ABV. Next in line is the anniversary beer, Jewbelation 18® (18 malts, 18 hops and a highly sessionable 12.4 percent ABV), which marks the birth of an entirely new take on the award-winning Jewbelation® series. Last, but certainly not least, the 5th Annual He'brew Gift Pack® has also hit the stores. Enclosed in each gift pack is a beautifully hand-painted "Build Your Own" Beer Menorah portrait by painter Jennifer Maher. It also features eight special release Shmaltz Beers, a custom glass, Hanukkah candles and instructions on how to build your own beer menorah. After only 18 years in business, Shmaltz Brewing Company is America's largest, most award-winning and only Jewish themed craft brewery.