Terror victims mourned in Israel — and beyond
Published: Thursday, 20 November 2014 12:59
Written by Ben Sales, JTA News & Features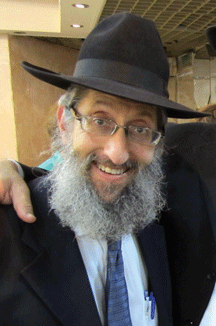 TEL AVIV — They all lived on the same street. They had all moved there from abroad. They were all rabbis. They all prayed at the same synagogue.
And it was at that Jerusalem synagogue that they were all murdered on Tuesday morning.
Mosheh Twersky, 59; Kalman Levine, 55; Aryeh Kupinsky, 43; and Avraham Goldberg, 68, were killed when two cousins from eastern Jerusalem entered Bnei Torah Kehillat Yaakov, in the haredi Orthodox neighborhood of Har Nof, wielding a gun and butcher knives. The attackers, members of the Popular Front for the Liberation of Palestine, injured eight others before they were killed at the scene by Israeli police.
Twersky, Levine and Kupinsky were Americans. Goldberg was from England. All of the men were laid to rest Tuesday in Jerusalem.
"We are here, standing in front of these three holy men, the best of our community, Torah scholars whose blood flowed like water," said Rabbi Yitzchak Mordechai Rubin, the chief rabbi of Bnei Torah, according to the Times of Israel.
Levine, who is survived by his wife, nine children and five grandchildren, grew up in Kansas City, Mo. He was born Cary Levine and was a member of the Hyman Brand Hebrew Academy's first graduating class.
Debbie Sosland-Edelman, one of Levine's friends and classmates at HBHA, said, "Rav Kalman was a very special man and a kind soul. He was smart, witty and extremely generous. Known to us as Cary Levine in those days, he was a beloved member of our tight-knit class." 
"Cary was very proud to be a part of the first graduating class of the Hebrew Academy. When I saw him in Jerusalem a few years ago we reminisced about some of those shared experiences. It was funny to hear the stories come from the mouth of this highly esteemed and well-respected rabbi recounting the pranks of our youth.He was truly one of the kindest men I knew. Killing him and others in the midst of their morning prayers is a shameless act of pure evil," Sosland-Edelman continued.
Levine's son eulogized him Tuesday as a diligent scholar.
"My father would study all day long and would return home at night only to learn some more until he would fall asleep in his chair," the son said, according to Israel's Foreign Ministry. "Abba, you were in the middle of saying the Shema [prayer] when your soul left your body and the terrorists came and murdered you."
Twersky, the head of the Toras Moshe Yeshiva, was the eldest grandson of the influential American Orthodox scholar Rabbi Joseph Soleveitchik. Twersky left behind his wife, five children and 10 grandchildren. His nephew Rabbi Meshulum Twersky, is a teacher at the Hyman Brand Hebrew Academy. The local Rabbi Twersky has been on the HBHA faculty for the past three years and teaches Jewish studies and Hebrew to third- and fourth-grade students.
Rabbi Menachem Genack, CEO of the Orthodox Union's Kosher Division and a student of Soleveitchik, knew Twersky for most of his life and told JTA "he was in every respect extraordinary," noting "his kindness, his stunning brilliance."
"He was a great scholar. You saw his devotion to his students and their love for him," Genack said. "He was reserved, very insightful. He came from the most exalted rabbinic family and yet he was just so humble."
Kupinsky, who also emigrated from the United States, leaves behind his wife and five children. He lost a daughter, Chaya Chana, who died in her sleep two years ago at 13. According to the Foreign Ministry, he was known to be very generous and was a daily worshipper at the synagogue.
Goldberg, who moved to Israel in 1993, is survived by his wife, six children and grandchildren. His friend from the neighborhood, David Osborne, remembered him as devout and kind.
"He was the most wonderful person you could meet, a pillar of the community," Osborne told the British Jewish News. "Avraham prayed there most days for the last 10 years or so. He was a devout Jew with no political agenda. All he wanted was to live a peaceful life."
The terrorists in Tuesday's attack were identified as Uday and Ghassan Abu Jamal.
Chronicle Editor Barbara Bayer contributed to this story.