Events planned to mark first anniversary of April 13 tragedy
Published: Thursday, 20 November 2014 12:57
Written by Barbara Bayer, Editor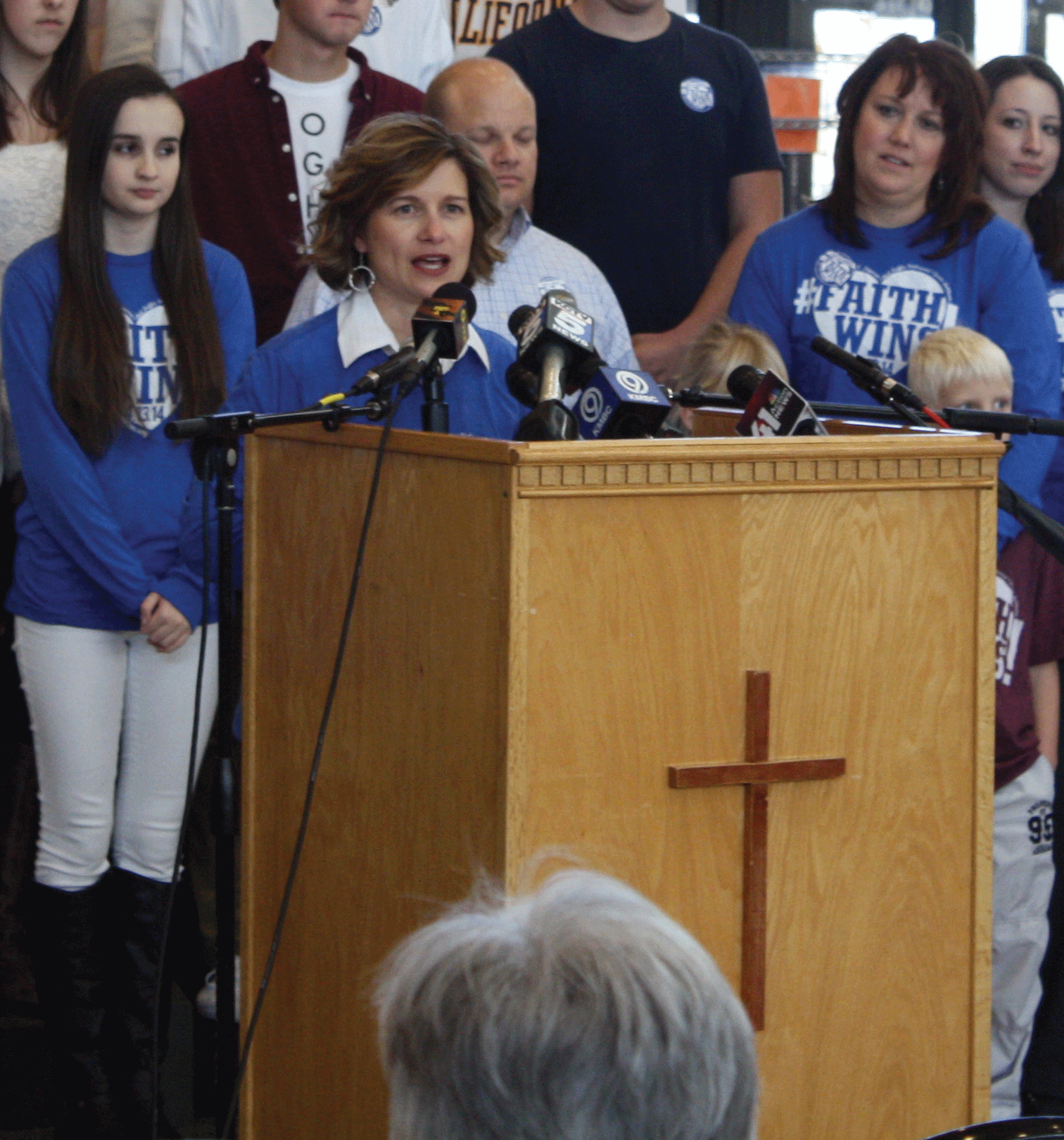 It's been seven months since the community was sent into shock by the shootings at the Jewish Community Campus and Village Shalom, which killed Dr. William Corporon, Reat Griffin Underwood and Terri LaManno. Last week plans were announced to commemorate the anniversary, and to show the world, that faith wins.
A faith walk, song contest and community gathering will take place in April — the exact date has not yet been approved by the city of Overland Park — to mark the anniversary.
"We chose today to make this major announcement because the preliminary hearing was to begin in Johnson County for the man charged in this senseless killing of my son Reat and my dad and Terri LaManno, three innocent people," said Mindy Corporon in making the announcement. 
"We knew there would be a lot of negative news surrounding this, and we can't help but think negatively when something like this happens in our world. We want the public to know that there is more good in our world. We want to redirect that negative energy in a positive direction," she said. "We want people to know that faith always wins," Corporon said.
The springtime event is meant to bring together diverse groups of faith and culture to work together to create understanding and counter hate. The event is being put together by The Reat Griffin Underwood Memorial Foundation/Faith Always Wins initiative, the LaManno family, and the newly formed Racial and Religious Acceptance and Cultural Equality Foundation (RRACE Foundation).
Joining Mindy Corporon in making the announcement Nov. 12 at Leawood's Church of the Resurrection (COR) were Brian Fowler, representing the LaManno family, Mark Sportsman, representing the RRACE Foundation and Jake Goldman, chair of the Faith Always Wins Youth Coalition.
A steering committee comprised of a cross-section of the community — including several people with ties to the Jewish community — is working on the details for the major event. While still in the planning stages, this event will include a Faith Walk beginning from the Jewish Community Campus and concluding at COR. A Celebration of Life will take place at COR that will include performances of the three top songs selected as part of RRACE's Songwriting Contest. Teens ages 14-21 are invited to submit original songs that address themes of racial, religious and/or cultural equality.
Contest details, including submission information, will be posted after the first of the year at www.faithalwayswins.org.
During the week prior to the community event, the public is asked to perform good deeds as part of Seven Days of Kindness. Those experiences can be shared through Facebook on Popeye and Reat's "Something Good" Page. Other organizations involved as community partners include COR, the Jewish Community Center of Greater Kansas City and Village Shalom.
"The Kansas City community was so supportive of us and we're very grateful," Corporon said. "But there is still hate in our world, even in our metro area. We want to negate the hate. What we're proposing today is not new — building on the goodness of humanity that already exists. We know people want to have value and purpose, and together we can ensure that goodness triumphs," she said.
Corporon announced that some seed money for these events has already been provided. Two members of the Jewish community — Herb Buchbinder and Milton Brod — have contributed some of their own money and are among those helping to collect funds for the events. The Morgan Family Foundation is one that has already donated money for the event, as has the Othmer Family through the RRACE Foundation.
There is already plenty of enthusiasm for the commemorative events, which was expressed by a showing of more than 100 teens who stood behind the podium at COR while Corporon and others made announcements regarding the events. The teens, as well as other members of the committee at the press conference, were wearing T-shirts with the Faith Wins logo on the front and three Bible verses on the back:
Hate tries to divide us but love always wins.
— Proverbs 10:12
Evil tries to destroy us but good always wins.
Romans 12:21
Fear tries to defeat us but faith always wins.
— Hebrews 11:1
Jake, a junior at Blue Valley North High School and member of Congregation Beth Torah, said the teens are working on this project to show that "as students we have a voice" as well as to show their support to the Corporon and LaManno families. He said students on the steering committee come from most Blue Valley high schools and some private schools in the area.
Several other people from the Jewish community are working on these events including Jewish Community Center President and CEO Jacob Schreiber, Village Shalom COO Karin McCrary, Dan Stopler and Gail Weinberg. 
Brod said he and Buchbinder have known Mindy Corporon for years, so the news of the shooting hit them hard.
"When Herb told me they were going to have Faith Always Wins activities, I said let's have a non-competitive walk. It will bring all elements of the community together to cross state and county lines and have a diversity of participation that shows that this violence and this bigotry will not succeed. It will not overcome our faith in each other," said Brod, who is co-chairing the walk with Kim Galbraith.