Beth Liss inspires giving at National Young Leadership Retreat
Published: Thursday, 28 August 2014 10:00
Written by Trudy Galblum, Special to The Chronicle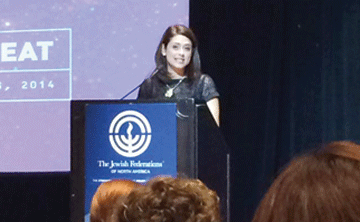 For Beth Liss, accepting the post of co-chair designate and, next year, co-chair of Jewish Federations of North America National Young Leadership Cabinet really came down to two facts. 
First, that being Jewish is integral to her identity. Second, that one of the best ways she knows to support that identity — for herself, family and community — is through active involvement in the Jewish Federation.
In 2010, Liss accepted the invitation from Ward Katz, then president of the Jewish Federation of Greater Kansas City, to join National Young Leadership Cabinet. Composed of 300 socially conscious Jews in their 20s, 30s and early 40s from across North America, Cabinet prepares the next generation to serve in leadership roles in the Jewish community and offers opportunities to get involved in Federation activities locally, nationally and overseas. 
As co-chair designate, Liss and her colleague Josh Green of Sarasota-Manatee, Fla., will focus in the year ahead on the Cabinet campaign, and work alongside the current co-chairs to gain experience. Earlier this month at a four-day Cabinet retreat in Charlotte, N.C., which was attended by more than 200 Cabinet members and local Young Leadership Division directors, Liss and Green planned and led the campaign day.
Liss' Journey
To illustrate how Cabinet members' dollars make a difference, the day started with a three-hour plenary featuring speakers whose lives have been changed by Jewish Federation. The morning culminated with Liss and Green sharing their own stories.
After a moving introduction by her husband Michael, Liss spoke about growing up in Kansas City, how her parents Harvey and Michele Kaplan served as role models, and her Jewish day school and camp experiences. She spoke about her first Washington Conference put on by National Young Leadership Cabinet in 1996, where 3,000 Jews made her feel "so blessed to be part of 3,000 years of Jewish history." 
She spoke about attending six more National Young Leadership Washington Conferences, helping to found Kansas City Federation's Young Adult Division, and about her participation in Tribefests and six Cabinet study missions to Jewish communities around the world. She spoke about how her sons, Zachary, 9, and Drew, 7, motivate her even more to ensure continuation of a strong and vibrant Jewish community.
And then Liss spoke about the shooting at the Jewish Community Campus. "It was on April 13 of this year that I realized how fragile we all truly are," she said, and how — like the 140 children at a JFNA-supported day school she visited in Athens — her children now walk past police cars on their way to school. 
Taking Care of Each Other
"On a national level, and among her peers, Beth is known as the sweetest girl from Kansas City," says Taly Strom, senior director of National Young Leadership at Jewish Federations of North America. "She's 110 percent invested and passionate. As leaders we all have to learn. What's cool about Beth is that she learns, but what she gives to the community is above and beyond."
Liss and Green's speeches on campaign day at the recent retreat helped to inspire $1.6 million in pledges from attendees — a 28 percent gift-for-gift increase — and an additional $100,000 in donations to Israel emergency relief, nationally known as the "Stop the Sirens" campaign (referred to in Kansas City as Operation Relief and Respite).
Campaign day concluded with a Shabbat experience led by Rabbi David Ingber, founder of Romemu and named by Newsweek as one of 2013's top 50 most influential rabbis, and popular Jewish musician Rick Recht.
As co-chair, Liss will work with Federation young leadership staff and volunteers across North America. She also will represent National Young Leadership Cabinet on JFNA's executive committee, board of trustees and philanthropic resources development cabinet. In doing so, she's most excited about giving Kansas City a presence on the national scene and, at the same time, bringing good ideas back to Kansas City. 
A part-time special projects administrator for the Berkley Child and Family Development Center at UMKC, Liss admits that the amount of time she devotes to Federation work is considerable. 
But, as she explained in her speech, "It is what we do. We sustain and enhance Jewish lives at home and around the world. We take care of each other because if we don't, no one else will. We ensure the survival and continuity of the Jewish religion, traditions, heritage and way of life. We give people dignity, teach them to have courage, and we do this with a huge heart."