Men with K.C. ties provide support to Israel's Lone Soldiers
Published: Thursday, 21 August 2014 10:00
Written by Barbara Bayer, Editor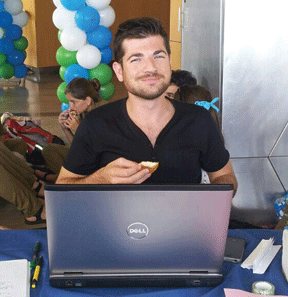 Throughout Israel's history, volunteers and supporters from all over the world have played an important role in the establishment and the survival of the Jewish state. That's still true today with some of the most
important support coming from what is known as Lone Soldiers.
There are currently 5,700 Lone Soldiers in Israel, three of whom were killed in Operation Protective Edge. A Lone Soldier is a soldier in the Israel Defense Forces who has no parents in Israel to offer support; is a new immigrant or a volunteer from abroad; or is an orphan or an individual from a broken home. So by definition, most young people from our community who go to Israel to join the IDF are Lone Soldiers.
Two men with ties to Kansas City serve as advocates for Lone Soldiers in Israel. Both former Lone Soldiers themselves, Jason Barnett currently serves Lone Soldiers as an employee of Nefesh B'Nefesh. Brian Gersh returned to Kansas City just last week after finishing his undergraduate studies in Israel and working for the Lone Soldier Center.
Barnett made Aliyah on Aug. 3, 2010, at the age of 22. He joined the IDF in October of that year and finished his active service in September 2013. He currently resides in Tel Aviv, near the beach. He is one of two English-speaking Lone Soldier coordinators and works full time for Nefesh B'Nefesh's Lone Soldier Program. He is in charge of the soldiers in active service. The other coordinator is responsible for the pre-draft side of the operation.
Gersh, 31, made aliyah in 2008 and was drafted at the age of 26. He served in the Nahal Brigade from 2009 to 2011. After earning his degree in political science and business administration from IDC Herzliya, he will soon begin working on his master's in the School of Economics at the University of Missouri-Kansas City. He is currently searching for a full-time job and will be classified as a part-time student. Until he came back to the States, he managed the Lone Soldier Center in Tel Aviv.
Both Barnett and Gersh believe Lone Soldiers are important to Israel.
"Lone Soldiers are a source of pride in the IDF. During the building of the state of Israel, volunteers from around the world would come here to work on kibbutzes, either in agriculture or odd jobs. Today, volunteers are coming to serve in the IDF. They come motivated, are passionate and serve with pride," Gersh said. 
Barnett agreed, saying that "Lone Soldiers are the incarnate of an ideology, a juxtaposition between an ancient idea stretching back to the first recorded oleh chadash  (new immigrant, Abraham) and a post-Zionistic pioneer spirit that is somehow still alive and well in the year 2014."
"I am still just as enchanted and swept up in romantics with this way of life as the first time I learned about Israel at sleep-away camp in the late '90s," Barnett said of his own experience in Israel.
It's important to support these new immigrants when they arrive in Israel and as they become Lone Soldiers, Barnett said, because when they first arrive in Israel they need direction and assistance.
"They have a dream and a strong ideology, which are the right raw materials. But what they need in addition to that internal passion is an exterior mentor and advocate. That's what Nefesh B'Nefesh is all about; one oleh helping the next," he said.
Gersh said Lone Soldiers are serving in all units in the army, especially in combat roles. During Operation Protective Edge he said there was a disproportionate number of Lone Soldiers either killed or injured in action.
"Israeli society has embraced Lone Soldiers, understanding that they themselves (Israelis) must draft and serve, but Lone Soldiers from abroad voluntarily risk it all for the protection of the Jewish home land," said Gersh, pointing out that the Lone Soldier Center does not recruit soldiers and is not attached to the military.
Gersh explained that the LSC had been a central part of his life since he was released from the IDF.
"At the time of my release, the Lone Soldier Center was a very new grassroots organization, whose purpose was to assist Lone Soldiers like myself. Our organization helps Lone Soldiers before their draft or pre-army stage, during their service and after they are released," he said during the height of Operation Protective Edge.
Barnett's main job is to help olim who are on active duty.
"The Lone Soldiers generally need help getting into the unit they desire, attaining their Lone Soldiers rights and benefits that are specified by the IDF, or they might just need someone to talk to about the difficulties of military life as well as their personal triumphs. The soldiers tend to view me as an older brother figure, who has already tread where they are currently walking and knows how to advocate for them in the IDF from outside of the IDF, which is notoriously laden with red tape and bureaucratic nightmares," said Barnett, who became a Bar Mitzvah and was confirmed at The Temple, Congregation B'nai Jehudah.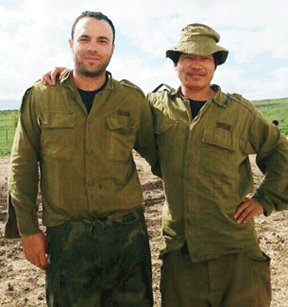 While Gersh no longer works at the LSC, he explained that it does a variety of things for Lone Soldiers including providing counseling, furniture delivery, workshops, social events such as Shabbat meals, and a three-month preparatory course for pre-army soldiers hoping to get drafted to more elite units.
"All the employees and volunteers are or were Lone Soldiers who are now finished with their service and would like to volunteer their time helping other Lone Soldiers. There are currently over 200 volunteers at the Lone Soldier Center," said Gersh, who grew up in Overland Park and was a member of Congregation Beth Shalom.
Gersh continued that the Lone Soldier Center in Memory of Michael Levin was founded in 2009 by a group of former Lone Soldiers aware and concerned about the needs and struggles of Lone Soldiers.
"Michael Levin made Aliyah from Philadelphia in 2002 and joined the paratroopers. He was killed in Lebanon during the second Lebanese War. The Lone Soldier Center is the first and only organization solely dedicated to meeting all the physical and social needs of Lone Soldiers," Gersh explained, adding that LSC now operates all over Israel with centers in Jerusalem, Tel Aviv, Haifa and Beer Sheva.
Barnett loves his job working with Lone Soldiers.
"The hours are long. I don't sleep much. The issues that I need to find solutions for are shocking and staggering in their seeming impossibility, like standing at the base of a mountain and staring a far way, up to the peak. It is stressful and others' well-beings are in my hands. But I love it."
Neither Barnett nor Gersh were called to active duty during Operation Protective Edge as their units serve in other parts of the country. Gersh said even though he wasn't on the front lines, he found this time in Israel to be very stressful, saying the amount of energy he exerted trying to concentrate on his studies at IDC Herzilya, the first private institution of higher learning in Israel, was exhausting.
"Studying for exams or writing seminar papers while you have friends and family fighting in Gaza is an awful feeling. Even twice this exam period, I had missile attacks during the exam, which one can imagine can be very distracting," he said.
"The most important piece of advice that I received during these difficult times is not to allow these terror attacks to break up your daily routine. The ultimate goal of terrorism is to terrorize, and if I lived every day in fear, terrorism would win out. So, if you were to ask me what I did after the last missile attack "Code Red," I would say that I went to the beach."
Gersh had lived under fire before since he moved to Israel, but he said this current operation felt different, "more dangerous," especially since as a newlywed he now has others to think about. Losing three members of the Lone Soldier family — Max Steinberg, Sean Carmeli and Jordan Bensimon — was especially difficult.
Gersh is thankful for the "unrelenting amount of support that has come from the Israeli community and the Diaspora" for Lone Soldiers.
"Every day, we are able to send volunteers south to hand out care packages to soldiers. There are around 15 Lone Soldiers that are currently in the hospital with injuries. Lone Soldier Center volunteers are at the hospitals around the clock spending time with the injured soldiers," he said.
To make a donation to benefit Lone Soldiers visit http://lonesoldiercenter.com. More information for and about Lone Soldiers can also be found at http://www.nbn.org.il/.