Bestselling author, Israeli columnist Ari Shavit to speak at Federation Annual Meeting
Published: Thursday, 14 August 2014 10:00
Written by KCJC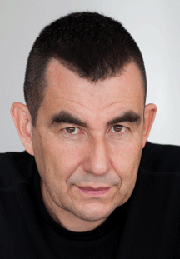 Provocative Israeli columnist and New York Times bestselling author Ari Shavit will bring his views on Israel and the Israeli-Palestinian conflict to the Jewish Community Campus on Wednesday, Sept. 17, as the featured speaker at the Jewish Federation of Greater Kansas City's Annual Meeting. 
Shavit, author of "My Promised Land: The Triumph and Tragedy of Israel"— named one of the best books of the year by The Economist — will share thoughts, answer questions and sign books that evening. The Jewish Federation Annual Meeting begins at 7 p.m. in the White Theatre at the Jewish Community Campus, with the book signing taking place afterward.
On the meeting agenda will be a State of the Federation update by Patricia Uhlmann, chair of the board of directors, the recognition of outgoing and incoming board members, and the presentation of a handful of awards, including community program of the year, Jewish educator of the year and the Dan Fingersh Young Leadership Award. The meeting is co-chaired by Federation board members Michelle Goldsmith and Bill Carr.
"I could not be more grateful to the group of very generous people in our community who have come together to help bring Ari Shavit to Kansas City as the featured speaker for the Jewish Federation Annual Meeting," Uhlmann says. "He is perhaps the most talked about Israeli writer at the moment and we are fortunate to have him as part of the ongoing conversation in Kansas City at this critical time for Israel."
Born in Rehovot, Israel, in 1957, Shavit served as a paratrooper in the Israel Defense Forces and studied philosophy at the Hebrew University in Jerusalem before launching his career as a writer and public personality at the progressive weekly publication Koteret Rashit. He now serves on the editorial board of Haaretz, Israel's oldest daily newspaper.
Shavit's "My Promised Land" has generated critical acclaim, including from a New York Times book review, which states, "The author of 'My Promised Land' is a dreamer with an addiction to reality. He holds out for affirmation without illusion. Shavit has an undoctrinaire mind. He comes not to praise or to blame, though along the way he does both, with erudition and with eloquence; he comes instead to observe and to reflect."
Leon Wieseltier, literary editor of The New Republic, who penned the review, goes on to write, "Shavit's book is an extended test of his own capacity to maintain his principles in full view of the brutality that surrounds them. 'For as long as I can remember, I remember fear,' his book begins. And a few pages later: 'For as long as I can remember, I remember occupation.' I admire him for never desisting from this duality of 'existential fear' and 'moral outrage.' "
For those interested in reading the book, Rainy Day Books has it available and will be selling copies after the meeting on Sept. 17.
The event is free but registration is requested. Register at jewishkansascity.org/AnnualMeeting2014 or contact Cheri Anne Winkler for more info at 913-327-8103 or This email address is being protected from spambots. You need JavaScript enabled to view it..