HBHA expands Jewish studies program, names Rabbi Rockoff Matmidim director
Published: Thursday, 07 August 2014 10:00
Written by Jane Martin, Special to The Chronicle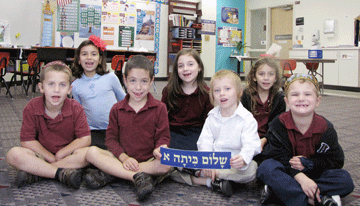 As Hyman Brand Hebrew Academy continues to grow its Jewish studies program, the 2014-15 school year will be marked by the Matmidim program's expansion into fifth grade, as well as the addition of Rabbi
Daniel Rockoff, Congregation BIAV, as Matmidim director.
A community day school — and the only Jewish school in the state of Kansas — HBHA strives to meet the needs of all Jewish students through a parallel-track Jewish studies program. The two tracks, named Mitkadmim and Matmidim, provide two different approaches to Jewish studies, which enable parents and children to select the religious observance style that best matches what they practice in their own homes. 
Mitkadmim — the name for HBHA's long-standing Jewish studies program — incorporates Jewish culture, Hebrew, Israel culture and history, and Jewish practice. The Matmidim program also focuses on these areas, but in a way that best serves the needs of the Orthodox/halachically observant community.
Rabbi Rockoff has been added to the Matmidim program in an official capacity after having served as the religious adviser for the past five years. 
"As the program has matured, it requires someone who is a natural advocate to lead it at this time. The addition of Rabbi Rockoff will ensure that Matmidim will get the attention that six grades require, as well as give Rabbi (Avi) Weinstein the resources he needs to oversee the broader HBHA K-12 Jewish studies program, which includes Matmidim," said Howard M Haas, HBHA's head of school.
The dual-track system, which began as a pilot program for kindergarteners in 2008, has provided an avenue for community growth, and HBHA adds a Matmidim grade each year to enable controlled growth of the program.
"Prior to this school year, the Matmidim program has been ably administered by Rabbi Avi Weinstein, our head of Jewish Studies, and Rabbi Rockoff has generously given his time to be our acting religious adviser," said Haas. "This year, with our rolling expansion of the program now incorporating Matmidim into grades K-5, the timing was right to bring Rabbi Rockoff on board in a more formal capacity, further strengthening our entire array of Jewish studies."
"Rabbi Rockoff and I have been working together for five years. He is taking a more active role and I welcome that. He understands what HBHA is and what his community needs; we couldn't ask for a better leader at this time," Rabbi Weinstein said.
Funding for Rabbi Rockoff's position has been made possible through the generosity of members of Kansas City's Orthodox community, as well as a matching grant from an anonymous donor. 
Rabbi Rockoff's role in Matmidim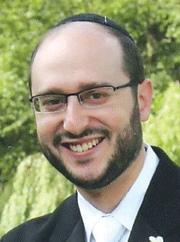 Rabbi Rockoff will spend 10 hours each week as Matmidim director, allowing him to have dedicated time at HBHA, while giving him the time he needs to fulfill his duties as rabbi at BIAV. 
In fact, Rabbi Rockoff sees this position as part and parcel of his dedication to BIAV and the Orthodox community: 
"It is a very high priority for our congregants to have the type of educational opportunities available to help our community grow and sustain itself," Rabbi Rockoff said.
Rabbi Rockoff also brings a good fit to the position, having worked closely with the school administration and with the Jewish community at large. He has a background in Jewish education and Jewish studies, and has previous experience teaching in other Jewish day schools. 
His plans for year one include continuing to develop the Matmidim curriculum, provide supervision and guidance to its teachers and to educate families about the program. Rabbi Rockoff will also continue recruitment efforts to attract more Jewish professionals to Kansas City.
"We are also exploring ways to enhance our Judaic studies offerings across the board," continues Rabbi Rockoff. "One staffing decision we made for next year is to bring in --------shlichim------- (emissaries) from Israel, Gad and Chagid Stuart. The shlichim will teach in both programs — they have the Hebrew language, and also are observant — and in this way will act as another bridge between the parallel tracks." 
 The need for parallel tracks
After many unsuccessful attempts to start a separate day school in Kansas City to meet the needs of more observant families, HBHA, along with the support of the Orthodox community, decided to pilot the dual-track Jewish studies program. This provides the community with a school that met their desire for the right mix of strong general academics, and a Jewish studies program that offered a good fit for all. 
"A community day school is very diverse. Families send Jewish kids to Jewish day school for a wide variety of reasons; it doesn't necessarily mean they all have the same curricular goals. What else is a community day school there for, if not to support the different elements of the community?" Rabbi Rockoff said.
"The programs serve the needs for a diverse community. It reflects the HBHA philosophy that learning about each other through daily interaction is an essential part of one's education while acknowledging that different religious orientations may have separate needs. A community committed to mutual enrichment," said Weinstein.
In fact, the program has been so successful that schools all over the world are calling Kansas City to learn more. Whether smaller communities that are having trouble supporting two separate Jewish schools, or larger communities grappling with schools struggling to provide adequate academics, it is a model that is getting notice from Jewish educators.
"Just last week I spoke to a rabbi from Sydney, Australia, who wanted more information about our unique system," Rabbi Rockoff said. 
"In my travels in the last few years with Howard [Haas], we've discovered that it is not a unique phenomenon for communities to have distinct needs regarding their children's education. Kansas City is unique in that we have decided to do something to meet those needs, and have come together to successfully accomplish our goal. We can be proud that our work enables all of our children to benefit from a great Jewish education in Kansas City," Rabbi Rockoff said.
A foundation for growth
"In the past, we had many observant families moving away because Kansas City didn't offer what these parents felt was a strong match for their children's needs in terms of Jewish education and religious observance," Rabbi Rockoff said.
Rabbi Rockoff and his wife, Dr. Ayala Rockoff, are proof of the Matmidim program's effectiveness. Their oldest son, Shai, will be a first-grader at HBHA. Younger children David Aryeh and Ora will follow.
Today, with dedicated recruitment efforts led by Rabbi Rockoff, the addition of the Matmidim program is cited as being instrumental in bringing in and retaining more than 20 Orthodox families in the last three years, with four to five more families moving to Kansas City this summer, according to Rabbi Rockoff. 
"When the dual-track model was created, it was developed to meet the need in Kansas City to attract and retain Orthodox and/or traditional families who wanted a certain type of Judaic studies education," Rabbi Rockoff said. 
"We're attracting more professionals from both coasts, thanks in part to our strong Jewish community, and in larger part to a school that now meets the needs of these particular families."