Israeli terror survivor to tell courageous story here next week
Published: Thursday, 07 August 2014 10:00
Written by Barbara Bayer, Editor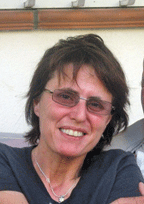 Some people may find the difference between a terror victim and a terror survivor to be very subtle. In the case of Kay Wilson, the difference is not subtle. Wilson, who will speak here on Thursday night, Aug.
14, is a terror survivor. She will talk about her recovery from this vicious attack at 7 p.m. in the Social Hall at the Jewish Community Campus. The event is sponsored by Rich and Judy Hastings and co-presented by the Jewish Community Center and KC Kollel. 
Wilson is a British-born Israeli tour guide, jazz musician and cartoonist. She is the survivor of a brutal terror attack that occurred while she was guiding in December 2010. Since the attack, she is in demand as a motivational speaker and also speaks to audiences on issues of human rights and justice for victims of terrorism. She is a lecturer for StandWithUs, One Family, MDA and is registered at the Israel Speakers' Agency.
The day that changed Wilson's life forever, she and Kristine Luken were hiking in the mountains outside of Jerusalem. Two Palestinian terrorists brutally attacked the two woman. Luken was stabbed to death and Wilson, who was also stabbed multiple times, survived by playing dead. Following the attack — while still bound, gagged and barefoot — Wilson managed to walk 1,200 meters until she reached a parking lot where a family contacted Israeli authorities.
Wilson said during the course of the attack, she managed to stab one of the terrorists with a penknife. The DNA of his blood on her knife led to the capture of a 13-man terror cell and helped solve another murder of an Israeli woman that was committed 10 months prior to Wilson's attack by the same terrorists.
Earlier this year, Wilson took part in the Jerusalem Marathon. Israeli television network Arutz Sheva 7 reported she chose to run in the marathon to support One Family, the terror victims' support group that has helped her, and thousands like her, on the long road to recovery. While she was once a long-distance runner, the effects of her injuries prevented her from taking part in the full marathon. Instead she walked 10 kilometers along the route.
Wilson told Arutz Sheva 7 that it took her three years to get back "into some kind of physical state that I can even think about doing any physical exertion of any length."
Wilson sustained a multitude of injuries in that attack three and a half years ago. She was stabbed 13 times by a machete, which perforated her lungs and diaphragm, had more than 30 broken bones, a crushed sternum, a dislocated shoulder, a broken shoulder blade and six snapped ribs.
She was 46 at the time of the attack and will turn 50 in November.
"Sadly, I aged 100 hundred years in my soul in the forest," Wilson said via email last week.
She will be reminded of these massive injuries the rest of her life.
"I am in physical pain only when I breathe ….," she confirmed.
Some people would not be able to sum up the courage to return to a place where such a horrendous event happened, but Wilson has returned to the site of the crime six times. Unfortunately, her physical condition, and post-traumatic stress disorder, has made it difficult for her to continue to give tours around Israel.
"It is hard for me to attend to the needs 24/7 of 50 tourists," she said.
In fact, she cannot yet return to work full time. Now, she says she works "in spurts," and that includes speaking engagements. She said it is important to her to speak to groups.
"I am a witness to what happened and it is a mitzvah to remember," she said. "I testify to what hatred can do and I testify so people will start to appreciate how good life is."
Since the attack, she has starting blogging for the Times of Israel and became a cartoonist. Her cartoons are called Kishkush, which means doodle in Hebrew.
"I have always doodled," Wilson said. "I doodle about the Torah portions because I find the Torah very juicy, interesting and full of all kinds of experiences known to us today, which should make us take life a little less seriously."
Wilson's latest blog can be found at http://blogs.timesofisrael.com/the-terror-from-within/. In that blog she explains that her wounds aren't visible to the outside world.
"I have no physical disability or outward disfigurement that would serve as a constant source of intrigue to those around me. Nothing about my appearance would ever make people suspect that I was a victim of terrorism."
While people can't see her wounds, she is not afraid to discuss them. Besides the details of the attack, Wilson will discuss the "subsequent life lessons learned" when she's here next week.
"I try to be sensitive to my audience," she noted. "Hopefully, one day, someone will want to hear me speak about jazz and not about murder ... it's a lot more fun."
Over the years Wilson has become close friends with Rich Hastings and his wife Judy, who are members of First Baptist Church of Raytown and strong supporters of Israel. Wilson has led the Hastings on many of their yearly tours of Israel.
"Kay is not only an excellent tour leader but also excels as a jazz artist, writer and cartoonist," Rich Hastings said.
"I think the quality that makes her special is the same quality that led her to survive the terrorist attack that she is coming to speak about in Kansas City. She is a 'fighter,' " he continued.
He said one of his favorite memories of Wilson was a day in Jerusalem when a pickpocket tried to steal a purse from a person in the tour group. Wilson, who is petite, chased the man down, tackled him and got the purse back.
"She went right on guiding as if nothing had happened. We believe that Kay's survival from a terrorists' attack is a story Israelis continuously experience. Kay's experience is unique but shows the Israeli soul in an exciting way," Hastings concluded.
Jill Maidhof, the JCC's director of Jewish life and learning, said the JCC is "proud to give voice to a woman who exemplifies courage, optimism and good humor despite a personal history that includes great tragedy. Kay's an inspiration to all of us."
Maidhof would like to see a big crowd come to hear Wilson speak. Wilson would like that also. But she always has words of advice to people who will listen.
"Shut off the computer. Go play with your kids, or hang out with friends. Life is too short to waste in front of a screen," Wilson said.