Balloon Festival features new venue, entertainment and cooking competitions
Published: Thursday, 07 August 2014 10:00
Written by KCJC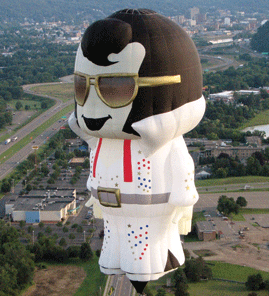 The Great Midwest Balloon Festival, founded by Robbie and Steve Small, has changed venues for this year's event. It happens this weekend, Aug. 8-10 at the Kansas Speedway in Kansas City, Kan. Festival gates
open at 4 p.m. on Friday, Aug. 8; 6:30 a.m. on Saturday, Aug. 9; and 5:30 a.m. on Sunday, Aug. 10. The festival closes at 11 p.m. on Friday and Saturday and 3 p.m. on Sunday.
The event features more than 60 hot air balloons, including a 105-foot tall Elvis, and the world's most famous hot air balloon — Darth Vader — from Belgium.
Balloon glows are held nightly. The balloons inflate each evening at dusk and switch on their burners to create a spectacular glow.
The Balloons & BBQ competition, Steak Cook Off and Chef's demonstrations, along with a wide variety of entertainment and activities are included in the price of the Balloon Festival ticket. The competition will bring some of the best professional cooks from Kansas City and across the country. The cook-off occurs from 4 to 9 p.m. on Friday and allows festival attendees to purchase sample-sized portions from a selection of competitors.
An expanded kids' zone will have performers, bouncy houses, activities and more.
There will also be a 5K race. As runners and walkers make their way around The Legends, balloons will follow them from above. 
Tickets to the U.S. Bank Great Midwest Balloon Festival are currently on sale online at midwestballoonfest.org and at all area Hy-Vee locations. General parking is free while premium parking will be available at an addition cost. For more information visit www.midwestballoonfest.org.