Soldier tells rally crowd there is no Plan B, Israel must win the fight
Published: Thursday, 31 July 2014 10:00
Written by Barbara Bayer, Editor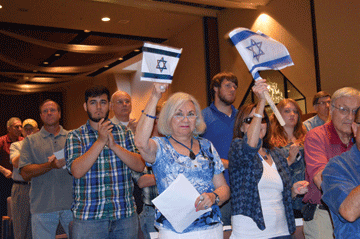 "The only option is to fight back and win. There is no Plan B."
Lt. Col. Ido Mizrachi of the Israel Defense Forces was loud and clear in his support for Operation Protective Edge, launched July 8, in his speech to more than 1,000 people Monday night at the Community Solidarity Gathering held at Kehilath Israel Synagogue.
In addition to Mizrachi, the program featured Alex Goldman-Shayman, the Israel's Deputy Consul General to the Midwest, Kansas Gov. Sam Brownback and a variety of supporters of the Jewish state. In all, more than 17 people stood at the podium, supported at times by many local rabbis and two of the community's cantors. The audience awarded the speakers no less than five standing ovations throughout the program.
The program was sponsored by the Jewish Community Relations Bureau|American Jewish Committee, the Jewish Federation of Greater Kansas City and the Rabbinical Association of Greater Kansas City. Eleven other Jewish organizations and all area congregations co-sponsored the event.
In his remarks the Israeli soldier, who is currently studying in an officer's training program at Fort Leavenworth, Kan., reminded the supportive crowd that Israel is the "only real democracy in the Middle East" and has "proved in so many ways we accept people for whom they are and are always willing to help those in need."
"The people of Israel have demonstrated so many times how far they are willing to go for peace," he added.
On the other side, he said, Hamas not only terrorizes Israelis and Jews, but the "Palestinians, the flesh of their flesh."
"They want to destroy the state of Israel," he said. "Make no mistake. This dispute with us is not territorial, but ideological. Hamas is connected to the axis of evil — Iran, Syria and Hezbollah," which he said is there to destroy Israel and the Jews.
Mizrachi reported that since 2001 Hamas has fired more than 40,000 rockets into Israel and terrorized 3.5 million people with missiles, rockets and mortars. He also pointed out that since Israel withdrew from the Gaza Strip in 2005, Hamas has invested all the money aimed to help the Palestinian people in a military buildup instead.
"While we shield our children, they are shielded by them," he said "they shoot from schools, they hide in hospitals … they are inhuman."
He mourned the loss of his friends and colleagues.
"Every Israeli soldier killed is a loss to the whole world. Words cannot describe how we feel about this great loss," he said. "I send condolences to the families of the fallen soldiers and wish full recovery to our wounded soldiers. Amen."
While serving Israel for the past 18 years, the lieutenant colonel has come upon the tunnel threats "more than once." He said the difficulties associated with these tunnels are vast. Even though he is here now, his "mind and soul" are with the soldiers of the IDF.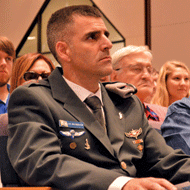 "We are stronger, we are better … and God is on our side. Together we will win."
"Let us pray for days of peace and quiet, for the success of the IDF soldiers and for the safety and well-being of the people of Israel."
Goldman-Shayman, the Israeli diplomat, actually preceded Mizrahi on the podium. He told the large crowd, "Our main goal is to restore long-time calm and quiet." He said Israel knows quiet benefits both sides of the conflict and to reach that goal the Gaza Strip must be demilitarized.
For now he said, "Israel has the right to protect its citizens with all the might the IDF has."
In an interview with The Chronicle before the gathering, Goldman-Shayman said the most important thing Jews here should know is how much Israelis appreciate the support it is receiving from rallies such as the one here held this week.
"It's a long and not easy battle against Hamas. We are in the 22nd day of fighting, and it's really important for us to know that we have the support and the care of the community," Goldman-Shayman said.
Referring to the Kansas governor, who was present at the interview, Goldman-Shayman said it's important for Israelis to see that government officials are also supporting Israel.
"We are really thankful for your support and your participation tonight," he said to Brownback.
Brownback, who has been to Israel seven times and chaired the U.S. Senate's Middle East subcommittee when Benjamin Netanyahu was prime minister in the late 1990s, said, "You are fighting a terrorist organization. We have to fight against terrorism around the world or it expands."
The governor said similar things during his public appearance.
"I came to stand for Israel and stand against terrorism," he said.
During the interview, Goldman-Shayman agreed.
"It is a war against terror," he said, "and we all need to cooperate against it."
Israelis support Operation Protective Edge, Goldman-Shayman said, because they want calm.
"This is the third time we have fought Hamas," he said. "The first was in 2009, the second in 2012 and now in 2014."
"Our people have had enough of Hamas. They want long-term calm. It's impossible to (continue with) this kind of situation. Over the years more than 10,000 rockets have been launched into Israel and each time the calm is getting shorter and shorter."
Meanwhile, he said, the rockets can reach farther and farther into Israel, which he believes is one reason Israelis overwhelmingly support this military action. 
"I think each civilian is saying to the government we are ready to be strong, we are ready to suffer in shelters, we are ready to suffer to go to the army and ready to give anything you need to bring us long-term calm," he said.
Following this action, the diplomat said Israelis want to be safe, where they don't have to be in shelters, "children don't have to suffer from sirens and to have nightmares at night."
"We give the government all the credit to lead us and to bring an end to this never-stopping shooting from Hamas in the Gaza Strip."
Since July 7, more than 2,500 rockets have been fired into Israel by Hamas. Goldman-Shayman said that's more than 100 rockets per day. He said he believes the Palestinians also want peace.
"I saw in the polls that they are asking for a cease fire but the leaders in Hamas don't listen to them."
"I also saw a poll that they would prefer maybe a different government, but again no one listens to them," he continued.
He emphasized that Israelis just want quiet, and support of this "battle against this cynical and brutal enemy is crucial."
During his speech, he thanked the crowd for standing with Israel, and explained how different things are between here and there with this simple story.
"When I moved to Chicago about a year ago, my young daughter asked where the shelters are. I told her it's different here, there are no shelters," said Goldman-Shayman, who came from Ashdod, a city whose citizens often have to dodge rockets that have been lobbed into Israel by Hamas.
During his speech he referenced our local Jewish community's recent tragedy.
"On April 13 your community suffered brutal attacks," he said. When Frazier Glenn Cross Jr. (also known as Frazier Glenn Miller) allegedly murdered three Christians he thought were Jews. Goldman-Shayman said that showed "so much hate, so much ignorance and brutality."
"Those circumstances show in a society the importance of the state of Israel to secure the safety of Jews all over the world."
He concluded his remarks by saying "We are here and let the world know we are here to stay," as the crowd began spontaneously applauding. "Am Yisroel Chai." 
One of the major themes of the night was simple: Hamas is out to obliterate the Jewish state. Another was the fact that the current tumult is inflaming an increase in European anti-Semitism.
Rich Hastings, a fervent Christian supporter of Israel as well as the former chief executive at St. Luke's Hospital, was there to voice a Christian view of the situation.
"Anti-Semitism is on the rise, not on the demise. We must stand together," said Hastings, who attends First Baptist Church of Raytown. "We believe there is no Plan B. Go Israel. Win."
When Patricia Werthan Uhlmann, chair of the Jewish Federation's board of directors, welcomed the crowd she voiced what many in the audience were thinking.
"We stand firmly and proudly with Israel. It's critical to eradicate the constant threat of terror attacks," Uhlmann said.
Like the Israeli soldier, she said we all mourn the loss of soldiers and civilians.
"No one wants to see civilian loss of life anywhere in the world," she said. "Our greatest hope and dream is to live in lasting peace."
As has become the custom since the shootings at the Jewish Community Campus and Village Shalom April 13, there was a large police presence at the synagogue. Several police cars were stationed in the parking lot and officers greeted people, and often searched bags, at the door before the rally began.
Uhlmann was greeted with applause when she thanked the Overland Park Police Department for all they do to "keep us safe."
Toward the end of the program, Kehilath Israel's Rabbi Jeffrey Shron, who just returned from Israel and was actually "trapped" there an extra couple of days when the FAA banned U.S. flights to and from Israel, told of his experiences and continued one of the evening's themes, "We are unified in our support of Israel and Israel will never, ever be alone."
The program began and ended with a plea to "dig deep and give generously" to the Jewish Federation's Operation Relief and Respite emergency campaign for Israel. Funds will go directly toward humanitarian support of the people of Israel "because children, the elderly, the disabled, the disadvantaged and new immigrants have specific and urgent needs for comfort and care."
Operation Relief and Respite
Contributions can be made to the Jewish Federation of Greater Kansas City's Operation Relief and Respite to provide humanitarian relief to Israelis in several ways. Go online to www.jewishkansascity.org/operationrelief  or send a check, with Israel Relief in the memo line to Jewish Federation at 5801 W. 115th St., Suite 201, attn. Derek Gale, Israeli relief. Donors may also call Gale at 913-327-8123 or Bev Jacobson at 913-327-8108.