Third annual Kosher BBQ festival expands, changes location
Published: Thursday, 31 July 2014 10:00
Written by Barbara Bayer, Editor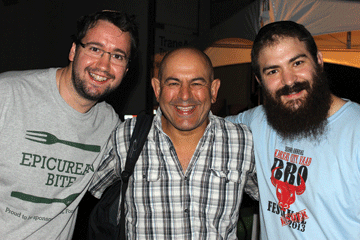 If you like kosher barbecue, you won't have to wait much longer for the annual KC Kosher BBQ Competition and Festival. This year the third annual will take place Sunday, Aug. 17, outside of the Ritz Charles in Overland Park. (For details, see box Page 20.)
Rabbi Mendel Segal, who serves as the executive director of the competition's sponsor, the Vaad HaKashruth of Greater Kansas City, said the festival outgrew the space at The Temple, Congregation B'nai Jehudah, where the first two events were held.
"We wanted to be able to accommodate more people and have more space for more activities," said Rabbi Segal, who noted around 3,000 people attended the event last year.
For the second consecutive year this contest and festival is the only one of its kind in the nation sanctioned by the Kansas City Barbecue Society. The event is still free; however the Vaad is asking "for a 100 percent optional donation at the door that would go straight to kosher food-based charities," Rabbi Segal said. 
The event is paid for through corporate sponsorships, contest entry fees and individual donors. In addition to corporate sponsors funding is being provided by the Jewish Federation of Greater Kansas City, the Community Legacy Fund of the Jewish Community Foundation and J-LEAD, an initiative of JCF. 
"We've had a lot of very generous help this year," said Rabbi Segal. "We are exceeding our goals at the moment." 
Event organizers are hoping that 30 teams will register to compete this year and teams of kosher competitors are already signed up from New York, Chicago and Omaha, Neb. Registration is first-come, first served. For registration fees and information, see website, www.kckosherbbq.com.
"Don't chicken out — register your team," Rabbi Segal said. "It's fun for all."
In the past two years it has become an event not to miss. Debbie Sosland-Edelman, president of the Vaad's board of directors, is someone who keeps kosher and is greatly looking forward to it.
"What I love most about the BBQ competition is that it brings the Kansas City community together around kashrut. People who might not think about kashrut are exposed to kosher Kansas City in a form they know well — BBQ," she said.
"It gives people who do keep kosher the opportunity to enjoy eating delicious Kansas City BBQ. And perhaps most important, thanks to Rabbi Mendel Segal (Rabbi Q) this event gives the Kansas City Jewish community national exposure."
As in the past all ingredients for the competition will be supplied by the Vaad in order to maintain the competition's kosher integrity. Last year 20 teams competed for the top prizes in the following categories: chicken, beef ribs, turkey and beef brisket.
This year the blind judging will be conducted by a panel comprised mostly of professional judges. Some are big names on the local barbecue scene according to Rabbi Segal, including Ardie Davis, who is also known as Remus Powers, Ph.B. "as is PH in barbecue." Davis is the founder of the American Royal International BBQ Sauce, Rub, & Baste Contest and has written five books on grilling and smoking. Carolyn Wells, the executive director of the KCBS, will also be at the competition.
While the competition will be judged by pros, a panel of local celebrity judges will also participate.
"They will publicly taste team entries and discuss them in a TV-show style. That will be hosted by Simon Majundar from the Food Network," Rabbi Segal said. 
The celebrity judging panel is still being recruited. One that is already locked in is Dave Eckert, who hosts and produces food-related TV shows including "Culinary Travels with Dave Eckert."
The food for sale to the general public is being prepared under the auspices of Rabbi Segal, also known as the award-winning Rabbi Q. The Vaad exec has been competing, and winning awards, in barbeque competitions for the past couple of years. Local caterer Kim Matsil is assisting the rabbi/pittmaster oversee all the food prep. The food court, which will be larger in size than previous years, will sell food cafeteria style. For the first time the menu will include smoked kosher turkey legs. Food prices will range from $4 to $12. 
Brisket, chicken and ribs can be ordered in advance to be consumed off-site. Orders will be taken through Aug. 7. For more information visit the website at http://www.kckosherbbq.com/pre-order-food/.
This year for the first time the Vaad will be selling tasting tickets for $30 each. Each tasting ticket actually gets the purchaser the opportunity to sample barbecue from the competitors. As there is only a limited amount of tasting opportunities, Rabbi Segal hopes tasting tickets will sell out quickly.
"Each team is only obligated to give out a certain amount of samples, so when it sells out, it's sold out. But we will only sell as many tickets as we have samples available," he said. 
Eating contests are back this year and will feature both kosher hot dogs and pickles. Professional food contestant Jamie "The Bear" McDonald will compete against teams of amateurs in The Abeles & Heyman Kosher Hot Dog Eating Contest.
The larger outdoor space allows for more kids' activities, Rabbi Segal said. A Food Demonstration Pavilion has also been added to the expanded festival.
"We're going to have a tent and we'll have local barbecue cooks demonstrate some outdoor cooking techniques," Rabbi Segal said.
A variety of bands will provide entertainment, including Conviction, which features Vic Bergman.
It takes about 100 volunteers to run the event, but as Rabbi Segal notes, "more importantly we need people to show up and enjoy themselves."
"We want people to have fun. Volunteer for one shift and spend the rest of the time with your family. This is all about the community getting together and having fun with family, friends and food."
KC Kosher BBQ Competition and Festival Quick Facts
• Sunday, Aug. 17, at the Ritz Charles in Overland Park, 9000 W. 137th St. (southwest of 135th and Antioch)
• Gates open at 11 a.m. as do Kids Zone and concessions. Kids Zone will remain open until 3:30 p.m. Concessions remain open until 4 or until sold out. Event ends at 4:30 p.m.
• Judging begins at noon.
• Registration for kosher pickle eating contest and hot dog eating contest ends at 1 p.m.
• Eating contests begin at 1:30 p.m., pickle first followed by hot dog
• Winners announced at 3 p.m.